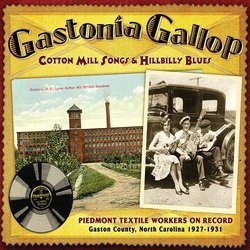 It was more than a decade ago that music collector Marshall Wyatt established
Old Hat Records
, an independent label based in Raleigh, N.C. that's devoted to quality reissues of vintage American music.
Since then the label has
released a half-dozen compilations
featuring genres including old-time stringband music from Ashe County, N.C., African-American fiddle tunes, and North Carolina folk songs.
Old Hat's latest offering is
"Gastonia Gallop: Cotton Mill Songs & Hillbilly Blues."
Its 24 tracks document the musical traditions heard in the textile mill villages of Gaston County, N.C. between 1927 and 1931, a period of great social and cultural change for the region. As
Southern Exposure
reported in 1974 in a
story about Gastonia's Loray Mill Strike of 1929
:
After World War 1, northern interests increasingly gained ownership of southern mills and relocated other shops to the region to take advantage of cheap labor. The number of spindles in Gaston County, N.C., grew from 3000 in 1848 to 1,200,000 in 1930 making it first in the state and the South, and third in the nation. The town of Gastonia swelled from 236 in 1877 to 30,000 in 1930, primarily from the influx of mountaineers exchanging their exhausted land for jobs in the new factories. Although blacks made up 15 per cent of the population of the county, few were allowed to work in the mills.

Digitally re-mastered from original 78 rpm records, the songs on "Gastonia Gallop" range from satires of cotton mill life to heartfelt ballads. The CD package includes a booklet with rare photographs as well as a historical essay by Patrick Huber, author of the award-winning book
"Linthead Stomp: The Creation of Country Music in the Piedmont South."
"Here are musicians who mastered instruments like the harmonica and banjo and took them to heights of virtuosity," says Justin Robinson of the noted traditional African-American stringband the
Carolina Chocolate Drops
. "Cotton mill life was no picnic, so many of the songs from this era speak of hard work, unfair treatment and poverty."
That hard reality is colorfully captured in the lyrics of one of the collection's songs, "Cotton Mill Colic" by David McCarn:
When you buy clothes on easy terms the collectors treat you like measly worms
One dollar down, and then Lord knows, if you don't make a payment they'll take your clothes
When you go to bed you can't sleep, you owe so much at the end of the week
No use to colic, they're all that way, peckin' at your door 'til they get your pay

I'm a-gonna starve, everybody will
'Cause you can't make a living at a cotton mill

When you go to work, you work like the devil, at the end of the week you're not on the level
Payday comes, you pay your rent, when you get through you've not got a cent
To buy fatback meat, pinto beans, now and then you get turnip greens
No use to colic, we're all that way, can't get the money to move away

I'm a-gonna starve, everybody will
'Cause you can't make a living at a cotton mill

Twelve dollars a week is all we get, how in the heck can we live on that?
I got a wife and 14 kids, we all have to sleep on two bedsteads
Patches on my britches, holes in my hat, ain't had a shave since my wife got fat
No use to colic, every day at noon the kids get to cryin' in a different tune

I'm a-gonna starve, everybody will
'Cause you can't make a living at a cotton mill

They run a few days and then they stand just to keep down the working man
We can't make it, we never will, as long as we stay at a lousy mill
The poor are gettin' poorer, the rich are gettin' rich, if I don't starve I'm a son of a gun
No use to colic, no use to rave, we'll never rest 'til we're in our grave

I'm a-gonna starve or nobody will
'Cause you can't make a living at a cotton mill.