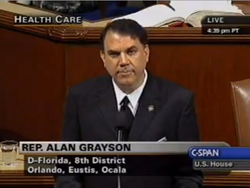 On Wednesday,
Rep. Alan Grayson
(D-Fla.) took to the House floor and read off the estimated number of people who will die next year due to a lack of health insurance in each congressional district represented by Republicans, whose party has opposed comprehensive health reform legislation put forth by the House leadership -- a plan that would extend insurance coverage to 96% of all Americans and is expected to be voted on as soon as Saturday.
The House GOP recently put forth its own health reform plan -- but an analysis by the nonpartisan Congressional Budget Office
said
that plan would fail to improve coverage for non-elderly U.S. residents while reducing the federal deficit by $36 million
less
than the Democratic plan.
Grayson calculated his numbers via an
Urban Institute study
that documented the number of uninsured in each congressional district and
a study published in the American Journal of Public Health
[pdf] that figured the percentage of Americans who will die next year because they have no health insurance. "So what we've done is very simple," Grayson said. "We've taken one number and the other number, and through the magic of multiplication we know how many of those people will die. And I think it's time we call attention to that."
We share with you Grayson's numbers for congressional districts across the South. To watch the video of the speech from which the numbers are drawn, visit
Grayson's YouTube channel
and go to the series of videos titled, "Rep. Alan Grayson on the Number of Dead from Lack of Health Care."
Alabama District 1, Joe Bonner:
114 dead
Alabama District 3, Mike Rogers:
88 dead
Alabama District 4, Robert Aderholt:
114 dead
Alabama District 6, Spencer Bachus:
69 dead
Arkansas District 3, John Boozman:
151 dead
Florida District 1, Jeff Miller:
130 dead
Florida District 4, Ander Crenshaw:
116 dead
Florida District 5, Ginny Brown-Waite:
200 dead
Florida District 6, Cliff Stearns:
152 dead
Florida District 7, John Mica:
143 dead
Florida District 9, Gus Bilirakis:
129 dead
Florida District 10, Bill Young:
138 dead
Florida District 12, Adam Putnam:
133 dead
Florida District 13, Vern Buchanan:
160 dead
Florida District 14, Connie Mack:
159 dead
Florida District 15, Bill Posey:
152 dead
Florida District 16, Thomas Rooney:
165 dead
Florida District 18: Ileana Ros-Lehtinen:
199 dead
Florida District 21: Lincoln Diaz-Balart:
195 dead
Florida District 25: Mario Diaz-Balart:
195 dead
Georgia District 1, Jack Kingston:
123 dead
Georgia District 3, Lynn Westmoreland:
102 dead
Georgia District 6, Tom Price:
100 dead
Georgia District 7, John Linder:
156 dead
Georgia District 9, Nathan Deal:
159 dead
Georgia District 10, Paul Broun:
120 dead
Georgia District 11, Phil Gingrey:
113 dead
Kentucky District 1, Ed Whitfield:
113 dead
Kentucky District 2, Brett Guthrie:
102 dead
Kentucky District 4, Geoff Davis:
83 dead
Kentucky District 5, Harold Rogers:
130 dead
Louisiana District 1, Steve Scalise:
111 dea
d
Louisiana District 2, Joseph Cao:
98 dead
Louisiana District 4, John Fleming:
[garbled on video]
Louisiana District 5, Rodney Alexander:
132 dead
Louisiana District 6, Bill Cassidy:
105 dead
Louisiana District 7, Charles Boustany:
112 dead
Mississippi District 3, Gregg Harper:
117 dead
North Carolina District 3, Walter Jones:
100 dead
North Carolina District 5, Virginia Foxx:
97 dead
North Carolina District 6, Howard Coble:
103 dead
North Carolina District 9, Sue Myrick:
82 dead
North Carolina District 10, Patrick McHenry:
101 dead
South Carolina District 1, Henry Brown:
157 dead
South Carolina District 2. Joe Wilson:
118 dead
South Carolina District 3, Gresham Barrett:
112 dead
South Carolina District 4, Bob Inglis:
133 dead
Tennessee District 1, Phil Roe:
110 dead
Tennessee District 2, John Duncan:
85 dead
Tennessee District 3, Zach Wamp:
94 dead
Tennessee District 7, Marsha Blackburn:
71 dead
Texas District 1, Louie Gohmert:
155 dead
Texas District 2, Ted Poe:
126 dead
Texas District 3, Sam Johnson,
144 dead
Texas District 4, Ralph Hall:
134 dead
Texas District 5, Jeb Hensarling:
151 dead
Texas District 6, Joe Barton:
136 dead
Texas District 7, John Culberson:
103 dead
Texas District 8, Kevin Brady:
132 dead
Texas District 10, Mike McCaul:
127 dead
Texas District 11, Michael Conaway:
164 dead
Texas District 12, Kay Granger:
156 dead
Texas District 13, Mack Thornberry:
144 dead
Texas District 14, Ron Paul:
146 dead
Texas District 19, Randy Neugebauer:
132 dead
Texas District 21, Lamar Smith:
119 dead
Texas District 22, Pete Olson:
150 dead
Texas District 24, Kenny Marchant:
138 dead
Texas District 26, Michael Burgess:
162 dead
Texas District 31, John Carter:
124 dead
Texas District 32, Pete Sessions:
209 dead
Virginia District 1, Robert Whitman:
68 dead
Virginia District 4, Randy Forbes:
93 dead
Virginia District 6, Bob Goodlatte:
99 dea
d
Virginia District 7, Eric Cantor:
76 dead
Virginia District 10, Frank Wolf:
81 dead
West Virginia District 2, Shelly Moore Capito:
102 dead