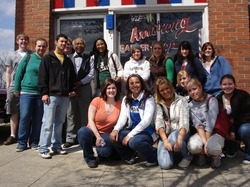 When participants in the first
Selma to Montgomery voting rights march
crossed the Edmund Pettus Bridge in Selma, Ala. and were beaten by state troopers, Army veteran and marcher James Armstrong fell to his knees -- but he never dropped the American flag he was carrying.
That March 1965 incident came to be known as Bloody Sunday and helped ensure passage later that year of the Voting Rights Act.
This week Armstrong died of heart failure in Birmingham, Ala. He was 86.
The
Birmingham News reports
:
On Wednesday the barbershop he ran for more than 50 years was locked, with a "for sale" sign on the door. But signs of its life -- decades of it -- were apparent from the sidewalk. On the door was a faded message: "If you think education is expensive, try ignorance." And next to that: "If you don't vote, don't talk politics in here."

Running his own business allowed Armstrong to take part in civil rights demonstrations without worrying about repercussions from his employer. He ended up being jailed several times for his efforts to end Jim Crow.
Armstrong also played a key role in the desegregation of Birmingham's school system, initiating a class-action lawsuit in 1957 so his children could attend an elementary school previously reserved for whites. Two of his sons became the first black children to attend Graymont Elementary.
Born in 1923 in Dallas County, Ala. to a farming family, Armstrong was drafted into the Army after high school and spent two years fighting in Europe during World War II. When he returned to Alabama, as his son Dwight Told the Birmingham News, "he knew God had a plan for him."
Armstrong kept the flag that he carried that historic March 1965 day in his home in Birmingham's College Hills community. He was also a longtime volunteer at the
Birmingham Civil Rights Institute
.
(PHOTO: In a snapshot taken earlier this year, a group of Michigan students studying civil rights history stand with Armstrong in front of his Birmingham barbershop. The photo originally appeared in the Muskegon News.)