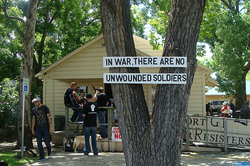 The death toll in Thursday's shooting at Fort Hood, Texas has now claimed the lives of 13 people dead and injured more than 30 -- including the suspect, Army Major Nidal Malik Hasan. A licensed Army psychiatrist and Virginia native about to be deployed to Afghanistan, Hasan
reportedly remains in critical but stable condition
at Brooke Army Medical Center in San Antonio.
In his weekly radio address on Saturday, President Obama
called the act of violence
"heartbreaking" and "despicable":
The SRP is where our men and women in uniform go before getting deployed. It's where they get their teeth checked and their medical records updated and make sure everything is in order before getting shipped out. It was in this place, on a base where our soldiers ought to feel most safe, where those brave Americans who are preparing to risk their lives in defense of our nation, lost their lives in a crime against our nation.

Authorities still have not identified a motive in the attack, which ended after Fort Hood civilian Police Sgt. Kimberly Munley,
a North Carolina native
, wounded Hasan in a shootout in which she was also shot three times; she is now recovering from her injuries. Hasan's brother Eyad Hasan,
a human resources officer at a Virginia medical research firm
, released
a statement
about the incident saying the family was in a "state of shock and disbelief over this dreadful news":
"I've known my brother Nidal to be a peaceful, loving and compassionate person who has shown great interest in the medical field and in helping others" the statement said. "He has never committed an act of violence and was always known to be a good, law-abiding citizen."

This was not the first incident in which a troubled soldier committed violence against fellow service members: As the
Los Angeles Times reports
today in a story about mental health issues in the military, an Army sergeant was accused of killing two superiors at a base near Baghdad last year, while earlier this year an Army sergeant allegedly opened fire in a stress clinic on a Baghdad base, killing five fellow soldiers.
Last Friday, two veterans peace groups based at Fort Hood released a joint statement on the shooting that called the incident "tragic" but said that it "does not come as a shock." The groups behind the statement were the Fort Hood chapter of the national group
Iraq Veterans Against the War
, founded in 2004 by veterans of the U.S. war in Iraq, and
Under the Hood Café
(
pictured above
), a coffeehouse in nearby Killeen, Texas that has roots in the G.I movement against the war in Vietnam, when Fort Hood was a center for anti-war activity.
Here is
the groups' joint statement in full
:
Our community is distraught by the tragic shooting at Fort Hood yesterday. We extend our condolences to the families and friends of the victims.

As upset as we are about this incident, this shooting does not come as a shock. Eight years of senseless wars have taken a huge toll on our troops and their families. It's time to admit that the wars in southwest Asia are in no one's best interests. Bring the troops home now!

The Army has also repeatedly demonstrated that it is more interested in making soldiers "deployable" than it is in helping them fully recover from PTSD and other mental health issues. This often leaves soldiers with few options other than to self-medicate with drugs and alcohol. The Army routinely deploys soldiers who are clearly suicidal and homicidal. Yesterday was a gruesome reminder of the possible violent consequences of this policy. We hope the Army now takes its duty to take care of soldiers more seriously.

We demand transparency from the Army and other federal agencies involved with this investigation.

Under the Hood Café provides military service members support with referrals to legal, financial, and medical services. It is a space for troops to freely express their views on the wars and the military. It also offers GI rights counseling. Iraq Veterans Against the War calls for the immediate withdrawal of all occupying forces in Iraq, reparations for the human and structural damages Iraq has suffered, and full benefits for returning military.

(Photo from Under the Hood Café's online gallery.)