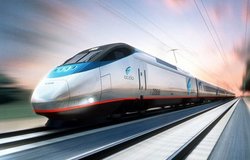 When President Obama announced $
8 billion in federal grants for high-speed rail
this week, Republicans and conservatives responded with bellows of outrage.
Actually, the heckling started after Democrats passed the stimulus bill last year, which included earmarks for inter-city train lines. The Washington Post's Robert Samuelson was typical in warning last August of "
a rail boondoggle,moving at high speed
."
Now grants are going out to a handful of states like Florida, where
Obama visited yesterday
to boost a future link between Tampa/St. Petersburg and Disney World. This latest news has been met with a barrage of criticism, with "boondoggle" still the attack of choice: Fox asked "
Is High-Speed Rail Project an $8 Boondoggle
?" Pundits
Michelle Malkin
and at the
Reason Foundation
followed suit. Yesterday
Tea Party protesters took to the streets
in Florida hoping to derail the project.
(Former Florida Gov. Jeb Bush
won't comment
, although he once called it a "boondoggle of epic proportions" -- remember that as you keep reading.)
But the high-speed rail projects unveiled by the White House this week weren't the brainchild of Obama and the Democrats. The genesis of these plans can be traced to the
Intermodal Surface Transportation Efficiency Act
(ISTEA) -- a bill passed with overwhelming bipartisan support in 1991 and signed into law by Republican President George H.W. Bush.
The ISTEA, as the federal Department of Transportation later noted, was "
a landmark piece of legislation
." With Eisenhower's interstate highway system "nearly complete," the bill argued that the new challenge was to bring clarity and coordination to a transportation system marked by pork-barrel politics and chaos.
Specifically, the ISTEA aimed to better integrate how we travel -- planes, trains and automobiles -- as well as the players involved: local, state and federal officials. It also pushed to ensure greater compliance with the Clean Air Act and other environmental standards.
Although introduced by Democrats, the bill was warmly embraced by Republicans who helped it
pass in landslide votes
: 372-47 in the House, 79-8 in the Senate. The first President Bush
signed the ISTEA into law
on December 18, 1991.
The bi-partisan ISTEA also set in motion plans for high-speed rail in the United States. For the first time, the bill authorized the creation of official
high-speed "corridors
": big-traffic routes where states could receive federal funding to upgrade existing rail lines -- improve track, remove risky crossings -- for faster trains. The original ISTEA in 1991 authorized five such High Priority Corridors.
Since then, 75 more corridors were put on the list -- including
two major routes added under the second President Bush
in the Midwest (2001) and Northeast (2004). Put together, those routes are the ones you've seen in news reports (see
here
and
here
) about "Obama's high-speed rail plan" this week: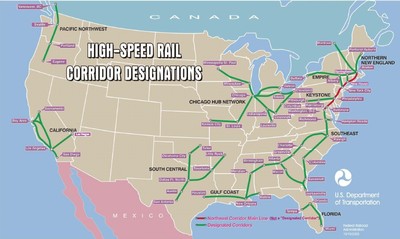 Another big supporter of inter-city rail: the late
Paul Weyrich
, founder of the Heritage Foundation and often called the "father" of the modern conservative movement. A fan of trains and public transport, Weyrich was part of the federal Surface Transportation Commission, which before expiring in 2008 issued
a report heartily endorsing upgraded intercity rail
projects:
The Commission believes that Intercity Passenger Rail is a critical missing link in the Nation's surface transportation system. Over the past 50 years, passenger rail lines have shrunk dramatically in parts of the country ... Intercity passenger rail investment would help meet important national energy and environmental goals by shifting travel to trains, which consume approximately 17 percent less energy per passenger mile than air carriers and 21 percent less energy per passenger mile than automobiles.

In fact, Weyrich wanted even stronger language, and wrote an entire passage -- approved by the commission on a 9-3 vote -- arguing for federal funding of rail projects that was
mysteriously removed by the Bush administration
from the final report. Weyrich's text focused on transit within cities, but also included these words (later deleted without explanation) endorsing new rail lines between cities:
Intercity passenger rail was a crucial factor in the settlement and economic development of the United States. It was the primary means of mid-and long-distance transportation from the mid-1800's until the early 1950's. It provided a vital connection between the East and West Coasts, opened the Western and Central United States to settlement, and was important to the military in transporting troops and supplies.

Weyrich would surely surprised to see the high-speed rail projects announced this week, so heartily embraced by Republicans and conservatives not long ago, so viciously attacked as "boondoggles" by the right-wing politicians and pundits of today.