Yesterday, Republican leaders -- energized by Democrats' sagging poll numbers and an upset in the U.S. Senate race in Massachusetts -- announced
a major new campaign to capture key state legislatures
this fall, allowing them to drive the drawing of new political boundaries in 2011.
As Chris Cillizza
reported in The Washington Post
, the initiative includes the newly-formed American Majority Group, which includes former Florida Gov. Jeb Bush on its advisory board, and a re-tooled Republican State Leadership Committee.
Together, they are targeting "30 to 40" legislative bodies. This would put Republicans in an excellent position to shape state-level redistricting -- both for legislative districts and Congressional districts -- that will come after new population estimates are released by the U.S. Census at the end of 2010. (For more on redistricting, see
this excellent overview
from the Brennan Center [pdf]).
Which Southern states might be in GOP's cross-hairs?
Right now, Southern states are almost evenly split when it comes to partisan control of state legislatures. In six states, Democrats control both the lower and upper chambers; Republicans have the upper hand in five states; and in two states, the house and senate are split. Here's a chart showing where things stand: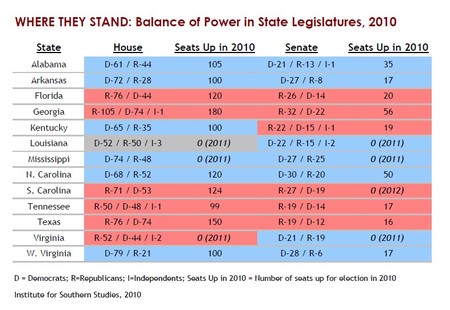 As you can see, there are several chambers where one party has only the slimmest of leads. So which of these are most likely to be in play?
In this year's election environment, it seems highly unlikely that GOP-controlled bodies -- however narrow the margins (e.g., the Texas House) -- will flip to Democrats.
Just like Congress, the party in the White House usually goes on to lose partisan control of state legislatures in the next cycle (for example, see
here
).
That's likely to be especially true this year with Obama and the Democrats, and especially in the South (see the
regional numbers in Gallup's polls
).
If we take out the possibility of legislatures switching from Republican to Democrat, that leaves at least four Southern legislative bodies -- including two in North Carolina -- that Republicans are within striking distance of capturing this fall.
Here is a chart I compiled of the four key house and senate chambers, and the percentage of seats that would have to switch hands for Republicans to gain control:

As you can see, target #1 for Republicans, and the biggest vulnerability for the Dems, would be the
North Carolina House.
By flipping less than 8% of the seats -- eight total -- Republicans could command the state's lower chamber.
Capturing the
N.C. Senate
would be harder, although if they GOP picked up just five seats (10% of all races), they could bring the state's upper chamber to a deadlock -- an outcome the they'd be more than happy with if they also won over the house.

Winning one or both N.C. chambers would be a big coup for Republicans.
It would put symbolic brakes on the state's Blue-trending momentum. It would allow the GOP to influence redistricting in a rapidly growing and increasingly diverse state, impacting how urban voters, African-Americans, Latinos and other key demographic groups are represented.
Another possible target for the GOP is the
Alabama House.
With more white Democrats switching to the GOP, this might be the year Republicans can break through: If they can flip over 8% of the seats, they'll have the majority.
One extra note: Democrats may have dodged a big bullet this year in Louisiana, Mississippi and Virginia. All three won't hold their next legislative elections until 2011. That's good for Democrats, because their narrow majorities would have been in extreme jeopardy this year.
Here's a chart showing how easy it would have been for Republicans to win over house and senate chambers in these states in 2010:

As it stands, Democrats will have an extra year in these states to turn their fortunes around.