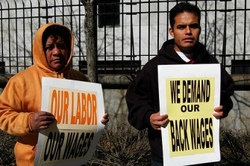 Last week Florida's Miami-Dade County became the first county in the U.S. to
pass an ordinance to combat wage theft
, making it easier for workers to bring legal action against employers who fail to pay or underpay them.
"This is momentous," said Jeanette Smith, executive director of
South Florida Interfaith Worker Justice
. "The passing of this legislation will make a difference for every worker in Miami-Dade County and, hopefully, will encourage groups all over the country to establish similar mechanisms for workers in their communities."
The 10-0 vote last Thursday came after more than a year of work by Smith's group and the South Florida Wage Theft Task Force. San Francisco already has a wage-theft law on the books, and similar proposals are being considered elsewhere across the country including New Orleans, where
wage theft emerged as a major problem following Hurricane Katrina
in 2005.
In fact, a
study released last year by the Southern Poverty Law Center
found that New Orleans has the highest incidence of wage theft in the South. Of the New Orleans workers surveyed by SPLC, 80% said they had their wages stolen since Katrina.
Recovering back wages owed workers would "put more money in the local economy, send a message to crooked employers and create a more level playing field for honest employers,"
according to a Miami Herald editorial
endorsing the Miami-Dade measure.
"This legislation will provide justice for exploited workers using a streamlined hearing examiner process, at very little cost to our county," said Miami-Dade Commissioner Natacha Seijas, the measure's principal sponsor.
At the same time, U.S. Labor Secretary Hilda Solis has said her department is committed to enforcement, especially of laws related to the payment of minimum wage and overtime. She has increased staffing levels in the Wage and Hour Division, putting more investigators in the field.