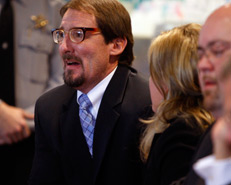 History was made yesterday in North Carolina when a special panel of judges declared innocent a man who served 17 years in prison for a murder he didn't commit.
Gregory Taylor became the first prisoner to be set free under a groundbreaking process created by the
N.C. Innocence Inquiry Commission
, a body created in 2006 by the General Assembly and charged with addressing prisoners' credible claims of innocence. It grew out of study commission established four years earlier by then-N.C. Supreme Court Chief Justice I. Beverly Lake Jr. to address the prevention and rectification of wrongful convictions.
Taylor, 47, was sent to prison in 1993 for the murder of Jacquetta Thomas, whose beaten body was discovered near a truck that Taylor abandoned on a Raleigh cul-de-sac after an evening of smoking crack cocaine. Though Taylor maintained his innocence all along, his efforts to appeal his conviction failed.
Then in 2004, he wrote to Christine Mumma, director of the nonprofit
N.C. Center on Actual Innocence
(NCCAI), part of the national
Innocence Network
coordinated by the
Innocence Project
at the Benjamin N. Cardozo School of Law at Yeshiva University in New York. The effort involves law students in reviewing cases. It was Taylor's case that led Mumma --
a former corporate attorney turned crusading pro bono lawyer
-- to press the state legislature to create the Innocence Inquiry Commission.
The commission's hearing into Taylor's claims that he did not kill Thomas turned up numerous problems with the prosecution, including the withholding of critical evidence by the State Bureau of Investigation and the reliance on questionable witnesses.
At the close of the hearing yesterday at Campbell University's law school in downtown Raleigh, a three-judge panel declared Taylor innocent. As he stepped out of the courtroom into freedom, Taylor was
greeted by three other North Carolina men who have been exonerated
following wrongful convictions.
They are among the
seven North Carolinians who the NCCAI has helped free
in the past several years, and among the
growing number of people nationwide
who have been exonerated of crimes that they did not commit. Among the states with the highest number of exonerations to date are Florida, Texas and Virginia.
Taylor is eligible for a payment from the state of $750,000, but he has the option of waiving that payment and pursuing a civil suit.
"Sometimes I'd like to be more angry than I am," Taylor
told the Raleigh News & Observer
. "It's not a sustainable emotion. Right now, I'm just the most elated person in the world."
(Pool photo of Gregory Taylor by Shawn Rocco from the Innocence Project website)