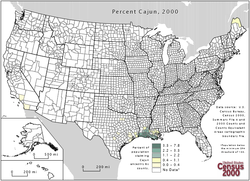 There's an effort underway in Louisiana to use the 2010 Census to pull in federal funding for Cajun and Creole cultural programs, and it's stirring up some controversy over how to best classify members of the state's French-speaking cultures.

Question No. 8 on the Census short form asks whether someone is of "Hispanic, Latino, or Spanish origin" -- and that has inspired action by the World Studies Institute of Louisiana, a nonprofit based in Lafayette, La. that seeks to connect the state's French speakers with the wider French-speaking world.

The Independent Weekly of Lafayette reports:
The WSI is urging the state's Creole and Cajun communities to check the last box in No. 8 -- "Yes. Another Hispanic, Latino or Spanish origin" -- and then to write beneath it either "Louisiana Creole" or "Cajun." For the first time, this will allow Uncle Sam to get a head count of the state's Cajun and Creole populations, provided those groups don't skip over question No. 8.
The WSI's Christophe Landry calls this year's Census "a window of opportunity" for Louisiana's French-speaking communities.
Kat Smith, a spokesperson for the Census Bureau's Dallas field office, says Louisiana Creoles and Cajuns who write in their cultural identification in response to the question will be counted, according to the Independent Weekly:
"As long as they as a group or ethnicity or race decide that they want to make sure that their numbers are where they need to be -- we do the same thing for tribes, American Indian tribes and things of that nature -- they can make sure their numbers are counted as such by identifying themselves consistently by writing it a certain way," says Smith.
However, Louisianans who want to identify as Creole need to be specific: If someone writes in response to the question "French Creole" or simply "Creole," that could also mean Haitians or other groups. That's why they're being asked to write "Louisiana Creole" instead.

Not everyone supports WSI's effort, though. Columbia University graduate student and Louisiana native Gus Gravot has formed a Facebook group titled Louisiana Cajun & Creole ≠ Latino, questioning what he calls the "misidentification" of those groups as Latino.

Instead, he's calling on Louisiana's Cajuns and Creoles to write in their identity in the "other" space provided in Section 9 of the Census, which asks about race.

But whichever side one comes down on, there's a benefit to the controversy -- and that's increased public discussion and awareness of the Census, which helps drive decisions over the spending of billions of federal dollars. This is especially important in the South, where there's a history of undercounting.

To see a copy of the Census form, click here.