Senators who opposed jobs bill come from states hit hard by unemployment
The U.S. Senate
passed a jobs bill
yesterday that aims to tackle unemployment by providing tax incentives to businesses that hire jobless workers.
The measure passed with unusually strong Republican support -- but as with the recent Senate vote on extending unemployment benefits, many of those lawmakers who opposed the bill come from states with above-average unemployment rates.
The HIRE Act exempts employers from payroll taxes through this year on new hires who've been unemployed for at least 60 days. It also extends the federal highway construction program and other public building projects. The measure is estimated to cost $13 billion over 10 years and is partly financed by tougher limits on offshore tax havens.
The
final vote
on the bill was 68-29, with 11 Republicans crossing the aisle to join with their Democratic and Independent colleagues in approving the measure.
The Republicans who voted for the bill were Sens. Lamar Alexander of Tennessee, Kit Bond of Missouri, Scott Brown of Massachusetts, Richard Burr of North Carolina, Thad Cochran of Mississippi, Susan Collins and Olympia Snowe of Maine, James Inhofe of Oklahoma, George LeMieux of Florida, Lisa Murkowski of Alaska and George Voinovich of Ohio.
"I voted for this bill because, without increasing the federal debt, it permits small businesses to deduct their capital investments from their taxes, which gives them more money to create jobs; provides tax incentives for businesses to hire unemployed workers; and provides needed funds for our highways," Sen. Alexander said in a
statement
.
Of the 29 Senators who voted against the bill, 11 come from states with official unemployment rates higher than the national average of 10.7% as of January 2010. And of those 11, 10 are from Southern states that have been hit especially hard by unemployment, as seen in this chart: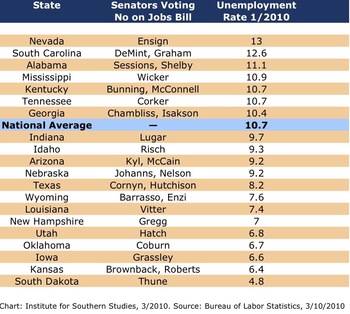 That follows a pattern similar to what we saw in the Senate vote earlier this month on extending unemployment benefits.
Following a
controversial filibuster
of the benefits extension by Sen. Jim Bunning (R-Ky.), the measure passed by a vote of 78-19. And of the 19 Senators who voted against that bill, eight hailed from
states that had jobless rates higher than the national average
. And all but one of them -- Sen. Jim Ensign (R-Nev.) -- came from the South.
But not all the Senators who opposed extending jobless benefits voted against the jobs creation bill, and vice versa.
Among Senators from Southern states with higher-than-average unemployment rates, Lindsey Graham (R-S.C.), Richard Shelby (R-Ala.), Roger Wicker (R-Miss.) and Georgia Republicans Saxby Chambliss and Johnny Isakson did not oppose extending jobless benefits, but all voted against the job creation bill.
And while Sens. Richard Burr (R-N.C.) and Lamar Alexander (R-Tenn.) opposed extending unemployment benefits, they supported the job creation bill.
Those lawmakers from states with higher-than-average jobless rates who objected to extending unemployment benefits
and
the jobs bill? Sens. Ensign, Bunning, Jim DeMint (R-S.C.), Jeff Sessions (R-Ala.), Bob Corker (R-Tenn.) and Mitch McConnell (R-Ky.).
Tags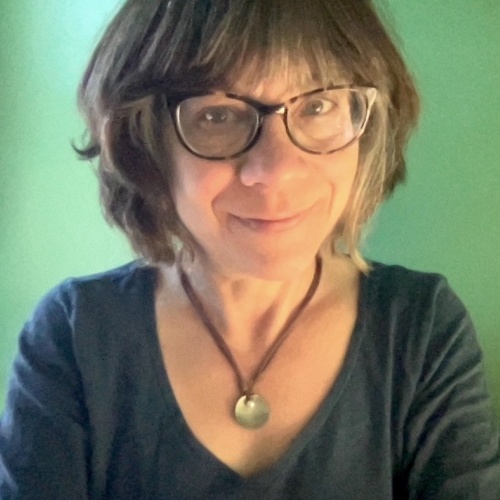 Sue is the editorial director of Facing South and the Institute for Southern Studies.