Good news scarce in WV mine disaster; what can we learn?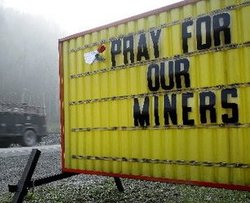 The reverberations continue from Monday's tragic disaster at the Upper Big Branch Mine in Raleigh County, West Virginia. Here are some new pieces of information and perspectives on the situation:
* LATEST RESCUE CALLED OFF:
Ken Ward, Jr.'s excellent Coal Tattoo blog
remains the best source of up-to-the-minute information on rescue attempts and what's happening at the mine, and the news isn't good. Ward reports that
rescue workers were pulled back
from a third rescue attempt early this morning, what could have been their last chance to rescue four miners who have yet to be accounted for.
* A LIFE LOST:
Ward links to
an obituary in today's Charleston Gazette
for one of the miners who died:
Jason Matthew Atkins, 25, of 112 Shaw Branch Road, Foster, died Monday, April 5, 2010, in a mining accident at Performance Coal Company. Jason was born September 19, 1984, in Charleston, the son of Robert and Shereen Bowles Atkins of Racine.

He was an employee of Performance Coal Company, Montcoal, and a member of the Racine Volunteer Fire Department. Jason was a 2003 graduate of Sherman High School, where he was a member of the first team on the All-State Football Team and a special honorable mention on the All-State Baseball Team. Jason also attended West Virginia Institute of Technology, where he played baseball. He was an avid WVU sports fan and enjoyed playing golf with his brother. Jason loved life, his family and his truck and was always a happy person who cared for everyone else first.
* SOLIDARITY FOREVER:
West Virginia miners are no strangers to tragedy, and that shared experience leads to touching acts of solidarity.
Yesterday, three family members of Marty Bennett -- one of 12 men killed in the
2006 Sago mine disaster
-- drove to Raleigh County to stand with families of the Upper Big Branch mine. They
took aim at the cold economic calculations of mine owners
that undermine safety:
Vicki Sharp said that a big problem seemed to be that MSHA [Mine Safety and Health Administration] has written minimum requirements and when a coal company is cited for violating those minimum requirements, they bargain the fine down.

"To a coal company, if they have to pay $500, $1,000, what is the incentive?" she said.

"They are venting the mine now, why couldn't they do that before?" Kevin Sharpe asked.
Earlier in the week, Sara Hamner -- whose father George "Junior" Hamner also died at Sago in 2006 --
had this to say
:
My heart goes out to them, knowing what they are experiencing now and what they will continue to face through this tragedy. I also feel sorry for them having to deal with Don Blankenship and Massey because I know that shortly after Dad died in the Sago mine explosion, he called their deaths "statistically insignificant".

I believe him to be a cold-hearted, detached individual and I just hope the families and miners find the strength to endure. I am listening to a reporter on CNN say that Don Blankenship and Massey are at the top of the game in mine safety but in fact I know different. [...]

I know that Don Blankenship/Massey is among America's top five coal producers and is production and profit driven. In truth, Don Blankenship's mines are known to have spotty safety records. It may be too early to tell, but my feeling is leaning toward the fact that this will probably be found to be a tragedy that could have been prevented.
That's a lot different view than you'd gather from
the hagiography of Blankenship in The New York Times
.
* BLANKENSHIP: JUST A BAD APPLE?
The evidence continues to pile up that this week's disaster could have been avoided, and how Don Blankenship of Massey Energy in particular has spent millions of dollars to influence politics and weaken regulations that could have protected mine workers' lives.
Mark Schone of ABC News
has a good overview of Blankenship's political influence.
It's convenient to have a villain -- and Blankenship plays the role well. But the bigger story may be what Blankenship represents: The extreme laissez-faire, anti-government ideology that has taken a stranglehold in national politics, most clearly since the age of Reagan.
Barb Shelley of the Kansas City Star
has a damning editorial that looks at this important larger picture:
Coal baron Don Blankenship is the ultimate free marketeer, a trendy niche in this day of seething resentment against government big and small.

He has clever names for environmentalists (greeniacs) and brainless congressmen (scarecrows).His outspoken hatred of taxes and regulations won him a seat on the board of directors of the U.S. Chamber of Commerce. [...]

Blankenship is a brazen member of a club that promotes its own interests by tearing down any individual or institution that might stand in its way.

The spin is working. Americans have heard so much about "corrupt" unions, "greedy" trial lawyers, "activist" judges and "job-killing" regulators that a good percentage of us think we'd be better off without any of them.

We wouldn't. In fact, safety inspectors and regulators need more clout to protect workers in dangerous jobs. Judges need a separation from big money and electoral politics. Unions need more authority to insist on safe conditions for workers.

No one was cheering Don Blankenship's blustery, free-market principles this week. According to The New York Times, he prepared to address a crowd outside his mangled mine but was shouted down.People accused him of putting profit ahead of workers' lives. Someone threw a chair. Police officers escorted the coal executive from the scene.

Blankenship should have heeded the judges, unions and regulators whom he so reviled. Turns out they could have protected him.
Tags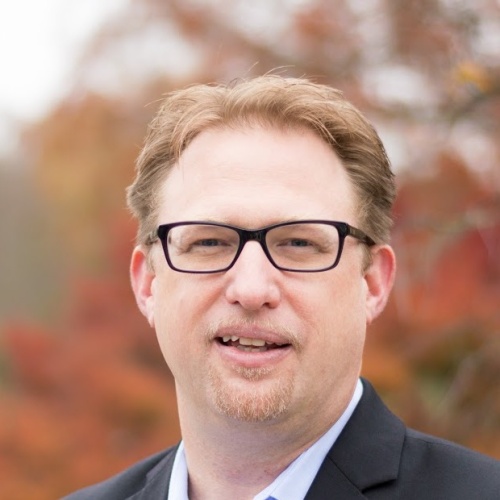 Chris Kromm is executive director of the Institute for Southern Studies and publisher of the Institute's online magazine, Facing South.