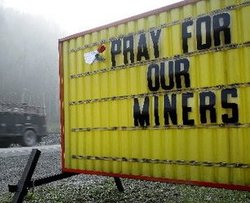 Today, Rep. George Miller (D-CA) -- chair of the House Committee on Education and Labor -- released
a list of 48 mines identified by federal officials last fall as facing possible sanctions for repeated violation of worker safety rules
, but which had yet to be targeted by federal officials because of unresolved appeals from mine operators.
The list includes the Upper Big Branch mine in West Virginia owned by Massey Energy, where 29 miners died from an explosion on April 5.
As Miller's office explained in a press release:
Under current law, the federal Mine Safety and Health Administration issues a letter to frequent violators warning them that they may be sanctioned under a so-called 'pattern of violation'. Once a mine is notified that they may be under a pattern of violation, the mine must take immediate actions to reduce future violations - approved by federal mine safety officials - or face drastic sanctions including mine closure for any future significant and substantial violation.

The list released by the committee today are those 48 mines that would have received this notice of a potential pattern of violation sanctions in October 2009 but for contested citations that had not been resolved due to delays caused by the backlog of more than 16,000 operator appeals.