By Danny Chiotos,
It's Getting Hot in Here
Say, did you see him going; it was early this morning

He passed by your houses on his way to the coal

He was tall, he was slender, and his dark eyes so tender

His occupation was mining, West Virginia his home.

It was just before 12, I was feeding the children

Ben Moseley came running to bring us the news

Number eight is all flooded, many men are in danger

And we don't know their number, but we fear they're all doomed.

-- "West Virginia Mine Disaster," by Jean Ritchie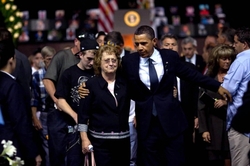 Coal mining is dangerous business and the people of the Appalachian coalfields, from Tennessee to West Virginia to Pennsylvania, have come to expect disasters out of the mining industry. Mining is a job that's full of risks and packed with hard work. Miners have come to be proud of the work that they do which truly has had a great role in powering the United States for more than the last century. It's been work that's populated Appalachia with amazing people but has kicked up a lot of coal dust in the process all over our great state of West Virginia.
After 9/11, where I was less than 10 miles from the Pentagon and remember hearing fighter jets and helicopters flying over my house throughout that tense night. I never thought I would feel that tragic emotion that brought anger, anticipation, fear, mourning, and pride together into one horrendous stomach ache again. Then came the disaster at Massey's Upper Big Branch Mine.
I could not work all week. I could not stop refreshing the WSAZ news page and the Coal Tattoo Blog for updates. I could not get my mind off the basic question of whether there is good in the world where 29 hardworking men are killed because of Massey Energy's disregard for miner safety. I could not get off the phone talking with students I work with and my own family members who were grieving like I was for these men and holding out hope that the four missing miners would be found alive. They were not. And we continue to mourn through the weekend.
Both my great-grandfather and grandfather helped to pull 11 bodies out of the Nellis mine which is a hair under 33 miles away from the Montcoal mine. On November 8th, 1943, which was a Monday, his family was watching a movie in Whitesville and they were rushed out of the theatre to Nellis. His mother and sisters were sent home to pray for survival, his father hurried down in the mine to search for life and my grandfather stood sentry at the mouth of the mine with not much to do but hope to see those men walk out of the mine. He was 13 at the time and he saw those 11 bodies come out of the mine in a railcar without a breath among them.
He is now the ripe age of 80, and once again mourning, this time for the 29 miners that were killed in the Upper Big Branch mine. He and no one in the coalfields should have to witness a disaster like this and be reminded of a disaster they lived through 67 years ago. We have the means and technology to make these kind of massive disasters a thing of the past that exists only in our memories and history books.
Worker deaths should not happen, and we should be pushing to prevent them whenever possible. The debate becomes about what is the safest method of mining coal, since we will be mining coal for a long time coming. Even if we quickly transition from burning coal for electricity, there are a ton of uses for coal (including using metallurgical coal for the production of steel, which is needed for wind turbines) which will keep it as part of Appalachia's economy. For a point of information, the Upper Big Branch mine was mostly a metallurgical coal mine and the coal mined is used for steel-making rather than electricity production. Massey is known to export their metallurgical coal overseas, so the 29 miners probably lost their lives not to power the re-industrialization of the United States with renewable energy, but to power the industrialization of countries like China and India. So, even if we run a completely renewable energy economy, we need to keep a focus on how we can mine coal in the way that's most beneficial to the communities under the safest possible conditions.
Flying in the face of these horrible realities, there has been the disturbing development that mountaintop removal proponents have been coming out with recently. From supporters of Massey CEO Don Blankenship to Congresswoman Shelley Moore Capito, there has been an effort to use this horrible mining disaster to spread support for strip mining and mountaintop removal.
Countering this opportunistic assertion is the main point of this piece.
Never mind the horrible leveraging of this disaster to increase support for the form of mining that employs the least number of people and causes the most damage to Appalachia. While there is truth in the statement that surface mining is safer for workers than underground mining, the Blankenships and Capitos of the world would have you believe that everything is hunky-dory and safe as grandma's apple pie on a strip mine.
The way that the Blankenships of the world make the argument is that we could simply shift from underground mining to strip mining is a total oversimplification of the realities of mining. The Upper Big Branch mine was more than a thousand feet underground. To get that coal, it takes underground mining, plain and simple. So we need to talk about what the safest ways of mining are and what makes the biggest impact on increasing worker safety.
As I've heard more of the pro-mountaintop removal opinion getting out there, I became more interested in knowing the facts. I've been hearing that strip mining was dangerous work, but I've never really known just how dangerous. I came to the point of wanting to counter the claim that the Blankenships of the world were making, but I didn't know the facts. So, I started crunching some numbers, making Excel spreadsheets and asking friends for help. What I found didn't really surprise me, but it gave a sense of concreteness to talk about how important unions are to worker safety.
What I found was that union strip mining was the safest for miners and that non-union underground mining was the most dangerous. That said, there is little way that we can or should be using that as a justification for more strip mining. Seeing as how coal that's mined a certain way is generally mined that way for whole host of reasons, the Blankenships of the world are oversimplifying it. If we look at the two forms of mining independent of each other, because strip vs. underground mining is generally not interchangeable, we can easily see that whether a mine is union or non-union is incredibly important to worker safety.
I am using the very basic ratio of worker deaths per 10,000 miners to create four statistics which compare both strip vs. underground mining, and union vs. non-union mining. This leaves out a ton of really important information, like worker injury rates, black lung and silicosis, effects on the communities around the mines, the different safety rates of the different forms of underground and strip mines, the different safety rates at different companies, etc. etc. etc. But what this analysis does is further the fact-based conversation about what the safest forms of mining are in the real world.
Here are the stats that I developed using statistics from 2002-2008 (it's pretty obvious what the stats would be for 2010 with the Upper Big Branch disaster, but it's too early in the year for good statistics to be out there). The following chart summarizes the comparisons that I wrote about earlier.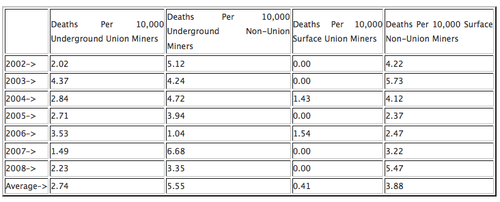 So, what you can see is that in each form of mining, union mining clearly makes for safer mining than non-union mining. Underground non-union mining is the most dangerous forms for five out of the six measured years. Underground union mining is about even with non-union strip mining in terms of worker safety -- with non-union strip mining having a higher worker death rate than union underground mining.
The most important thing is for unions to be able to organize mines, whether they be strip mines or underground mines. In almost every case, union mines are safer than non-union mines. Worker safety depends on the unionization of the workplace, not on a largely fictitious choice between strip & underground mining.
The United Mine Workers of America have been longstanding leaders for coal miner safety. One of the most important things that the media is missing in covering this disaster has been the discussion about the UMWA. The UMWA had three different attempts to unionize this mine and Don Blankenship personally visited this mine to break the union drive. One drive in particular had more than two out of three workers signed onto a union card, but the official vote failed. If we had the Employee Free Choice Act as law, the Upper Big Branch mine would be a union mine as 2/3 of the workers supported a union before they were intimidated. We need to see this law passed so we can see safer mining through a unionized workplace.
When workers knew Blankenship would have them fired if they voted for the union, they stepped back from voting it in. Workers need a united voice in the workplace. We can have the best regulations in the world on the books but if workers are not organized to be able to speak up -- those regulations are worthless. As far as I'm concerned, miner unionization is the best possible solution to preventing disasters like this in the future.
We'll be mining coal for a while and we need to be real about what makes the biggest impact on worker safety in the mines. We don't need another Monongah (1907, WV, 362 killed), Farmington (1968, WV, 78 killed), Sago (2006, WV, 12 killed), Crandall Canyon (2007, UT, 9 killed), or Montcoal (2010, WV, 29 killed).
I hope the words that Former Secretary of the Interior Stewart Udall issued in 1968, "let me assure you, the people of this country no longer will accept the disgraceful health and safety record that has characterized this major industry," and the words of President Barack Obama 42 years later, "I refuse to accept any number of miner deaths as simply the cost of doing business" will one day ring true and we can at least, today, have an honest discussion about what the safest ways to mine coal are.
Danny Chiotos is the West Virginia youth organizer for the Student Environmental Action Coalition and president of the West Virginia Environmental Council.
(In the official White House photo by Pete Souza, President Obama walks with Linda Davis, the grandmother of deceased Upper Big Branch miner Cory Davis.)