Facing South's report last week on a protest last week by the conservative group Americans for Prosperity -- which targeted the Center for Responsible lending, a champion of financial reform, as a symbol of "Wall Street corruption" -- has made quite a splash.

A quick recap: Last week, 20 some members of AfP descended on the offices of the Center in Durham, NC, saying the consumer non-profit was tied to Wall Street scandals. How so? Several years ago, the Center received a $15 million gift from John Paulson, a hedge fund tycoon now implicated in the Goldman Sachs inquiry. The Center also used to employ Eric Stein, who now works in Obama's Treasury Department.

That's all the protesters needed to know: They demanded that the Wall Street reform bill in Congress be stopped, a full Congressional investigation be launched, and that Stein be fired (or, to make it rhyme, "Stein Must Resign!").

I talked with several of the AfP protesters (you can see the video here); none I interviewed knew where Paulson's $15 million went. But the Center said it was no mystery: It launched the Institute for Foreclosure Legal Assistance, which gives training to legal clinics about how to help families facing foreclosure. It isn't even based at the Center; it's run by the National Association of Consumer Advocates.

And the Americans for Prosperity members definitely didn't mention that their own organization is one of several business-funded groups that have much closer ties to Wall Street and financial interests than consumer groups like the Center.

Rachel Maddow of MSNBC took our report one step further -- and used our video from the AfP rally in North Carolina -- to look at another front group, the Consumer Rights League. Despite its innocuous name, and an acronym identical to the Center for Responsible Lending, the Consumer Rights League was created and funded by banking interests to oppose reform.

Check out Maddow's report here:


Visit msnbc.com for breaking news, world news, and news about the economy
The Consumer Rights League has its own ties to the controversy: As Facing South reported and Maddow mentioned, the founder of the League is Michael Flynn -- currently an editor at BigGovernment.com, a conservative website that has led the charge against the Center and Stein.

Teasing out these connections among the myriad front groups opposed to Wall Street reform was the focus of another excellent follow-up piece in The Independent Weekly, an award-winning paper based in Durham, NC.

Lisa Sorg and Samiha Khanna of the Indy pulled together this useful chart of the ties between these organizations, which together are designed to give the appearance of widespread opposition to policies like cracking down on Wall Street (click on the chart for a bigger version):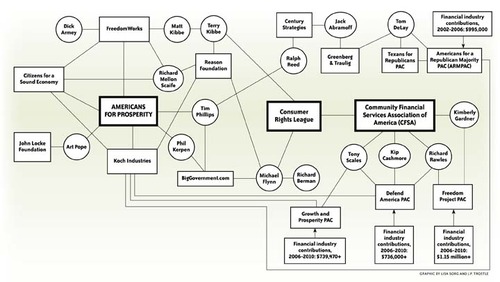 If anything, the Indy's chart may understate the close web of relationships between these groups. For example: The John Locke Foundation, a conservative policy group in North Carolina, has a more direct tie to Americans for Prosperity, aside from their common benefactor Art Pope. This became clear at last week's AfP rally, which was led by North Carolina conservative activist Chad Adams. AfP-NC recently hired Adams to help raise money, although he's still listed as the director of the Locke Foundation's Center for Local Innovation and as a Locke employee.

Adams has another connection that's relevant to the Wall Street reform debate: Last year, he ran -- and narrowly lost -- to be chairman of the N.C. Republican Party, basing his campaign among Tea Party groups and other GOP insurgents.

Yesterday, Republicans relented on a five-day filibuster that aimed to stop movement of the Wall Street reform bill. But AfP is staying resolute: It just released a broadside via podcast -- apparently by Phil Kerpen, an AfP leader and Fox News contributor who's also targeted the Center and Stein -- calling it a "very, very bad bill" and encouraging the GOP to once again vote to end debate.