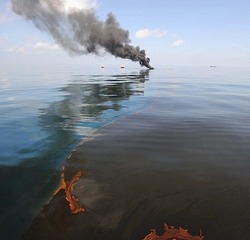 Publicly, BP has said it intends to be generous in compensating those affected by the Gulf oil spill: CEO Tony Hayward has pledged to
pay all "legitimate" claims
resulting from the disaster, even offering to waive the $
75 million cap
on liability for economic damages.
But to handle claims from the spill, BP has hired a risk-management company who advertises that a main benefit of its services is "reducing our clients' loss dollar pay-outs" -- a goal Gulf advocates say is in direct contradiction to Washington and BP's promises to fully compensate coastal residents.
ESIS Inc
. -- part of the Swiss-based global insurance giant the
ACE Group
-- is a risk-management firm whose mission is to "impact our clients' business and reduce their total cost."
One of ESIS's many services for corporate clients is
handling claims
made against companies, which Darryl Willis, VP for Resources at BP America
said in recent Congressional testimony
[pdf] is the role they're playing for BP in the wake of the spill:
Even before this event, BP had a relationship with a company called ESIS - they are trained to respond quickly and professionally to significant events. Organized in 1953, ESIS is part of the ACE Group, headed by ACE Limited. The ESIS Claims team assisting BP was developed in 1995 and has extensive experience. ESIS has handled over 200 incidents, both small and large. The company is well known as a leader in its field. Speaking personally, I have been impressed by the professionalism and dedication of our ESIS colleagues in providing the backbone of our claims process.

How does ESIS deliver on its promise to clients to "reduce their total cost?" Part of the savings come from ESIS's ability to bring expertise and systems for handling claims that BP doesn't have already.
But another way ESIS can "reduce cost" is by cutting the number and dollar value of claims that are paid. As ESIS
advertises in a fact sheet on another part of the business
, [pdf] a key goal of their operations is "
reducing our clients' loss-dollar payouts
."
As the New Orleans-based Advocates for Environmental Human Rights
argued in a letter this week
[pdf] to Admiral Thad Allen who is leading the federal spill response, ESIS's goals of reducing claims costs may not only contradict BP's pledge to honor claims, but also raises larger questions about Washington's role in overseeing the claims process:
As the National Incident Commander, you have the responsibility to ensure that the people of the Gulf Region harmed by the BP oil disaster are fully compensated by BP for all of their losses, This responsibility entails investigating and preventing any efforts by BP and ESIS that provide or attempt to provide insufficient compensation to any claimant.
Gulf Coast residents are already reporting frustrations with ESIS's handling of the claims process and finding ways to limit payouts. Here's a story from
a Louisiana fishing guide
:
Brian Sherman of Buras filed his claim after losing business as a fishing guide who helped people keep up their boats and condominiums and ran boats out of the Venice Marina before the oil spill. Last year Sherman made about $3916 per month. BP provided him with a check for only $2500, however, because ESIS, the firm hired by BP to handle claims, classified him as a deckhand, a lower paying position.