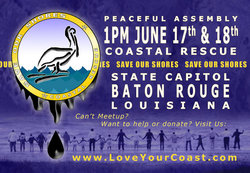 A grassroots network of people from across the Gulf Coast has assembled at the Louisiana State Capitol in Baton Rouge to demand justice for the BP oil disaster and action to prevent such disasters in the future.
The demonstration, which began yesterday, is organized by the
Love Your Coast Coalition
. Its members include the
Baton Rouge Progressive Networ
k, Coastal Rescue,
Sierra Club Delta Chapter
,
Student Coalition to Help the Oil Leak Relief
(SCHOLR) and
Youth Alliance of Louisiana Leaders
(YALL).
The gathering continues today with speakers, live music, and a march and bicycle ride at 11:30 a.m.
"We want our legislators to do everything in their power to clean and restore our coast and to prevent another catastrophic drilling disaster from happening in the future,"
according to the coalition's website
. "We also want the public to understand the near and long-term impacts and risks associated with this spill, what they can do about it, and how we we can work together to make it through this."
The demonstrators are calling for safer drilling, clean energy development, coastal protection, campaign finance reform, and an end to tax breaks and other public subsidies for the oil and gas industry.
"Diversifying our energy mix and economy will create jobs, reduce our dependence on fossil fuels, improve air quality and support the quality of life in Louisiana and throughout America," the group's website says.
To find out how you can help, click
here
.