On Monday,
I wrote about
an exciting trip Sue Sturgis and I are taking to the Gulf Coast next week to investigate the BP oil disaster.
Like many of you, we think BP and the media aren't telling the full story about the spill and its aftermath.
So we're taking a week-long fact-finding trip to dig deeper and hear from people on the ground: What's the spill doing to local communities? Where's the relief money going? And what issues are getting swept under the rug?
I also asked if you could donate to our Investigative Fund to support our Gulf trip. Your support has been overwhelming: In just over 2 days, you've contributed $4,090 towards our $7,000 goal. Wow!
That means we need just $2,910 more in the next 4 days. Can you chip in $25, $50 or more today to make our fact-finding trip to the Gulf a success?

Sue and I have bought our plane tickets, lined up interviews and started packing our bags. Now all we need is you.
No contribution is too large or too small, and every bit of support makes a difference.
Thank you!
* * *
CHRIS AND SUE'S GULF TRIP INDEX
Gallons of oil gushing each day from site of BP's failed Deepwater Horizon oil rig: up to 2.5 million (1)
Miles of Gulf Coast shoreline already affected by the spill: 120 (2)
Percent of federal waters in Gulf of Mexico where fishing has been banned due to the disaster: 33% (3)
Estimated number of jobs that will be lost in Gulf states: 16,000 (4)
Number of dead birds, sea turtles and ocean mammals collected by U.S Fish and Wildlife officials so far: 1,231 (5)
Number of days Chris and Sue will be in the Gulf Coast next week to investigate the BP oil disaster: 5
Miles of coast Chris and Sue will be traveling to visit local communities affected by the catastrophe: 197
Number of community leaders we will be interviewing over 5 days: more than 25
Amount of money Chris and Sue need for their fact-finding trip: $7,000
Amount that generous friends like you have donated since Monday: $4,090
Amount we still need to raise: $2,910
Date by which we need your tax-deductible contribution to make the trip a success: 9:45 am, Monday, June 21 -- that's when we get on the plane to New Orleans!
* * *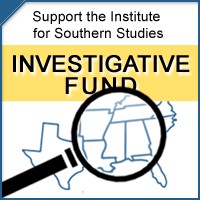 INSTITUTE INVESTIGATIVE FUND
Institute for Southern Studies
P.O. Box 531, Durham, NC 27702
www.southernstudies.org
All contributions to the Institute Investigative Fund are tax-deductible.