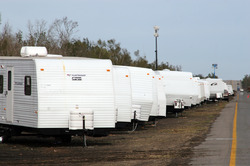 U.S. Reps. Charlie Melancon (D-La.) and Edward Markey (D-Mass.) want to know why trailers found to have exposed hurricane survivors to potentially dangerous levels of toxic fumes are now being used to house workers cleaning up the BP oil spill.
Originally provided to displaced Gulf Coast residents following hurricanes Katrina and Rita in 2005, the trailers were found to give off high levels of formaldehyde, a chemical linked to health problems including respiratory disorders and cancer. After the government stopped using them to house hurricane survivors, it
auctioned them off
to private buyers.
Melancon and Markey wrote a
letter
to the U.S. General Services Administration last week asking how the trailers ended up being used for housing. The lawmakers were responding to a
New York Times investigation
that found hundreds of formaldehyde-contaminated trailers previously provided by the Federal Emergency Management Agency to hurricane survivors were being reused as shelter for cleanup crews.
"Workers along the Gulf Coast face enough dangers in the oil spill clean-up, without unknowingly being exposed to another danger when they come home at night,"
said
Melancon, who represents the areas of coastal Louisiana most directly affected by the BP disaster.
The congressmen submitted a list of questions to the GSA, an independent federal agency charged with buying and selling products for U.S. government offices. Among other things, they want to know if the trailers were sold with GSA's requirement that the purchaser sign an agreement that the they would not be used for housing, and that the trailers clearly display the mandated label reading, "Not to be used as housing."
Several buyers told the New York Times that they were unaware of any ban on using the trailers for housing. Officials with the GSA's inspector general's office have reportedly opened at least seven cases involving buyers who might not have posted the required formaldehyde warnings on trailers they sold.
(Photo of trailers in Louisiana following Hurricane Katrina by Robert Kaufmann for FEMA.)