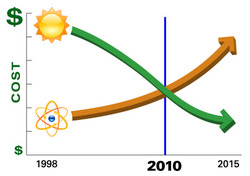 While the price of solar photovoltaic systems has been falling for decades, the cost of new nuclear plants has been climbing -- and a historic crossover point has been reached in North Carolina, where solar power is now cheaper than nuclear.
That's the finding of a report by the former chair of Duke University's economics department that was released yesterday by the
N.C. Waste Awareness and Reduction Network
.
"North Carolina should be leading, not lagging, in the transition to clean energy," author Dr. John Blackburn said during a press briefing yesterday. "We call on Gov. Perdue and state agencies to see that a very important turning point has been reached, and act accordingly."
The report, titled
"Solar and Nuclear Costs -- The Historic Crossover,"
finds that states with open competition for electricity sales are rejecting new nuclear plants for solar, wind, cogeneration and energy efficiency. But states with monopoly power markets like North Carolina are still
pushing to build new nuclear reactors
-- at a cost of billions to the public.
"This state should place a cost cap on new nuclear power -- and remove the one on solar," said Blackburn, referring to 2007 N.C. legislation restricting rate increases for solar energy while requiring that only 0.2% of all utility sales be from solar power.
Solar energy advocates in North Carolina have long complained that the utilities are reluctant to embrace renewables and energy efficiency so they can continue to press for new nuclear plants.
The report points out that both new solar and new nuclear power sources will cost more than present electricity generation. However, power bills will rise less with solar generation than with new nuclear.
Duke Energy and Progress Energy, North Carolina's largest utilities, estimate that proposed new nuclear plants would generate power at a cost of 14 to 18 cents per kilowatt-hour. But commercial-scale solar developers are already offering utilities electricity at 14 cents or less per kWh.
Today an average North Carolina homeowner can have a solar electricity system installed for a net cost between $8,200 and $20,000 or more, depending on generation capacity.
"We're urging people who are financially able to invest in rooftop solar -- PV and/or hot water -- to do so right away," said N.C. WARN Executive Director Jim Warren, noting this would boost the solar market as well as reduce pollution. "This report should end the argument for risking billions of public dollars on new nuclear projects."
(Image from "Solar and Nuclear Costs -- The Historic Crossover.")