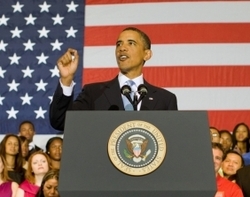 In his speech from New Orleans on the fifth anniversary of Katrina yesterday,
President Obama declared
that he intended to honor the nation's promise to help rebuild the Gulf Coast:
[W]hile an incredible amount of progress has been made, on this fifth anniversary, I wanted to come here and tell the people of this city directly: My administration is going to stand with you -- and fight alongside you -- until the job is done. Until New Orleans is all the way back, all the way.
These were no doubt welcome words to Gulf residents who have
sometimes wondered
about Obama's commitment to the region, especially in light of other competing priorities at home and abroad.
But what exactly does the president plan to do to help the Gulf recover -- and how will he do it, moving through the political minefield of Louisiana politics that's proved stubbornly hostile to his agenda?
Obama's speech echoed many of the themes the Institute made in its report last week,
Learning from Katrina
: The key role of community advocates and organizers in "leading the way" to renewal; the stark contrasts of heart-warming signs of revival alongside "vacant and overgrown lots" and other symbols of a fragile and uneven recovery.
Perhaps more importantly, the president also outlined
key steps
Washington was taking to tackle the massive and long-term task of making the Gulf whole again, including an infusion of $1.8 billion into Orleans Parish schools and a pledge to build New Orleans' federally-run levees up to full 100-year-storm capability by 2011 -- "the largest civil works project in American history."
When it came to the BP oil disaster, Obama was even more forceful on demonstrating his resolve:
[F]rom the start, I promised you two things. One is that we would see to it that the [BP oil] leak was stopped. And it has been. The second promise I made was that we would stick with our efforts, and stay on BP, until the damage to the Gulf and to the lives of the people in this region was reversed. And this, too, is a promise that we will keep. We are not going to forget. We're going to stay on it until this area is fully recovered.
But a key piece missing from the speech was a vision or plan that connected Katrina and BP -- as well as the disasters that came in between, including Hurricanes Rita, Gustav and Ike and the Great Recession. Over the last five years, the Gulf Coast has been hammered by a series of uniquely devastating disasters, which require a coordinated and focused response from Washington.
As
we point out
in Learning from Katrina, in the 1960s President Kennedy and Congress launched the Appalachian Regional Commission to coordinate federal projects and steer dollars to a resource-rich but hard-hit and high-poverty region (sound familiar?). Why doesn't Obama start a Gulf Regional Commission to identify key barriers to recovery and kick-start a focused, coordinated approach to rebuilding the devastated Gulf?
Give the scale and scope of what the Gulf Coast is facing, there's no question Louisiana, Mississippi and other Gulf states could use the help. But one of the biggest barriers Obama and Washington may face is the sharp partisan politics in Gulf Coast states.
On one front, there's the anti-government ethos reining in Gulf state capitols. Despite the hardship Gulf Coast residents have faced since Katrina, Republican Governors Bobby Jindal and Haley Barbour were
vocally opposed
to Obama's 2009 stimulus package (although they later
accepted money
and
took credit
for stimulus-funded projects).
At the same time, Obama and Washington are being criticized for not doing enough about the BP oil spill. In fact, in a repeat of an earlier survey,
Public Policy Polling found last week
that more Louisiana voters approve of President Bush's handling of Katrina than the way Obama's confronted the Gulf of Mexico oil disaster.
But dig into the poll's
cross-tab data
[pdf], and you discover the real political dynamics at work: 69% of those who voted for John McCain in 2008 like Bush's Katrina response, but only 11% of those who voted for Obama feel that way. The results flip for the BP spill: 92% of McCain supporters disapprove of Obama's handling of this year's crisis, while 78% of those who voted for Obama think he's done a fine job.
Which takes us to the other deep divide, race: In PPP's most recent poll, 54% of Louisiana voters say they approve of how Bush handled Katrina; only 15% African-Americans think this way. And the tables turn again on BP: While 77% of Louisiana whites disapprove of Obama's handling of BP, 74% of African-Americans approve of what the president is doing.
In other words, the very same African-American communities that were hit hardest by Katrina and its aftermath may welcome a stepped-up role for Washington in ensuring a full and fair recovery in the Gulf. But their interests run up against the politics and politicians whose anti-Washington ideology now holds sway in the region.
PHOTO: President Obama speaking at Xavier University in New Orleans on the fifth anniversary of Hurricane Katrina, August 29, 2010. White House photo.