Art Pope: Still dancing at the Tea Party?
This past spring, as the Tea Party movement was gearing up for one of its big moments in the spotlight -- the April 15 Tax Day protests -- the conservative cause found itself mired in controversy.

After a year of rowdy Congressional town hall meetings, extremist rhetoric and bitter internal turf battles, even key players like Charles and David Koch -- the billionaire backers of Americans for Prosperity, which led the first 2009 Tax Day Tea Party protests -- had begun to distance themselves from the turbulent cause.

On the eve of the Tax Day rallies, the Kochs declared that "No funding has been provided by Koch companies, the Koch foundations, or Charles Koch or David Koch specifically to support the tea parties." By summer, David Koch was practically disowning them, telling New York magazine, "I've never been to a tea party event. No one representing the tea party has even approached me."

But just as leading conservatives were stepping away from the Tea Party -- at least in public -- conservative groups in North Carolina backed by Art Pope, the Koch's lesser-known ally, were rushing to embrace the controversial movement -- a close relationship that continues to this day.

'Tea Parties sweeping the nation!'

April 15, 2009. That was the day that put the Tea Party movement on the map, when nearly 1,000 Tax Day Tea Party rallies erupted across the country. Americans for Prosperity, a then-obscure conservative advocacy group founded by David Koch in 2003, made no secret of its leadership in the Tea Party protests.

While the Kochs get most of the credit -- or to detractors, infamy -- for AfP's success, North Carolina's Art Pope has been a critical junior benefactor: A Facing South analysis found that a family foundation led by Art Pope has given the Americans for Prosperity Foundation over $1.3 million since 2004, enough to be the group's second-largest institutional backer. Pope also sits on AfP's four-person board of directors.

Energized by the April rallies, Americans for Prosperity quickly moved to seize leadership in the Tea Party movement. AfP called for a national Tax Payer Tea Party in Washington, D.C. in October 2009 to channel the movement's energy. AfP delivered "Home Organizing" kits to Tea Party activists and sponsored dozens of trainings at local and national Tea Party events.

But then the bad publicity started. Reports of mostly-white Tea Party activists holding offensive signs -- "Obama's Plan: White Slavery" -- and shouting racial epithets hit the news. Polls also suggested these episodes were no fluke, but a reflection of extremist and racially-charged views with wide currency in the movement.

For example, a New York Times/CBS poll in April found only 41 percent of Tea Party adherents believed President Obama was born in the U.S. A survey in seven states (including North Carolina) by University of Washington researchers found that, of whites who "strongly" or "somewhat" approve of the Tea Party movement, "only 35% believe blacks to be hardworking, only 45% believe blacks are intelligent, and only 41% think that blacks are trustworthy. Perceptions of Latinos aren't much different."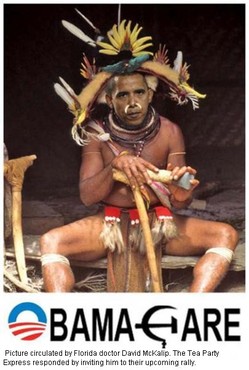 Even more troubling, Tea Party groups seemed reluctant to reject prejudice and extremism in their ranks -- in fact, they often embraced them.

For example, when Florida doctor David McKalip forwarded an image of Obama as an African witchdoctor in 2009 to protest "Obamacare" -- a move McKalip admitted was "completely inappropriate" -- the group Tea Party Express didn't condemn the act: They invited McKalip to be a featured speaker at one of their upcoming rallies.

Other Tea Party leaders also leaped to McKalip's defense, like Amy Kremer -- National Coordinator of the rival group Tea Party Patriots -- who wrote this to McKalip:
David, we all support you fully and are here for you. I can assure you of one thing and that is we will protect our own. We all have your back my friend!
Amy Kremer has now switched over to leading Tea Party Express, after the former leader, Mark Williams, was forced to resign after he posted a fictional letter to Abraham Lincoln on the group's blog that began:
Dear Mr. Lincoln, We Coloreds have taken a vote and decided that we don't cotton to that whole emancipation thing. Freedom means having to work for real, think for ourselves, and take consequences along with the rewards. That is just far too much to ask of us Colored People and we demand that it stop!
According to a new report on extremism in the Tea Party, Williams had earlier referred to Obama as "a Nazi, a half-white racist, a half-black racist and an Indonesian Muslim turned welfare fraud."

Despite the controversy, Americans for Prosperity now works closely with the Tea Party Express: This week it coordinated a rally with the scandal-plagued group in Nevada, targeting incumbent Sen. Harry Reid.

'Channel the Tea Party energy'

While conservatives like Koch were publicly distancing themselves from the Tea Party (although, as a new video shows, he remained supportive behind the scenes), in North Carolina, conservative groups backed by Art Pope were still rushing to embrace the Tea Party cause -- and in many places, they still are.

Since spring 2009, staff of the Civitas Institute, which receives nearly all of its funding from Art Pope's family foundation, and the John Locke Foundation, which receives over 80 percent of its funding from them, have spoken at dozens of Tea Party rallies (for example, see here, here here, here and here).

They've also given the North Carolina Tea Party a steady stream of positive coverage and sought to defend it from critics. For example, just as Koch was denying his Tea Party ties in April, John Hood of the Locke Foundation was taking a different approach, insisting the group was safely with the mainstream:
If the Tea Party movement consists of a bunch of extremists, prone to violence and potty mouths as some have been trying to assert, then I guess that means most Americans are extremists, too. You see, most voters agree with the tenets and activism of the Tea Party movement.
But North Carolina's network of conservative groups are more than casual observers or participants in the Tea Party: They've actively positioned themselves as leaders in the movement.

Together with the N.C. chapter of Americans for Prosperity, in May 2010 the Civitas Institute organized two "Tea Party Summits" -- one in Hickory ("Tea Party Summit West"), and another in Wilmington ("East"). According to the website, the events aimed to "channel the tea party energy" towards the groups' favorite conservatives causes, like "forced annexation" and cutting taxes.

Both the East and West Tea Party summits in North Carolina featured a "State of the People Luncheon" led by the Civitas Institute. They also included a Citizen Watchdog/Investigative Journalism training led by Civitas staff.

Today, the N.C. Tea Party Summit website only consists of a short statement thanking attendees for making the events a "great success" -- and offers an email address for further information, which directs to Marianne Suarez, a policy analyst at the Civitas Institute.

The N.C. branch of Americans for Prosperity is also behind N.C. Tax Day Tea Party 2010, an effort to coordinate Tea Party protests across the state.

The close ties between Civitas, Locke and AfP with the Tea Party have not only led the North Carolina groups to rub shoulders with controversial elements of the movement. It has also brought them dangerously close to involvement in partisan politics, an arena the Tea Party openly participates in but is against the law for nonprofits.

The Civitas Institute and Locke Foundation are classified as 501(c)(3) nonprofits by the Internal Revenue Service, which strictly forbids partisan political engagement and electioneering. Americans for Prosperity is a 501(c)(4) group, which -- while ostensibly still non-partisan -- can support or oppose candidates, as long as that's not its primary purpose.

The hazards of these associations could be seen at a Pilot Mountain Tea Party rally in Surry County, N.C. this past July.

The lineup for the event featured a steady stream of candidates on the campaign trail -- N.C. District 34 Sen. Andrew Brock, N.C. District 90 Rep. Sarah Stevens and U.S. Rep. Virginia Foxx, all Republicans -- which gave it the distinct feel of a partisan political rally.

The rally also featured Dr. Ron Baity, a firebrand evangelical minister who was dis-invited from giving a convocation at the N.C. House this year because he insisted on only praying to Jesus, and not acknowledging other faiths. Baity now leads Return America, a small group of far-right pastors who feel "Hussein Obama" (no "Barack") is soft on terrorists because he's "wrapped closely with the Islamic community" [pdf], and that many of our nation's problems began with the Scopes Monkey Trial of 1925 and the teaching of "Darwinian biological evolutionism."

Also addressing the Tea Party rally was Becki Gray, vice president for outreach for the John Locke Foundation, who was evidently thrilled to be in such company. As she told the Mt. Airy News:
This is wonderful. It's an enthusiastic crowd, with people coming out to celebrate the birth of their country and what it stands for. John Locke [Foundation] is a part of events like this across the state, but this is a particularly good one.
Tags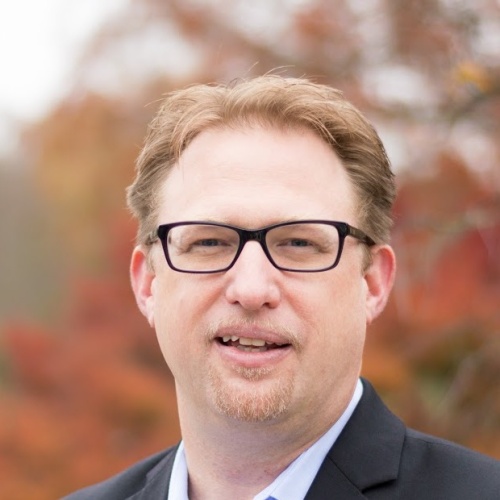 Chris Kromm is executive director of the Institute for Southern Studies and publisher of the Institute's online magazine, Facing South.