2010 shaped up to be the big election year everyone promised it would be. Here are some of the top election stories coming out of Southern states:
A TEA PARTY PARTY:
Whether it's an organized movement, a vague anti-government sentiment, or just a faddish media label (think "soccer moms") for energized Republicans, the tea party was an influential phenomenon in 2010.
Aside from the marquee senate victories in Florida and Kentucky and for governor in South Carolina, tea party activism -- boosted by generous corporate sponsorship through groups like Americans for Prosperity, FreedomWorks and the Tea Party Express -- helped tip key House and state legislative races to the Republicans.
About 40% of the voters who turned out for U.S. Senate races said they supported the tea party, according to
CNN exit polls
. More than anything, that reflects who was energized to vote this year. Whether or not the tea party -- loosely defined -- ends up being a durable political constituency, its impact in 2010 is undeniable.
BEST ELECTIONS MONEY COULD BUY:
This is a national story, but it certainly was a big factor in the South. 87% of voters in CNN exit polls said they are "worried" about the economy, but special interest groups still found plenty of money to spend on the 2010 elections.
Fueled by the Supreme Court's
Citizens United
decision loosening rules on corporate spending to influence elections, outside independent groups and party committees poured
a staggering $454.7 million
into U.S. House and Senate races in 2010, according to the Sunlight Foundation.
That's up from a mere $
53.9 million
in 2006. The four U.S. Senate races in Arkansas, Florida, Kentucky and West Virginia
cost $38.5 million
alone in 2010. And that's not including massive spending in state-level races.
In the end,
52% of the money
went to help Republicans and 48% to Democrats. But GOP groups were early and decisive leaders in the election money battle, with Democrats only closing the gap in the final weeks -- too late, in many cases, to make a difference.
STATE HOUSE CONTROL:
Republicans flipped control of both the upper and lower chambers in the Alabama and North Carolina legislatures. That GOP now controls seven of 13 Southern state legislatures, and splits control in two more (Kentucky and Virginia). Here's a map from the
National Conference of State Legislatures
: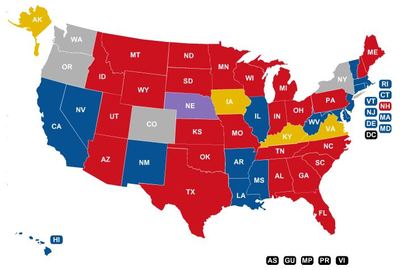 That puts Republicans in the driver's seat for redistricting, the drawing of new state political lines that greatly influences the balance of political power.
In Florida, Georgia, South Carolina and Texas, this also means Republicans will draw up lines for the
seven new Congressional districts
their states are projected to gain after the 2010 Census numbers are released.
Key issue to watch: When Republicans were out of power in Alabama and North Carolina, many of them called for creating an independent redistricting commission to decrease partisan control over the process in their respective states.
Now that Republicans are in charge, will they still feel the same way?