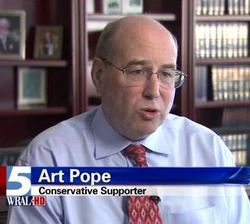 Even in a year marked by record-shattering election spending, North Carolina donor Art Pope's role in fueling the Republicans' historic victories in the state legislature was unique in its scale and impact.

As Facing South documented in an in-depth report last week, Pope's family and three groups linked to Pope spent more than $2.2 million targeting 22 key state house and senate races in N.C. -- over $100,000 per race, a staggering sum for state-level contests.

Facing South's report garnered widespread media attention, with featured stories on TV news and newspapers across the state.

It also provoked a response from Pope, who insisted that he didn't "buy the North Carolina legislature." When asked about the money his family and groups spent, Pope told WRAL TV News:
Acknowledge and proud of it [money spent on North Carolina races]. But that doesn't mean I spent millions of dollars to buy the North Carolina legislature.
See the video here:



However, in the same interview, Pope appeared to suggest that his family's big investment in the 2010 elections did help influence key state races -- and he's happy it did. As he also told WRAL:
If that [campaign spending] helped them [Republicans] win, especially in the close elections, then wonderful.
Pope's money certainly appears to have been a key ingredient to the GOP's success in capturing the North Carolina legislature. As Facing South reported, Pope's family and a constellation of independent groups linked to Pope -- Americans for Prosperity, Civitas Action and Real Jobs NC -- spent their $2.24 million targeting 22 state house and senate seats.

The result: 16 victories for Republicans -- an extraordinary 73 percent winning percentage -- and five races that face likely recounts. A Democrat clearly prevailed in only one of the 22 races.

Pope and other Republicans say that money wasn't the only factor, pointing to a national wave of pro-GOP sentiment. They also point to spending by people and groups aligned with Democrats, who have traditionally enjoyed a spending advantage in North Carolina.

While that's undoubtedly true, several factors distinguish the massive spending by Pope's family and groups in 2010, which saw unparalleled success in the state:

* TARGETING THE WAR CHEST: By focusing their spending on some two-dozen key races, Pope's family and groups were able to overwhelm Democrats in the campaign spending war.

The $100,000-per-race average that Pope's family and groups spent in 2010 was historic for state-level races. By way of comparison, in the last mid-term elections in 2006, the average N.C. state legislative candidate raised about $94,000 for their entire campaign, according to the National Institute on Money and State Politics.

The spending levels for 2010 -- both by campaigns and outside groups -- will likely end up being much higher. But Pope's family and groups still afforded Republicans a huge spending advantage: In races like NC Senate District 50, the amount they spent was still more than the total raised by the Democratic candidate overall.

* NATIONAL ALLIES WITH DEEP POCKETS: Pope's groups also benefited from support from powerful national allies.

The biggest of the North Carolina groups linked to Pope, Real Jobs NC -- which spent $1.5 million on a flurry of controversial attack ads on state Democrats -- got a major boost from the Virginia-based Republican State Leadership Committee.

The RSLC funneled $1.25 million into Real Jobs NC as part of its REDMAP campaign, a national effort to win state legislatures for the GOP in time for 2011 redistricting. Pope's family business Variety Wholesalers in turn gave $36,500 to support the RSLC's efforts.

* A COORDINATED STRATEGY: By using three seemingly unrelated groups to hit Democrats with a variety of attacks in TV, radio and print media, Pope helped create an echo chamber that made it look like Democrats faced widespread opposition. 15 Democrats faced attack ads from at least two of the independent Pope-backed groups.

That outside spending was complemented by $240,000 in personal contributions from Pope family members, and much more from the state Republican Party, to the candidates themselves to fund ads and attacks -- a well-aligned strategy that further enabled Republicans to create synergy and efficiently target resources.

As Pope told WRAL TV:
I'm not looking for anything other than good government and ending the corruption of the Democratic Party's control over our state government.
Pope's family and groups invested big money to realize that goal, and they can't help but be satisfied with the results.