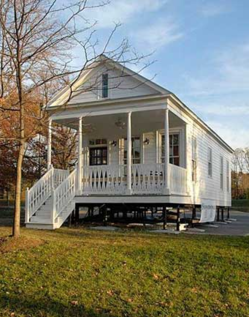 A settlement has been reached in a lawsuit filed over Mississippi's decision to divert federal funds meant for rebuilding low-income housing after Hurricane Katrina in order to expand a shipping port.
The hard-won agreement means the state will direct $132 million to lower-income families in hard-hit South Mississippi, where many communities have been poorly served by the state's existing post-Katrina housing recovery programs. Until now the state focused on assisting households that experienced flood damage, which meant they tended to be located on prime real estate closer to the beach.
"For the first time, the state of Mississippi has agreed to help make wind-damaged households -- which were primarily occupied by the elderly, the disabled, and African-Americans -- whole," says Charmel Gaulden, executive director of the
Gulf Coast Fair Housing Cente
r, one of the groups involved in the lawsuit.
The agreement also extends eligibility for assistance to inland communities as far north as Hattiesburg and Laurel -- places that were not helped by previous housing aid programs.
Two years ago, Mississippi housing advocates filed suit against the U.S. Department of Housing and Urban Development following its approval of Mississippi Gov. Haley Barbour's plan to shift $570 million in federal housing funds to expand the State Port at Gulfport. The action came after the state was already under fire for not spending enough of the $5.5 billion it received in federal grants to assist low-income residents victims of the disaster.
In January of this year, a federal judge dismissed the lawsuit, but attorneys for the plaintiffs appealed. At the same time, housing advocates organized a grassroots effort involving petitions and a postcard-writing campaign to ensure HUD heard people's concerns. As part of the settlement, the plaintiffs will dismiss the appeal now pending in the U.S. Court of Appeals for the District of Columbia Circuit.
The $132 million, provided mostly through HUD's Community Development Block Grant program, will be used to launch a new Neighborhood Home program that will provide up to $75,000 to repair or reconstruct damaged low-income housing. The money will also be used to help qualified low-income people occupy
Mississippi Cottages
(
in photo above
) or rental housing.
"We can now make progress toward repairing and rebuilding housing in low-income African American neighborhoods that have been neglected for the past five years," said James Crowell, treasurer of the
Mississippi State Conference NAACP
and a director of the
national NAACP
, another plaintiff.
Attorney Reilly Morse with the
Mississippi Center for Justice
, a group also involved in the lawsuit, praised HUD Assistant Secretary Mercedes Marquez and Special Adviser Fred Tombar for their key roles in helping resolve the case.
(Photo of a Mississippi Katrina Cottage from the Katrina Cottages website.)