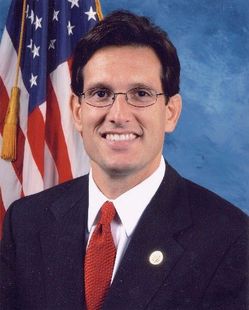 The House leadership in the newly elected 112th Congress has some big changes planned on the environmental policy front, from rollbacks of protective regulations to an assault on climate science.
Following last week's mid-term election that gave Republicans control of the House, Rep. Eric Cantor (R-Va.) (
photo at right
), the likely new majority leader, released a
document
[pdf] outlining his party's plans that calls for committees to review "existing and proposed government rules, regulations, and statutes" for possible repeal.
As OMB Watch
points out
, Cantor's document takes a uniformly negative view of regulation, "commenting on its cost to businesses without mentioning its benefits to society as a whole." For example, the document states that the annual cost of federal regulations was $1.75 trillion in 2008, but it does not consider the cost savings regulations bring as a result of a cleaner environment and improved public health.
Though Cantor's document does not mention environmental regulations specifically, he has been almost uniformly hostile to legislative efforts to protect the environment. The League of Conservation Voters (LCV) 
gave him scores
of 0 percent in the first session of the 111th Congress, 6 percent in the 110th, 7 percent in the 109th, and 0 percent in both the 108th and 107th. At the same time, the top contributor to Cantor's campaign over the course of his congressional career
has been Dominion Resources
, a
major polluter
.
Cantor's anti-regulation initiative will have major implications, since with a Republican majority in the House and a smaller Democratic majority in the Senate it's likely that President Obama will increasingly try to use the regulatory process to advance his administration's policy goals.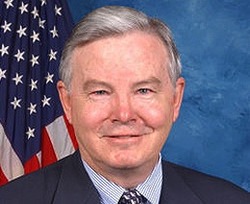 Climate deniers take control of Energy Committee
One area of environmental policy where big changes are coming is on the climate front. Fifty percent of the newly elected House Republicans
deny the existence of man-made climate change
, while 86 percent are opposed to any climate legislation that increases government revenue, such as cap-and-trade bills or a carbon tax.
Four lawmakers are currently vying to head the key House Energy and Commerce Committee that's currently led by Rep. Henry Waxman (D-Calif.), and all four -- Fred Upton (R-Mich.), John Shimkus (R-Ill.), Cliff Stearns (R-Fla.) and Joe Barton (R-Texas) (
photo above
) -- question the science of man-made global warming.
Upton is the front runner for the post as the most senior member eligible to take over the committee. Though he
voted for a cap and trade system
back in 1990 to limit sulfur dioxide pollution from power plants, he now opposes cap and trade as a way to control greenhouse gas emissions. He has also
questioned the science of man-made global warming
and called for investigations of climate scientists. The top contributor to Upton has been CMS Energy, which
generates about 80 percent of its power from fossil fuels
.
Shimkus not only denies the reality of man-made global warming but has taken the
extreme anti-science position
that it isn't something to be concerned about because "God said the Earth would not be destroyed by a flood." And while denying global warming, Stearns has also
promoted the discredited myth of global cooling
. The electric utility industry has been the
second-highest industry contributor to Shimkus
and the
fourth-biggest contributor to Stearns
.
Barton is a former
oil-company consultant
who famously
apologized to BP
for White House efforts to create an escrow fund for Gulf Coast damages and
claims global warming is a purely natural phenomenon
. Barton is
seeking an exception from Republican rules
limiting how long someone can hold a committee leadership position. The oil and gas industry has been
Barton's top contributor
, followed by electric utilities.
All four lawmakers pursuing the Energy Committee's chairmanship have gotten low scores from LCV. In the 111th's first session, Upton got a 36 percent, Shimkus 7 percent, and Stearns and Barton both got a 0.
Climate science investigations planned
The future remaiins uncertain for the House Select Committee on Energy Independence and Global Warming, created by current House Majority Leader Nancy Pelosi (D-Calif.).
While there has been some
speculation the committee might be disbanded
, climate science denier Rep. James Sensenbrenner (R-Wis.) has
said he might keep it alive
in order to investigate the Environmental Protection Agency.
Another investigation around climate science is planned by Rep. Darrell Issa (R-Calif.), who is set to head the House Oversight and Government Reform Committee. Issa has
said
he would use the post to launch a probe of the so-called "Climategate" matter, which involved stolen e-mails from the Climatic Research Unit of the University of East Anglia in England. While climate skeptics claimed the e-mails showed scientists manipulating data, multiple investigations in both the U.K. and U.S. have since
cleared researchers of any wrongdoing
.
While the House readies its assault on climate science, actual climate scientists are taking action to address misinformation. The American Geophysical Union, the leading organization of climate scientists, is
planning to launch a web service
offering journalists accurate information about climate change. It's also working on an climate science iPhone app.
An another effort, climate scientists are
assembling a "rapid response unit"
to provide the public with accurate information on climate change. That effort is being led by John Abraham of St. Thomas University in Minnesota, Scott Mandia of Suffolk County Community College in New York, and Ray Weymann, staff member emeritus at the California-based Carnegie Observatories.
View image
But will those efforts be able to counteract the weight of the congressional bully pulpit -- and the massive amounts of money flooding the political system from polluters?