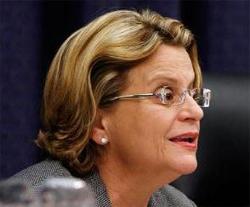 The economy, jobs, taxes -- these are the issues grabbing post-election headlines about the Republicans' agenda for Congress.
But the new GOP leadership could have even more dramatic impact on issues beyond U.S. borders. That's because the Republicans poised to lead key House foreign policy posts are pushing for a sharp turn to the right, especially in U.S. relations with Cuba, Iran, and Venezuela and other perceived threats.
Leading the charge will be
Rep. Ileana Ros-Lehtinen
from Miami, the daughter of Cuban exiles who came to Washington in 1989 as the first Hispanic woman member of Congress. Ros-Lehtinen is the senior Republican on the
House Foreign Affairs Committee
, making her a shoe-in to assume leadership over the critical post in January.
As could be expected given her background and Miami constituents, Ros-Lehtinen has pledged to fight the Obama administration's slow-moving thaw in U.S.-Cuba relations. As The Washington Post notes, Ros-Lehtinin's ascension will almost certainly
dash
any plans to lift the ban on U.S. tourist travel to Cuba.
But her fierce opposition to left-leaning governments -- and her view that the U.S. should be "non-apologetic about being a superpower" -- have led her to take controversial positions at the right-most edge of the foreign policy debate, as Alexander Main of the Center for Economic and Policy Research
recently documented
:
* In 1990, Ros-Lehtinen "
lobbied hard
" for the release of far-right Cuban
Orlando Bosch
, who former U.S. Attorney General Dick Thornburgh called an "unrepentant terrorist" and is believed to be responsible for the 1976 bombing of an airliner that
killed 76 civilians
, as well as dozens of other terrorist attacks. Florida Gov. Jeb Bush -- Ros-Lehtinin's former campaign manager -- and Ros-Lehtinen convinced President Bush to release Bosch in Miami in 2006.
* In 2006, Ros-Lehtinen
openly called for the assassination
of Cuban leader Fidel Castro. A video surfaced in which she said, "
I welcome the opportunity of having anyone assassinate Fidel Castro." When asked later about the controversial remark, she was unapologetic, saying she would "welcome (Castro's) passing."
* In 2005, Ros-Lehtinen also
lobbied
on behalf of another convicted terrorist, Luis Posada Carriles, who was imprisoned in Panama for his role in a Castro assassination attempt, and U.S. officials believe helped mastermind the 1976 airline attack. Thanks in part to Ros-Lehtinen's efforts, Carriles was released and is now living in exile in Miami.
* Outside of Cuba, Ros-Lehtinen also offered her staunch support of military leaders who staged coups in
Venezuela in 2002
and
Honduras in 2009
. Her letter to Obama about Honduras criticized the administration for endorsing Organization of American States and United Nations resolutions against the coup "all for the sake of consensus."
A key Florida ally
Rep. Ros-Lehtinen's main compatriot on the House Foreign Affairs Committee is fellow Florida Republican
Rep. Connie Mack
, who will chair the
Western Hemisphere Subcommittee
.
Rep. Mack shares Ros-Lehtinen's crusade against left-leaning governments and has expanded it to other Latin American nations:
* In
2008
and
2009
, Rep. Mack introduced resolutions to add Venezuela to the list of "states which sponsor terrorism." Republican Sen. Richard Lugar swiftly denounced the idea in
a 2008 report
[pdf], calling it "counter-productive" and "playing with fire;" the measure died both times.
* In August 2009, Rep. Mack inexplicably attacked the government of Ecuador, issuing a
press release
on the country's Independence Day calling President Correra "nothing more than a pawn for his fellow friend and thugocrat, Hugo Chavez." In March 2009, he
similarly antagonized
Bolivian president Evo Morales, who was first elected in 2006.
Reps. Ros-Lehtinen and Mack aren't just hawks about Latin America. In statements reminiscent of the Bush administration, they've relentlessly attacked so-called "
rogue regimes
," including Iran and North Korea, and called for the U.S. to use its superpower status to bring change. They've also called for stronger support of Israel's conservative government.
Using their perch at House Foreign Relations, Ros-Lehtinen and Mack aim to push Obama into embracing a more interventionist stance against left-leaning governments and in support of those on the right.
But having a Republican majority doesn't mean the hawks will have a completely free hand. Ros-Lehtenin admits there's an
internal GOP battle
between Republican hard-liners like her and Mack, and "Republican-Libertarians" -- like
Rep. Ron Paul
of Texas, also on the Foreign Affairs Committee, who has been a ruthless critic of military spending and U.S. intervention abroad.