BP spill commissioners face congressional committees awash in oil money
When the BP spill commissioners testify today before House and Senate committees about their investigation into what caused the deadly Deepwater Horizon disaster and their recommendations for regulatory reform, they'll be speaking to politicians whose campaigns the oil and gas industry has invested in generously.
National Commission on the BP Deepwater Horizon Oil Spill Commission co-chairs William K. Reilly, a Republican and former Environmental Protection Agency administrator, and former Sen. Bob Graham (D-Fla.) are scheduled to testify this morning before the
Senate Energy and Natural Resources Committee
, and before the
House Natural Resources Committee
this afternoon.
The 23 members of that Senate committee received a total of over $2.4 million from the oil and gas industry during the 2010 election cycle alone, while the 48 members of the House committee received a total of more than $1.1 million from the industry in that period, according to data from the Center for Responsive Politics' available at
www.opensecrets.org
.
The top recipient of oil and gas money among the two committees' members was Sen. Blanche Lincoln (D-Ark.), who received $454,950, followed by Sen. Mary Landrieu (D-La.) at $373,200 and Sen. Bob Corker (R-Tenn.) at $283,100. The following charts offer more details about the industry's contributions to the committees: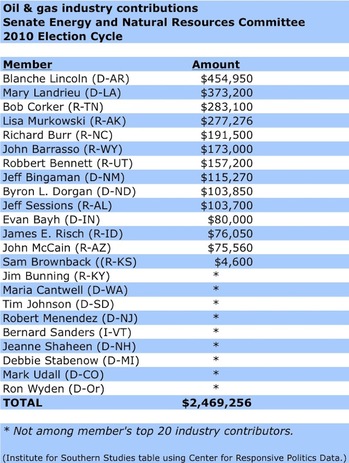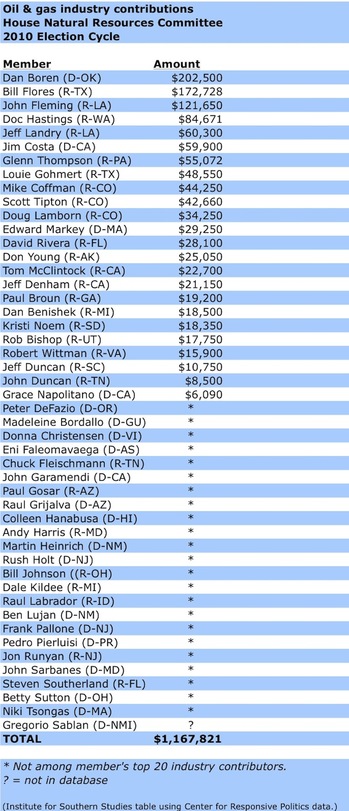 The final report from the President's oil spill commission blamed the BP disaster on problems systemic to the industry, including its "culture of complacency." However, many oil industry leaders reject the idea that their industry has systemic problems -- and their political investments will likely help ensure that viewpoint is heard by lawmakers.
Tags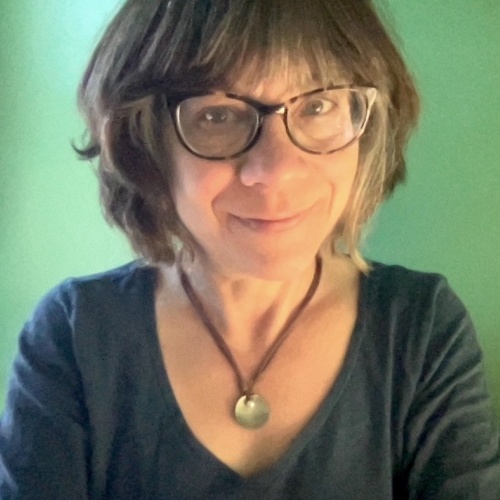 Sue is the editorial director of Facing South and the Institute for Southern Studies.