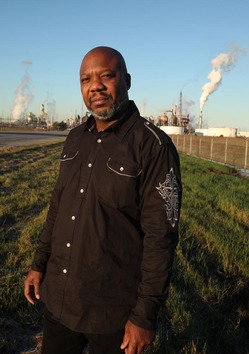 By Michael May, Texas Observer
This week, Hilton Kelley, one of the activists the
Observer
honored as a 2010 Tyrant's Foe, won the most prestigious award given to environmental activists -- the Goldman Environmental Prize. Kelley will receive much-deserved recognition for his work -- and the $150,000 that comes with the prize.
One of the first features I wrote for the Observer after moving to Texas a decade ago was on Kelley (read it here), who had then just moved back to his hometown of Port Arthur after 20 years away. Kelley bought a home just blocks away from several oil refineries, and vowed to do whatever he could to pressure those multi-million dollar facilities to reduce the tons of pollution they were spewing into his neighborhood, and also to convince them to invest in local businesses and hire local workers.
I was impressed by Kelley's passion, but I wondered if he would have the stamina it would take to change business as usual in the refinery town. It seemed like everything was stacked against Kelley. The powers-that-be didn't want to challenge the refineries -- they ran what was left of the city's meager economy. The mayor at the time, Oscar Ortiz, said, "I tell people, if you want jobs, you have to put up with pollution." I figured Kelley might find the obstacles too daunting, and move away again.
But Kelley stayed in Port Arthur. And after years of hard work, he finally scored a major victory in negotiations with Motiva, which owns one of the refineries that backs up to Hilton's neighborhood. Motiva wanted to expand the number of barrels of oils it refined in Port Arthur -- from around 200,000 barrels a day to around 600,000 barrels. "Motiva was having fires and huge releases of emissions," says Kelley. "I said, 'How can you manage more than 600,000 barrels when you can't manage 200,000?'"
So Kelley and his allies fought the expansion. And the usual suspects lined up against him. The city council told him that he was stopping jobs from coming to the city. Firefighters and the police testified that there was nothing to fear. But Kelley had seen and smelled what was going on at the refinery, and held his ground. He filed a contested case hearing with the Texas Commission on Environmental Quality. And Motiva agreed to sit down and negotiate.
Kelley didn't get everything he wanted from Motiva, but he got a lot. The refinery agreed to put in a sulfur recovery unit and a flare gas recovery unit to cut down on emissions. Motiva put up $3.5 million for economic development in the community, and agreed to open a job training center to help locals get the new jobs being created. And Kelley got $200 worth of doctor's visits for every resident living adjacent to the refinery.
"I wanted more. I wanted $50 million for the community," Kelley says. "But my lawyer sat me down and said, 'I've never gotten a deal this sweet in a contested case hearing.' It's a start in the right direction. I had a lot of people against me. Now some of those same people are coming up and slapping me on the back, for getting something for this dilapidated community."
Leslie Fields, the national environmental justice program director for the Sierra Club, nominated Kelley for the prize. "The Motiva agreement is a great victory, led by Hilton. No one was going to stop this refinery from expanding. The significance is what happened along with that -- the community winning the agreement from Motiva, especially the new pollution controls. I do not see this as having happened without Hilton."
Now Hilton's on a new mission. He wants to get the petrochemical facilities in Port Arthur to get together and create a siren system to alert residents when there's an accident. Right now, they depend on calling people on their land lines. "The dialing system has failed many times," says Kelley. "We had 200,000 barrels spilled in the ship channel, and no one on the west end of Port Arthur got a call. We only know there's a problem when we smell it. Other facilities around the country have an audible alert system. Here, the companies are resisting. They say it would alarm people. Well, we need to be alarmed!"
Winning the Goldman Prize is sure to bring attention to Kelley's work. "I've been fighting this fight for 11 years," he says. "There's been a lot of trials and tribulations. And most of the time it feels like no one is paying attention. Turns out, the whole world is watching."
(Photo of Hilton Kelley from the Goldman Prize website.)