Lessons from the Freedom Rides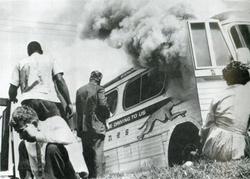 By Paul McLennan, Labor Notes
This month marks the 50th anniversary of the Freedom Rides, a heroic effort led by students and youth to end racial segregation in the South. In 1961, integrated teams rode buses from the North to the South to force the government to uphold federal law prohibiting discrimination in public transportation and public facilities.
The tactic was for blacks to sit in the front of the bus and whites in the back, or to sit together in the front. At every rest stop, blacks would enter the white waiting room and whites the black waiting room.
In Alabama, in particular, the white reaction was swift and violent. In Anniston, a bus was firebombed, and the Klan attacked the riders at the bus station in Birmingham. Many were severely beaten and thrown in jail but the Freedom Riders were persistent, courageous, and ultimately victorious. PBS premiered a documentary about them on Monday, May 16. Watch
excerpts and a preview
.
What lessons can today's movements learn from that time in history?
First is raw courage. The Freedom Riders put their bodies on the line to fight injustice, risking not only arrest but beatings and even death. They were willing to disrupt their normal lives for what they believed in; they couldn't count on returning to comfortable circumstances by the end of the day.
Second, just as the lunch counter sit-ins in 1960 had electrified the nation, the Freedom Riders were not afraid to use new and daring tactics in confronting unjust segregationist laws.
Third, they knew that only by generating a crisis would the federal government be forced to intervene. Business as usual had to cease. The status quo could no longer be accepted. Images of burning buses and bloodied youth were daily events on the evening news. The U.S. government was being shamed in the eyes of the world.
Today's crisis of wealth inequality is becoming as stark as racial inequality in 1961. People of color are still disproportionately affected. Imagine if the victims of foreclosures, layoffs, plant closings, concessions were to unite to stop business as usual in 2011.
Organizing Philosophy
At this time, a relatively unknown organizer was working behind the scenes in the civil rights movement. She encouraged the youth and supported their forming their own organization, the Student Nonviolent Coordinating Committee (SNCC). She believed young people had to be empowered to run their own organization, not look to a leader outside themselves to follow.
Her name was Ella Baker. She was responsible for helping SNCC make the transition from these high-profile events to day-to-day grassroots organizing. While having a dedicated cadre willing to risk their lives was important, she believed that ordinary people had to be involved if a movement was going to succeed.
"In the long run they themselves are the only protection they have against violence or injustice," Baker said. "They cannot look for salvation anywhere but to themselves." She believed that "strong people don't need strong leaders." This idea is relevant today when we look at the internal culture of most unions and how they handle power.
Most unions operate under the service model, where the members pay dues and, in return, expect their grievances and contracts to be handled for them. This arrangement puts a great burden on the officers to "bail out the ocean" of endless problems that a local union faces daily. In this model, much of the decision-making is concentrated in the hands of a few officers. Similar to how a corporation operates, power is at the top.
Ella Baker had a radically democratic vision: that those most affected by an issue should lead. That, in fact, their knowledge and wisdom about the problem was key to making progress. Before making any demands on the system, time had to be taken to ensure that everyone was on board. Success was judged not necessarily by how many people turned out for a rally but what people learned along the way. Did they learn how to write a leaflet, run a meeting, organize a phone bank? This was leadership as teaching.
To Ella Baker, the steward would be the most important part of a union organization. This is the person who is most in touch with the issues and with those affected by them. A good steward will create a base by building strong ties with those he or she represents. Relationship-building and the personal development of individuals was central to Baker's thinking. Building trust and engaging in a democratic process can be very undramatic and takes years of work but is necessary in building power at the base of the union.
In a typical scenario, a steward might handle a grievance herself and not involve anyone else. Using Ella Baker's organizing model, the steward would pay more attention to empowering as many people as possible in the process of resolving the problem. Time would be taken to discuss strategy and question what was trying to be accomplished by this action. Then, once a decision was reached, people would act together as one.
Under Baker's influence, the SNCC culture was innovative and flexible and left room for plenty of debate and trial and error. This style could be applied to a contract campaign, for example, where the strategy would be driven by the needs of the members and answers about what to do would come from taking the time to dialogue and build consensus.
Again, success might not be judged solely in the traditional way. Other factors such as increasing membership, healing divisions within the workforce, developing new leaders and a stronger steward network, educating the rank and file about the broader issues, and building better relations with the community would also be considered.
Many social movements have a rich history for us to learn from. The story of Ella Baker is not told enough, but the example she set inspires many of us who are trying to build radical alternative ways of using power, instead of copying the way management and the system uses it.
For more on Ella Baker and her organizing philosophy see
Ella Baker and the Black Freedom Movement
by Barbara Ransby and
I've Got the Light of Freedom
by Charles Payne.
* * *
Paul McLennan is a retired bus mechanic and Transit Union member in Atlanta. Photo above shows the Freedom Riders' bus burning near Anniston, Ala. in 1961.
Tags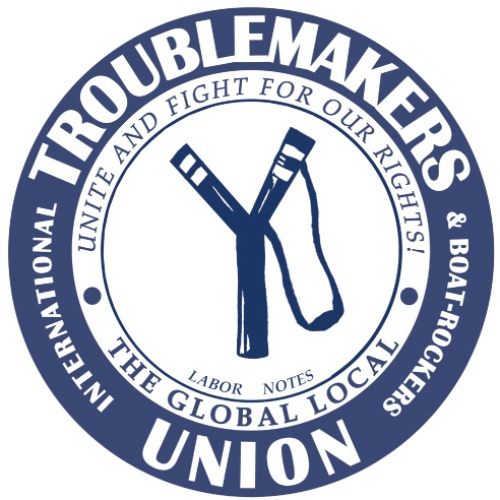 Labor Notes is a media and organizing project that has been the voice of union activists since 1979.