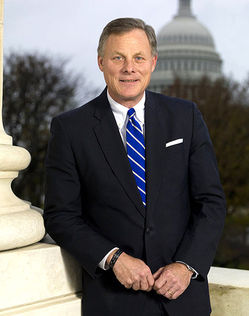 A group of Senate Republicans led by Richard Burr of North Carolina wants to combine the Environmental Protection Agency and the Department of Energy into one agency. They claim the merger would save money -- but a deeper look at the plan and its backers raises questions about other, dirtier motives.
Burr (
in photo
) introduced legislation last week to join the EPA and DOE into a new agency called the Department of Energy and Environment, arguing that the move would help eliminate unnecessary bureaucracy.
"This common-sense approach will reduce duplicative and wasteful functions across these two agencies and streamline our approach to a comprehensive, coordinated energy and environmental policy," Burr said in a
statement
.
But some experts are questioning the claim that the move is simply about cost savings. They include Joe Romm, a physicist and climate expert who formerly served as acting assistant secretary of the U.S. Department of Energy. He wrote about Burr's proposal
for the Climate Progress blog
:
I worked at the DOE for 5 years in the mid-1990s. I lived through the efforts of the Gingrich Congress to try to shut down the Department, and especially its clean energy programs. I also worked closely with EPA at that time. In fact DOE ended up hiring some EPA folks who wanted to work on pollution prevention and clean energy.

So I can state with a great deal of confidence that DOE and EPA are utterly different agencies that have no meaningful duplicative functions. Yes, they both have a General Counsel's office, for instance -- but DOEE would still need the lawyers from both EPA and DOE since they do completely different things and require completely different sets of expertise. What this would allow the GOP to do is to cut the combined operations budget and staffing, thereby crippling both agencies, all in the name of "streamlining."

Romm notes that the merger would eliminate a voice of environmental and clean energy expertise from Cabinet meetings. In addition, he observes that combining a regulatory agency like EPA with an agency like DOE that serves the needs of regulated industries is a "disastrously bad idea." He points out that such a scenario contributed to the BP oil spill disaster and led to the Minerals and Management Service being split up to separate its energy development, enforcement and revenue-collecting roles to reduce conflicts of interest.
Burr's proposal comes amid a push among his fellow conservatives to eliminate the EPA, which they accuse of hurting businesses with excessive regulation. In a speech to the Conservative Political Action Committee earlier this year, for example, former Republican House Speaker and 2012 presidential hopeful Newt Gingrich of Georgia
called for scrapping the EPA
and replacing the regulatory agency with one that would instead reward corporations for environmental innovation.
Republicans have been especially incensed over EPA's efforts to regulate greenhouse gases in order to curb man-made global warming. Just a few weeks before Burr introduced his EPA elimination bill, his Democratic colleagues in the Senate
defeated a GOP measure
to repeal a 2009 finding by federal scientists that climate change caused by greenhouse gas pollution endangers human health.
And it turns out that Burr and many of his 15 bill co-sponsors -- all of whom have questioned the scientific consensus on human-driven climate change, as the Wonk Room blog
points out
-- are deeply indebted to dirty energy interests.
According to the
Dirty Energy Money database
created by Oil Change International, a group that advocates for cleaner energy policies, Burr has received over $880,000 from coal and oil interests over the course of his career. His top five dirty energy donors are North Carolina-based electric utility giant Duke Energy, electric and gas holding company SCANA Corp. of South Carolina, Virginia power provider Dominion Resources, Ohio-based mining corporation Murray Energy and Kansas-based private energy conglomerate Koch Industries.
Two of the bill's co-sponsors -- Sen. Kay Bailey Hutchison (R-TX) and David Vitter (R-LA) -- collected even more from dirty energy interests than Burr. In all, the sponsors of the bill to eliminate the EPA have raked in over $6.5 million from the oil and coal industries. The following chart offers more details: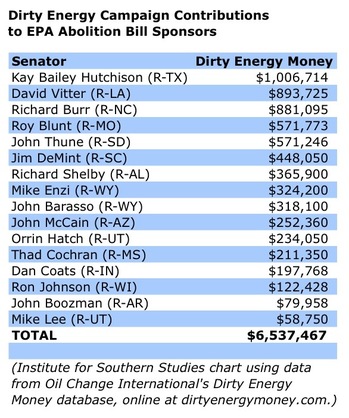 (Official portrait of Sen. Richard Burr from the Senate website.)