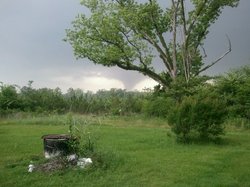 Relief efforts are underway in response to the violent outbreak of tornadoes that devastated swaths of the South last week, killing more than 350 people with hundreds of others still missing. However, those efforts are proving a challenge in some poor and rural communities devastated by the storms.
Reports are emerging that some hard-hit areas are being left out of needed assistance due to their isolation and the fact that their plight is not being reported in the media. While news coverage has focused largely on the destruction in urban areas including the Alabama cities of Tuscaloosa and Birmingham, the storms also impacted many small rural communities in Alabama's
Black Belt
.
Derrick Evans of
Turkey Creek Community Initiatives
in Mississippi has been in Alabama helping
Hurricane Creekkeeper
John Wathen, whose home outside Tuscaloosa was destroyed in an April 27 tornado. In a
note
posted to Facebook, Evans says the question at this point shouldn't be how hard any particular community was hit, but where is relief failing to flow:
The Answer is: in a very large, buck-shot pattern of isolated, mainly rural, poor black and white communities that are not in or necessarily near the cities of Tuscaloosa or Birmingham.

Created by so many different tornadoes, the physical geography of this federal Disaster Area is not at all like Katrina-RitaVille (the gulf coast from AL to TX) -- where you could simply drive east or west from any exit on I-10 or US 90 to find a long and unbroken string of physical destruction and human need; a continuous zone where you could drop off relief supplies pretty much anywhere.

This is instead like a whole bunch of needles in a giant haystack. In most places, you can't even sense the slightest hint of regional mayhem until you arrive right up on the destruction somewhere.

Evans also works with the
Gulf Coast Fund for Community Renewal and Ecological Health
, which supports progressive movement building in the region. The fund is working to develop a map of hard-hit poor communities where relief is not reaching those in need -- a challenging task given that many affected communities still lack cell phone and internet service.
The Fund has partnered with the
Black Belt Community Foundation
based in Selma, Ala. to provide emergency grants for some of the most affected low-income communities. Also involved in the effort to leverage resources for the Fund's relief effort is the
National Coalition on Black Civic Participation
.
Meanwhile, the
Federation of Southern Cooperatives
has stepped up to assist rural communities impacted by the tornadoes. The nonprofit provides resources and advocacy for 20,000 low-income families working in self-help community-based organizations across the South, with a special focus on black farmers struggling to maintain their land and culture.
As it did in the wake of Hurricane Katrina in 2005, the Federation is opening its training center in the rural Sumter County, Ala. community of Epes to house volunteers and others assisting those who've been displaced by the tornadoes -- and it's doing so despite the $12,000 in wind damage suffered by the center, located about 50 miles south of Tuscaloosa.
The Federation reports that many Alabama Black Belt communities have been devastated by the tornadoes:
* In
Sumter County
, tornadoes hit the town of Geiger twice, first on April 15 and again on April 27. Of the 154 houses in the community, 75 were damaged or destroyed, and two churches were also damaged.
* In
Greene County
, tornadoes also hit the towns of Tishabee and Forkland twice, destroying eight trailers and homes, damaging 20 others and leaving two churches in ruins. The storms also struck Mantua and Snoddy, destroying six homes and trailers and damaging 20 others.
* A tornado severely damaged 20 houses in the Jefferson community of
Marengo County
.
* In
Hale County
, a tornado killed four people in the Sawyerville community and damaged or destroyed many homes and trailers.
* Homes were also damaged in the Lisman, Yantley and Pennington communities of
Choctaw County
. (The photo above,
by the National Oceanic and Atmospheric Administration
, shows the tornado that hit Choctaw County.)
The Federation is providing direct emergency assistance to impacted communities as well as training and advocacy for residents regarding their rights and available benefits under state and federal programs.
"We found after Katrina that community leaders needed training and instruction in the details of program regulations and filling out paperwork to receive promised benefits from public and private agencies, as well as counteracting racial discrimination by agencies and programs involved in disaster relief," the Federation said in a recent statement. "We plan to offer this type of training as soon as feasible and continuing over the rebuilding period."
* * *

To learn more about and to donate to the tornado relief efforts being organized by the Gulf Coast Fund, click here. To donate funds or materials to the Federation of Southern Cooperatives' relief effort, contact the group through its website at www.federation.coop. You can also contact the Federation's Fiscal and Accounting Office at 2769 Church St., East Point, GA 30344 or by phone at (404)765-0991.