New labor rules could help workers' organizing efforts
By Jenny Brown and Mischa Gaus, Labor Notes

The IKEA furniture factory in Danville, Va., is hot in the summer, but workers can expect it to be even hotter this year. They filed a petition for representation on June 20, kicking off the arduous process that leads to a typical union election in the U.S.
If their election follows the standard pattern, the 350 workers will be subjected to two months of interrogation, intimidation, and threats that the shop will close, along with a sprinkling of company smiley-faces.
But that harrowing pre-election period could be shortened if a set of rules proposed by the National Labor Relations Board is enacted later this summer.
Employers typically delay elections for weeks by appealing rulings on procedural matters, but the new rules would consolidate objections into a hearing held after the vote.
Management would also be required to provide a list of employees to the union more promptly. The NLRB oversees most employers in the private sector, where only 7 percent of workers are unionized.
Justice delayed

Bill Street of the Machinists says his union typically files for an election when 65 percent of the workforce has signed cards saying they want a union, but the Machinists still lose 40 percent of their elections.
The Machinists are around the norm: Unions won 66 percent of NRLB elections in 2009, a winning margin that's deceptive because the number of union elections held under the NLRB has dropped 60 percent in the last 13 years. The Board conducted 1,304 votes in 2009.
"We build our committees, they're all excited, then the employer starts drawing it out, beating up our workers," said Street, who is working to organize the Swedwood plant in Virginia, part of the Swedish furniture juggernaut IKEA.
Two-thirds of union elections are conducted between 31 and 50 days after an election petition is filed, according to a recent Columbia University study. Fifteen percent take more than 50 days.
Pressure on workers can be so intense -- with all the power on the bosses' side -- that many unions seek to avoid NLRB elections.
Instead they use whatever leverage they can, such as pressure on shareholders or community campaigns, to push employers to promise to accept a union if a majority of workers say they want it. The process is often called "voluntary recognition."
At the IKEA plant, the Machinists tried to negotiate for employer neutrality, basing their appeal on IKEA's tolerance of unions in its home country and a corporate ethics policy that includes workers' right to organize.
But when Swedwood continued to act like a "typical Southern company," the union filed for an election, said Street, who is director of the Woodworkers Department of the Machinists (IAM).
Two Swedwood workers have already been fired for speaking up for the union, Street said. One was demoted and the other was put on graveyard shift. Within six months both were fired.
And the company has hired Jackson Lewis, a notorious union-busting firm. (Another rule change proposed by the NLRB would increase the transparency of relationships between corporations and outfits like Jackson Lewis.)
Firings are common, said Kate Bronfenbrenner, a Cornell University researcher who studies employer opposition to unions. Workers are fired in 34 percent of organizing drives, according to her studies.
"The system as it stands turns the election process inside out," said Bronfenbrenner. "The data show that the longer you stretch out the election process, the harder it is for the union to win."
Predictably, anti-union politicians howled when the rules were proposed, calling them a gift to "Big Labor."
"Today," replied Board Chair Wilma Liebman, "the Board is routinely criticized for doing what the statute requires it to do."
Street said the U.S. is the only industrialized country where the government treats union elections as a contest between the union and the company. "That's the fundamental problem," he said. "The question should be, does the worker want to be represented by a particular union?" In other countries it is assumed that the company must accept a union if the workers want one.
Speed could help

Bronfenbrenner said the rule changes could significantly aid some unions.
Unions can't use "leverage" strategies to win neutrality from small employers because they lack obvious pressure points, like shareholders or a visible brand image. For nursing homes, auto parts, waste hauling, and food processing, she said, NLRB campaigns still can work.
That is, if the union can survive the dragged-out election. Bronfenbrenner's research says employers now threaten to close the plant in 74 percent of all elections in manufacturing -- up from 29 percent in the 1980s.
"Streamlining the process matters because for workers each week that goes by is another week of threats, interrogation, harassment, discharges, and surveillance," Bronfenbrenner wrote.
The tactics worked in a June 17 election at a Target store in Long Island, New York. Workers were bombarded with threats to close the store, and voted the union down 137-85.
"People are not going to have a rational conversation if they think they will lose their job," said Pat Purcell of Food and Commercial Workers Local 1500. "It's a ridiculous process. Imagine a challenger trying to unseat an incumbent, but the incumbent gets to hold the vote in his house. The whole thing is based on manipulation and tremendous pressure."
The vote at Target took 42 days from petition filing to final tally. It is illegal to threaten to close a workplace to discourage unionization, but Target skated the line, saying, "Our store will stay open only so long as it meets Target's economic and operational needs. There are no guarantees."
Get the list

Sandy Pope, president of a New York City Teamsters local, has long argued that unions should have aimed for a shorter election period rather than the card-check recognition that was the core of the failed Employee Free Choice Act.
She said getting voter phone numbers and emails, and getting them quickly, would have aided her local's effort to organize the warehouse for Fresh Direct, an online grocer. Without them, organizers spend fruitless hours knocking on doors while employers hack away at workers in captive-audience meetings.
But, Pope said, the proposed rules don't go nearly far enough: Fresh Direct retaliated fiercely against workers, firing several key activists. The NLRB is notoriously slow when it comes to reinstating workers fired for organizing.
Even if the company is eventually found to have fired the workers illegally, the intimidation has long since done its job, depriving the union side of its most eloquent advocates in the workplace.
At Swedwood, the fired workers were not reinstated. Street said he was unable to convince the NLRB that they were discharged due to their union activism. But everyone knew why they were fired, he said.
Half the battle

The election is only half the battle. When it wins, a new union must then spend months -- years in some cases -- fighting for a first contract.
Workers voted union in 2009 at a Cintas laundry plant in New York, said Teamsters Local 550 President Billie Whelan, but the certification was tied up by eight months of employer litigation.
Now workers have been at the bargaining table for a year and they seem further from an agreement than ever, she said. Because a year has passed since the union was certified, the employer can engineer a decertification vote.
Another shortcoming of the proposed rule change, Bronfenbrenner said, is obvious: Because it is an administrative matter and not a law, a future NLRB controlled by Republicans can just as easily overturn it.
Or, she said, they can take the approach favored by the Bush NLRB: let cases pile up and deny justice through delay.
The NLRB is taking comments on the proposal and will hold a public hearing July 18-19.
Tags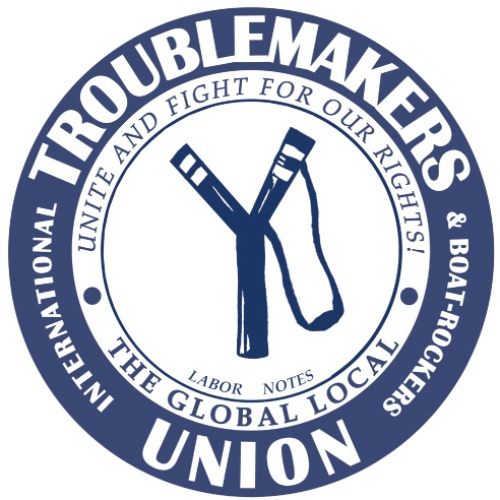 Labor Notes is a media and organizing project that has been the voice of union activists since 1979.