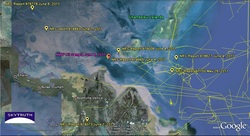 Illustrating the chronic threat that the oil industry presents to coastal communities and ecosystems, a new oil spill was discovered last week in Breton Sound near Venice, La., a rural community in Plaquemines Parish about 80 miles southeast of New Orleans.
Fishermen first reported the presence of the slick, which was at least two miles long, on June 8. One fisherman
told WWL TV
that as he headed out on the water he smelled strong petroleum vapors and then ran into the "motherlode" of oil, which he described as "some of the thickest stuff" he's ever seen.
Some people, including Plaquemines Parish President Billy Nungesser, initially
suspected residual oil
from last year's BP disaster had floated to the surface in the June heat. However, samples collected by National Wildlife Federation scientists and analyzed by Ed Overton at Louisiana State University
found
it was relatively fresh crude whose geochemical profile did not match BP's spilled oil.
The Coast Guard and the Bureau of Ocean Energy Management, Regulation and Enforcement are investigating the spill, and a private cleanup company was dispatched to contain and clean up the slick, the New Orleans Times-Picayune
reported
.
After the spill was discovered, Jonathan Henderson with Louisiana's Gulf Restoration Network flew over the area with SouthWings and
photographed a leaking drilling platform
in the area. (
SouthWings
, a North Carolina-based nonprofit, is part of the
Gulf Monitoring Consortium
, an oil pollution watchdog project that also includes West Virginia-based SkyTruth and the national
Waterkeeper Alliance
.) However, SkyTruth reports that the platform in question -- run by Lobo Operating in Covington, La. -- produces natural gas and liquid gas condensate. That's a light oil, a different substance from the thick, black crude that NWF scientists tested, SkyTruth
pointed out
.
"There's a lot going on in that part of the Gulf,"
observed
SkyTruth President John Amos. "Routine satellite monitoring would sure be helpful." Amos' group first
called for such monitoring
last June in the wake of the BP oil disaster.
Meanwhile, Overton
told
the Times-Picayune that his guess is that the oil he tested is coming from an abandoned pipeline that had ruptured. In the SkyTruth satellite image of the spill area above, some of the pipelines are shown in yellow (
click on image for a larger version
).
Abandoned oil infrastructure is a major problem in the Gulf of Mexico. It's
estimated
that more than 27,000 abandoned oil and gas wells lie beneath the Gulf. Last year an
Associated Press investigation
found that many of the wells have gone unmonitored for decades -- some as far back as the 1940s.
In September, the Obama administration announced that it would
require
oil and gas companies operating in the Gulf to plug some 3,500 non-producing wells on the Outer Continental Shelf. However, that order
gave operators up to five years
to plug old wells, which present a serious environmental hazard in the meantime.
One bit of potentially good news from this oily mess: when SouthWings flew over the spill area, they encountered a Temporary Flight Restriction zone. They were allowed in and found that unmanned aerial drones were operating in the area, Amos
reported
:
Hopefully the Coast Guard is using those drones, which means they are really upping their game and bringing some high-tech tools into oil spill investigation.