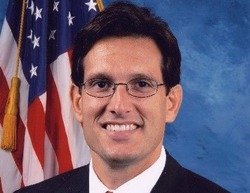 House Majority Leader Eric Cantor (R-Va.) raised eyebrows in Washington last week when he scuttled House Speaker John Boehner's (R-Ohio) efforts to reach a compromise with President Obama to raise the U.S. debt ceiling by the Aug. 2 deadline.
Early in the week, Cantor rejected a budget proposal that had been hammered out in private talks between Boehner and Obama. The talks were an effort to avert the financial crisis that would ensue if the world's largest economy defaulted on its debt for the first time in history.
Brent Budowsky, who worked for the House leadership under several Democratic speakers, said he'd never seen such an act of disloyalty to one's own party leadership. As he
wrote
in The Hill's Pundits Blog:
Eric Cantor is the Republican leadership Brutus. Cantor is willing to risk, and Republicans would be blamed for, a global economic crash because Cantor is a poodle for millionaires and conglomerates that pay no taxes and will risk the economic future of the nation to pursue his ambition as he plunges the knife into the back of John Boehner.

Cantor's hardline anti-tax stance in the debt talks is
winning points with Tea Party conservatives
, who previously had been disappointed with his unwillingness to embrace deep spending cuts. But others have also pointed out that Cantor's actions may be serving the congressman's own financial interests.
Those charges can be traced back to last June, when the Wall Street Journal
reported
that Cantor had bought up to $15,000 in shares of
ProShares Trust Ultrashort 20+ Year Treasury ETF
in December 2009, according to the congressman's 2009 financial disclosure statement:
The fund takes a short position in long-dated government bonds -- in effect betting against U.S. Treasury bonds. A "short" is when the trader hopes to profit from a decline in an asset's value.
As Salon recently
reported
, Cantor's latest financial disclosure states that the millionaire lawmaker still has up to $15,000 invested in the same fund. Should the U.S. begin defaulting on its debt payments next month, Salon observed, "the value of [Cantor's] holdings would skyrocket."
Matt Koppenheffer, a reporter for the investment website the Motley Fool, told Salon that Cantor's simultaneous involvement in the fund and debt negotiations "is not ideal" and "looks pretty bad."
The Huffington Post
reported
that House Democrats were circulating a resolution earlier this month accusing Cantor of having a conflict of interest in the debt debate because of those holdings.
A Cantor spokesperson ridiculed the charges,
noting
that while the congressman owns $3,327 in the ProShares trust his congressional pension valued at over $263,000 is invested in U.S. Treasury bonds -- the value of which would fall given a debt default. The spokesperson told Salon that the ProShares investment serves to balance the congressman's portfolio.
The value of the ProShares Trust Ultrashort 20+ Year Treasury ETF spiked dramatically this month as the prospect of a debt default loomed -- and fell just as dramatically as the President and congressional leaders began talks to avoid default.
But last week, as those talks hit a stalemate, its
price began climbing
again.
A recent
study
found that personal investments made by members of the House of Representatives significantly outperform the stock market. It speculates that could be related to members' ability to trade on non-public information and/or vote their personal interests.
While a
bill has been introduced
in the House that would prohibit members of Congress from trading on non-public information and require greater disclosure, it remains stuck in committee.