As the role of big money in elections steadily grows, the 2012 Congressional elections are on track to shatter all earlier records for campaign cash.
According to data released by the Federal Election Commission this week, U.S. House and Senate candidates
raised more than $287 million
so far for next year's contests. That's $33 million more than Congressional hopefuls hauled in during the first half of 2009, which marked the earlier off-year record.
Who's winning the Congressional money race? Republicans, so far: 57 percent of the total raised has flowed to GOP candidates, compared to just 43 percent for Democrats.
But most of the GOP's fundraising advantage is thanks to an eye-opening $114.9 million fundraising haul among Republican House candidates, more than 62 percent of the total raised for House candidates so far.
That eclipses the small edge Democrats have among Senate candidates, where Dems have raised $53.1 million to the GOP's $47.8 million.
Here's a chart with the details: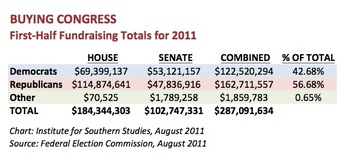 Of course, this doesn't include the outside spending from
527s
, 501c4s and
Super PACs
--  vehicles made increasingly popular by the Supreme Court's Citizens United decision, which loosened rules on how corporations and unions can spend money during election season.
Super PACs -- including comedian Steve Colbert's "
Americans for a Better Tomorrow, Tomorrow
" -- have
already raised $26 million
for the 2011-2012 election cycle, according to the Sunlight Foundation.
But 527s and Super PACs are required to disclose their donors, something not required of their nonprofit cousins, the 501c4s, which rose to prominence in 2010. That will continue to make them an attractive option for rich donors seeking to conceal their election spending, especially after the
Internal Revenue Service abruptly shut down an investigation
earlier this month into whether five GOP donors had illegally failed to declare their 501c4 contributions as gifts.