There is growing concern on the Gulf Coast that oil is rising again from BP's Macondo well, site of last year's catastrophic Deepwater Horizon spill, with reports of oil sightings in the area confirmed last week during aerial surveillance by a team from Louisiana's Gulf Restoration Network.

On Friday, GRN organizer Jonathan Henderson flew over the BP disaster site with GRN Canvass Director Tarik Zawia and pilot Bonny Schumaker from the nonprofit On Wings of Care. (To see a map of their route, click here.) They spotted oil on the surface above the exact location of the Deepwater Horizon spill, Henderson reported:
Obviously, from the air I cannot confirm that the oil is BP's and from their Macondo well. I can only report that I spotted oil above that location. I reported this to the National Response Center and had a lengthy conversation with a Coast Guard official. Notice that the oil seems to be clustered in round formations. I have no idea why or how this could happen and neither could the [Coast Guard] official. I can only speculate. The formations are clearly rainbow in color and in some cases have also a brownish tint.
Here's one of the images Henderson captured at the disaster site. Schumaker described what they saw there as "strange-looking globules in what was otherwise smooth blue water." To see a complete slideshow of all of Henderson's images from Friday's flyover, click here.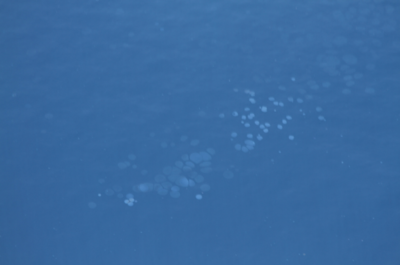 The GRN flight was spurred in part by an account published last Wednesday at the blog of Stuart Smith, a New Orleans-based attorney representing commercial fishermen whose livelihoods were affected by the BP Deepwater Horizon disaster. Smith wrote:
Reliable sources tell us that BP has hired 40 boats from Venice to Grand Isle to lay boom around the Deepwater Horizon site -- located just 50 miles off the Louisiana coast. The fleet rushed to the scene late last week and worked through the weekend to contain what was becoming a massive slick at the site of the Macondo wellhead, which was officially "killed" back in September 2010.
BP denied Smith's report, telling the New Orleans Times-Picayune that it has not hired any vessels to clean up oil in that area. A spokesperson for the company said there may be confusion due to recent reports to the federal National Response Center of another 6-mile-long, rainbow sheen near the Macondo well site but not directly connected to it.

Smith has pointed out that since as far back as July 25 there have been reports of fresh oil surfacing all over the northern Gulf -- "slicks that meander for miles and huge expanses of oil sheen that look like phantom islands." Fresh, only slightly weathered oil that couldn't have come from last year's spill has also been washing ashore in areas hit hardest by last year's BP disaster.

One theory is that the casing on BP's capped well is leaking. Others think the oil might be seeping through cracks on the seafloor caused by the work at the site.

Back in January, B.K. Lim -- an independent geohazards specialist with 30 years of experience working for the oil and gas industry -- wrote a letter to Congressmen Fred Upton (R-Mich.), chair of the House Committee on Energy and Commerce, and John Shimkus (R-Ill.), chair of the Subcommittee on Environment and Economy, about his concerns regarding continuing seepage from the BP disaster site. He blamed the alleged ongoing leaks on "indiscriminate drilling, grouting, injection of dispersant and other undisclosed recovery activities." You can read his letter in full here.

Then in March, Lower Mississippi Riverkeeper Paul Orr conducted a 50-mile boat patrol and sampling tour of Breton Sound off the southeast coast of Louisiana in response to multiple reports of oil in the area. His samples' chemical fingerprints matched oil from BP's Macondo well -- and were nearly identical to the fresh oil found early on during the BP disaster rather than the weathered oil still washing ashore a year later.

What is beyond dispute, however, is that the Gulf is afflicted by a chronic oil-spill problem. During his flyover, Henderson also observed oil leaks from other locations: near the Taylor Energy site that has been leaking since 2004, as well as several leaks that may be connected in and around Breton Sound.

"If anything, today's multiple oil sightings just scream for the need for a Regional Citizens' Advisory Council to watchdog what is going on out there," he wrote.