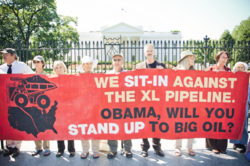 There have been almost 600 arrests so far in an
ongoing protest
outside the White House against the proposed Keystone XL Pipeline that would carry crude oil from the tar sands of western Canada to refineries along the Texas Gulf Coast.
The protest, which began on Aug. 20 and is scheduled to last until Sept. 3, is being billed as the biggest act of nonviolent civil disobedience in the history of the climate movement. Protesters are calling on President Obama to exercise his power to reject the pipeline, a decision he's expected to make before the end of the year.
"This has become the test for the president to show the country and the global community that he's serious about climate change," said Bill McKibben, the noted environmental activist and journalist who's helping lead the protest.
Tar sands, also known as oil sands, are deposits of petroleum in the form of bitumen -- a thick, sticky form of crude oil. Environmentalists are concerned about damage to the Canadian environment from extraction; about the effects of toxic pollution from the refining process on residents of Houston and Port Arthur, Texas; and about the possibility of pipeline leaks harming U.S. water supplies. The pipeline will cross the shallow Ogallala Aquifer, the main source of agricultural and drinking water in the Great Plains.
But environmentalists are especially worried about the project's climate impact, since producing liquid fuels from tar sands generates anywhere from two to four times the amount of greenhouse gas pollution as production from conventional oil deposits.
The protesters charge that giving the pipeline the go-ahead would represent a betrayal of the
promise Obama made during his campaign
to open a "new chapter in American leadership on climate change." Many of the protesters outside the White House can be seen wearing Obama buttons and chanting his signature 2008 campaign slogan, "Yes We Can" -- but not so much as a sign of political support than of warning.
Environmentalists were angered by last week's release of the State Department's
environmental impact statement
on the pipeline, which said that the project posed only limited hazards. TransCanada Keystone Pipeline LP filed an application in 2008 for the necessary State Department permits to undertake the $7 billion project, which it hopes to complete by 2013.
"The U.S. State Department's final report on the Keystone XL ... is an insult to anyone who expects government to work for the interests of the American people,"
said
Sierra Club Executive Director Michael Brune, who added that his organization's 1.4 million members and supporters are looking to the president for bold action.
Other environmental advocates have been more explicit in their political warnings to the president over the pipeline.
"I think a year ago President Obama felt he could do things that might alienate his base and organizations important to the Democratic Party and get away with it because in the end most Democrats wouldn't go for a Republican," Princeton University history professor Julian E. Zelizer
told
the New York Times about the pipeline. "Now he might pay a price for it."
Environmentalists are concerned that the president is unaware of what's at stake in the pipeline project. Yesterday White House spokesperson Jay Carney was questioned about the protest by reporters on Air Force One. When asked whether Obama knew about the protest, Carney
answered
, "I haven't talked to him about it."
McKibben said that was "a worrying sign about how out of touch this administration is on this issue."
The growing anger directed at Obama from environmentalists come as the president's approval ratings
hit a new low
, with 54 percent of registered voters telling Public Policy Polling that they disapprove of his performance.
But despite the growing frustration with the president, it's hard to imagine anyone concerned about the climate dumping him for anyone among the current slate of
Republican presidential frontrunners
.
Now in first place
, Texas Gov. Rick Perry
thinks climate change is a hoax
made up by financially motivated scientists -- even though some 97 percent of climate researchers agree that man-made global warming is real, according to the National Academy of Sciences. Former Massachusetts Gov. Mitt Romney, who's running second, once took the mainstream scientific view on climate but has recently
tried to distance himself
from that position by questioning how big a role humans play.
Rep. Ron Paul (R-Texas), running third in the latest polls, has increasingly
shifted away from mainstream climate science
toward climate skepticism, while fourth-place-holder Rep. Michele Bachmann of Minnesota has
referred
to human-caused climate disruption as "manufactured science." Only former Utah governor and Chinese ambassador John Huntsman Jr. has been willing to
speak out forcefully
on the reality of climate change, and he's currently polling at 1 percent and slipping.
Of course, environmentally minded voters could simply stay home on Election Day 2012 or decline to work on Obama's behalf. Or they could rally behind a third-party candidate like the
Green Party's Kent Mesplay
, a county air quality inspector from California. But in that case the likely outcome of the election, which is already expected to be close, would hardly help end the climate crisis.
However, the mounting frustration with Obama is fueling talk of a possible Democratic primary challenge -- that is, someone other than anti-abortion activist Randall Terry, who has already announced his intention to challenge Obama in order to air graphic anti-abortion ads during next year's Super Bowl.
Consumer and environmentalist activist Ralph Nader -- a five-time presidential candidate who has run as a Democrat, Green and independent -- has
said
he plans to launch an initiative to field primary challenges to Obama in key states in an effort to pressure the president from the left. Former Sen. Mike Gravel of Alaska, who sought the 2008 Democratic nomination, has also
said
he would challenge Obama if he gets enough financial support.
But in the meantime, the protest continues outside the White House in hopes that President Obama will come around and honor the climate promises made by candidate Obama.
(Photo of pipeline protest by Josh Lopez via Tar Sands Action's Flickr stream.)