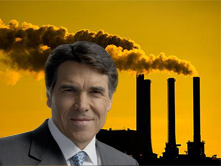 By Forrest Wilder, Texas Observer
Ken Kramer, the long-time head of the Lone Star Chapter of the Sierra Club, recalls the one and only time Rick Perry met with him. The year was 1990 and Perry had just been elected agriculture commissioner, defeating Jim Hightower, a populist Democrat and Observer editor who favored small-time farmers and ranchers and the rural poor during his two terms.
It seemed a little surprising that Perry wanted to meet with Kramer. In 1989, when he was still in the state Legislature, Perry had led the charge to strip Hightower's Department of Agriculture of its ability to regulate pesticides that were making farm workers sick and raising alarm among consumers. Perry's crusade pleased powerful interests like the Texas Farm Bureau who helped bankroll his campaign against Hightower.
Nonetheless, the day after his victory, one of Perry's aides called Kramer. "He said 'Rick Perry wants to meet with you and talk about environmental issues,' so I went and visited with Perry the next day in Perry's legislative office."
Perry "indicated that he was interested in environmental issues and in fact wanted to set up an environmental advisory committee" for the Department of Agriculture, recalled Kramer.
That was the last time Perry consulted Kramer. And as ag commissioner, Perry began undoing Hightower's populist programs and implementing a corporate style of management. While Texas politics has never been too kind to those with green leanings, Perry has been particularly hostile to environmental concerns -- that is, when he's showing any interest at all.
"From my perspective I sort of view Rick Perry as the consummate opportunist," said Kramer. "When he sees it as being politically valuable to come forward with anti-environmental rhetoric then he does. When he doesn't see that as important politically then you don't hear from him too much on environmental issues."
Kramer contrasts Perry, somewhat unfavorably, with George W. Bush's term as governor.
"I never felt that Bush was anti-environmental so much as clueless about the environment," said Kramer, pointing to Bush's trust in Texas industry to "voluntarily" reduce air pollution.
"I see Perry as more proactively carrying out an anti-environmental agenda primarily for political purposes."
In truth, as governor, Perry has rarely had much to say about Texas' pressing environmental problems -- dwindling water supplies, a dearth of public parkland to serve a growing population, the consequences of an oil-and-gas 'fracking' boom in North and South Texas, and the ravages of climate change -- other than to bash the EPA or tout Texas' modest gains in urban air quality, improvements that have much more to do with federal mandates than Texas ingenuity.
For the most part, he appears to be just not that interested.
But on a few issues Perry has certainly made his mark. The governor's environmental policies, if he can be said to have any, are best understood as an extension of his anti-fed bent and coziness with wealthy individuals and corporations. When someone needs a favor or there's a political point to score, he's suddenly fired up and fed up.
He's like the deer hunter who sits in the blind all day drinking beer and shooting the shit, only to blast away mindlessly when Bambi shows up at the feeder. Does he hit the target? Sometimes, but that's not really the point. The point is to make as much noise as possible and have a show of force. In the background, meanwhile, his appointees at captured agencies like the Texas Commission on Environmental Quality make sure that business and powerful interests are happy. 
Without further ado, here are what I consider three of the defining environmental moments in Perry's gubernatorial career. They are in no particular order. Later this week, I'll roll out the other three things that define Perry's record on the environment.
1) The Coal Candidate
In 2005, amid a knock-down-drag-out fight between utility giant TXU and a rowdy grassroots coalition opposed to TXU's plan to build 11 new coal-fired power plants, Gov. Perry issued an executive order expediting the permitting process. On the very day Perry issued the order, retired TXU chairman Erle Nye gave $2,000 to Perry's campaign. That's not all. Over the course of his 2006 re-election bid, TXU sources donated $104,000 to Perry.
Although a judge later shot the order down, Perry made it clear whose side he was on. In a September 2006 op-ed, he accused "an extreme element of the environmental community" of being behind the opposition to TXU, a pretty bold statement given the involvement of the mayors of Houston, Dallas and 15 other cities, not to mention a coalition of Dallas-Fort Worth business leaders, rural rancher-farmer types and some Republicans. There have been many lonely fights for environmentalists in Texas. This wasn't one of 'em.
Nonetheless Perry kept jabbing: "I would argue they want to return us to the era of horse and buggy except they would probably complain about the methane gas from horse manure, too."
Only three of the TXU plants ended up getting built -- part of a deal struck between business-friendly environmental groups and two private equity firms that took over TXU in 2007. Nonetheless, the coal rush in Texas continues to this day. While most states are moving away from the dirty fuel, Texas is doubling down. Perry has left the task of escorting the coal plants through the permitting process to his appointees at the Texas Commission on Environmental Quality (TCEQ). To date, the TCEQ commissioners haven't denied a single permit. More important, they've ignored the findings of independent administrative judges, who've often recommended that the permits be rejected.
2) How the Waste was Won
In Texas politics, money talks and bullshit walks. For a man as wealthy and cutthroat as Dallas billionaire Harold Simmons -- dubbed "Dallas' most evil genius" by D Magazine -- the dollars practically shout. And certainly Rick Perry has listened.
Back in the 1990s, Simmons -- who made his fortune largely through corporate takeovers -- decided that he wanted to build a radioactive waste dump in West Texas. In 2003, after several failed attempts, Simmons persuaded the Texas Legislature to turn over the responsibility of radioactive waste disposal to his company, Waste Control Specialists.
The next obstacle was proving to state regulators that the dump site, situated on the Texas-New Mexico state line near Andrews, was safe. Three years into the review process at TCEQ, a team of geologists and engineers unanimously decided that the proposed dump was fatally flawed. The main problem, they wrote in a memo to superiors, was that the dump was within 14 feet of groundwater, raising the potential for radioactive contamination of water that could be part of the vast Ogallala Aquifer. Nonetheless, then-TCEQ executive director Glenn Shankle issued the license anyway and denied all the citizen protestors the right to contest the permit in an administrative court. Six months later, Shankle went to work for Waste Control Specialists as a lobbyist, raking in at least $100,000.
Over Perry's gubernatorial career, Simmons has shelled out more than $1.1 million to Perry, making him the governor's second biggest individual donor.
3) Perry vs. EPA
In the EPA, Perry has everything he looks for in an enemy: effete federal bureaucrats, a muscular regulatory regime that Big Business hates, and an Obama appointee that has locked horns with Texas.
In his book Fed Up!, Perry (or his ghostwriter) writes that "EPA in particular illustrates how Washington's command-and-control environmental bureaucracy is destroying federalism and individuals' ability to make their own economic decisions."
EPA-as-punching bag is campaign gold for Rick Perry. This week he told a Tea Party crowd in South Carolina that when he's president EPA officials "won't know what hit 'em."
Perry and other top GOP elected officials in Texas have been engaged in all-out warfare with EPA since Obama took office. The major inflection point came in late 2009 when EPA Administrator Lisa Jackson tapped Al Armendariz, an engineering professor at SMU and critic of Texas' air pollution strategies, to head up the regional EPA office. 
The appointment was heralded by environmentalists, who consider Armendariz one of their own. Last year, Armendariz invalidated Texas' so-called "flexible" permitting system for major industrial facilities, arguing that it was out of step with the Clean Air Act and allowed companies to pump unacceptable amounts of harmful pollutants into the air.
Texas threw a fit, suing the EPA and accusing the agency of a federal takeover. Perry was soon waving the states' rights banner. "EPA's takeover is about only one thing: control," he writes in Fed Up!. The fight, Perry writes, "should focus your attention on what these people are doing to our liberties in the name of a one-size-fits-all regulatory regime."
Perry didn't explain how an ordinary person's liberties were impinged upon in a dust-up over how to permit huge, polluting facilities owned by Exxon, Shell and Motiva. Industry, in fact, never seemed as keen on a bloody battle with the feds as Perry. In an unusual move, EPA directly issued new permits to 136 Texas companies, almost completely leaving an uncooperative TCEQ out of the negotiations.
Perry, attorney general Greg Abbott, and the state's environmental regulators have also opened up legal battle-fronts on greenhouse gas regulations, new air pollution rules designed to reduce emissions largely from coal-fired power plants, and water quality issues. In all, Texas has sued EPA a dozen times in the past three years, according to the attorney general's office.
(Photo illustration from Texas Green Report.)