Florida farmworkers bike for justice in the fields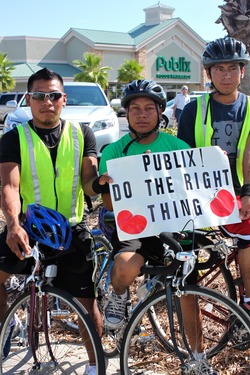 A group of Florida farmworkers and their allies will spend Labor Day bicycling as part of a journey taking them from one of the state's poorest towns to the headquarters of one of its most profitable companies in a quest for better working conditions.
On Aug. 27, the members of the
Coalition of Immokalee Workers
(CIW) set off on a 200-mile bike trek from the southwestern Florida farming community of Immokalee to the Lakeland headquarters of Publix. The bike ride, billed as the "Pilgrimage to Publix," is part of CIW's groundbreaking
Campaign for Fair Food
, which has resulted in agreements with major food retailers including Taco Bell and Whole Foods Market to improve wages and working conditions by paying a penny more per pound of tomatoes and adopting a supplier code of conduct that guarantees farmworkers get shade, water and protection from forced labor and sexual harassment.
About 90 percent of Florida's tomato farms have agreed to increase wages and improve protections for workers. So far, though, Publix -- the largest private company in Florida and 8th-largest in the U.S., which
reported
$1.3 billion in profits last year  -- has declined to pay the additional penny per pound for tomatoes or to require its suppliers offer the worker protections. Concerned that the grocery giant's refusal to participate jeopardizes the gains made so far, the cyclists are hoping to persuade the company's chief executive to change his mind by witnessing conditions in the fields firsthand.
"We will continue mile by mile toward Lakeland so we can extend our personal invitation to CEO Ed Crenshaw to come visit Immokalee," Spanish-speaking ride participant Oscar Otzoy
said
through an interpreter during a press conference outside a Publix on Aug. 29.
Inside the same store, the farmworkers purchased just under a pound of tomatoes for $3.71. They pointed out that harvesting the same amount of tomatoes would earn them 2 cents. The workers have to pick over 2 tons of tomatoes in a 10-hour workday to earn the state's minimum wage of $7.31 per hour, and they typically earn just $10,000 a year.
Faith leaders have also joined farmworkers for prayer vigils inside Publix stores. The Fort Myers News-Press
reported
on one of them:
The religious leaders spoke of Publix CEO Ed Crenshaw as grocery carts rolled across the cold linoleum.

"Guide Ed Crenshaw to be a man of compassion and fairness," they prayed. "Guide the employees of Publix not to disappoint us customers who feel connected by the food we eat both to them and to the hard workers of Immokalee."

The farmworkers expect to arrive at Publix headquarters the day after Labor Day. They hope Crenshaw will be there to meet them.
(Pilgrimage to Publix photo courtesy of Interfaith Action of Southwest Florida.)
Tags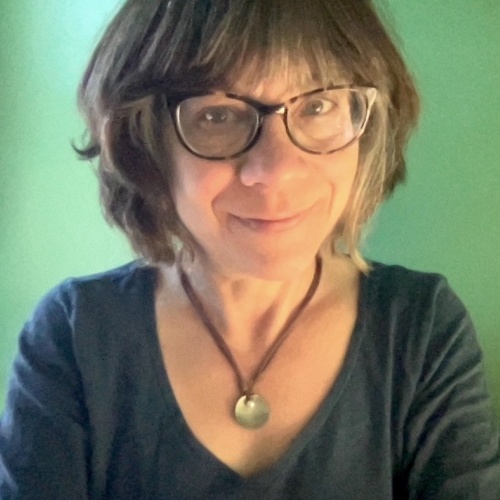 Sue is the editorial director of Facing South and the Institute for Southern Studies.