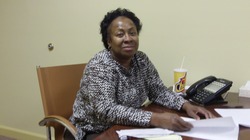 By Joe Atkins, Labor South
Workers at Water Valley Poultry in Water Valley, Miss., recently voted overwhelmingly to join United Food and Commercial Workers Local 1529.
The vote was 80 for the union and 28 against at the 150-worker plant, said Rose Turner, organizing director for UFCW Local 1529 (
in photo
). "Hopefully we can go ahead and try to get a contract with the company," Turner said. "That's what we are looking forward to."
The plant was unionized before it shut down in 2003. Campaigning for union representation began after it reopened. "In two weeks we had over 75 cards signed," Turner said.
Contract negotiations may still be a battle, she said. The company is owned by Global Foods in Fresno, Calif. "I know they are going to fight us," she said. "I just want to go ahead and get a contract they can live with."
The plant is located in rural northeast Mississippi. The little town of Water Valley, population approximately 4,000, has a long history of unionization that goes back to the days of railroad legend Casey Jones, a member of the Brotherhood of Locomotive Engineers who died trying to save his passengers in a train accident in Vaughn, Miss., in April 1900.
IWW balladeer Joe Hill put a twist on the legend with his song "Casey Jones -- the Union Scab" in 1912. By all accounts that this author has found, however, the real Casey Jones was a loyal union man.