NC lawmakers pushing same-sex marriage ban enlist help of gay-hating preacher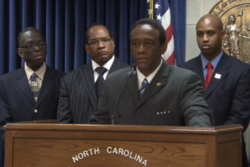 The N.C. General Assembly will convene today for a special session on whether to put before voters a proposed constitutional amendment banning same-sex marriage, which is already illegal under state law.

The Defense of Marriage Act, the bill to launch the amendment process, was introduced earlier this year by a bipartisan group of lawmakers who say a constitutional amendment is needed to prevent judges from overturning the state law banning gay marriage. But other Democratic lawmakers, as well as business leaders and human rights advocates, are fighting the referendum, calling it unnecessarily divisive.

The public got a glimpse of just how divisive during a press conference held last week at the legislature that featured a group of anti-gay preachers -- including a minister who has used his pulpit to denounce gay people using hate speech.

Rev. Donald Q. Fozard Sr., pastor of the Mount Zion Christian Church in Durham, N.C., took part in the press conference along with several other conservative black ministers. They were joined at the podium by House Speaker Pro Tem Dale Folwell (R-Forsyth), who helped arrange the event and introduced the speakers. Rep. Folwell also spoke at an August press conference on the measure where House Speaker Paul "Skip" Stam (R-Wake) compared gay marriage to incest.

First up at last week's press event was Kevin Daniels, president of the North Carolina chapter of the Frederick Douglass Foundation, a conservative black Christian organization, who argued that the marriage question should go to the state's voters and not be left up to elected officials. He was followed by Dr. Johnny Hunter, a minister with Cliffdale Community Church in Fayetteville, NC., who said that one reason N.C. voters should be allowed to vote on the marriage amendment is  because "homosexuals cannot consummate their marriage."

To illustrate his point, Hunter held up two padlocks. "Two locks cannot open each other," he said. "They don't work together. They weren't designed to work together. In fact, even if you had two keys, two keys don't work together. What it takes to consummate a marriage is a lock and a key."

The third speaker was Pastor Patrick Wooden with the Upper Room Church of God in Christ in Raleigh, who compared the need for the amendment to a homeowner protecting his property with locks, security systems and guns.

The final speaker was Fozard (at podium in photo). "I'm not trying to be politically correct," he said before going on to denounce homosexuality as "immoral" and to make the claim that "every major empire that ever came to naught was because homosexuality was pushed" (apparently forgetting the Soviet government's well-documented hostility toward gays and lesbians).

Fozard kept his language relatively civil during the press conference, but the message he's delivered from the pulpit of his church has at times been anything but. Back in 2004, a reporter for Durham's Independent Weekly attended one of his services and reported:
From this past Sunday's sermon, one would think the Rev. Donald Q. Fozard Sr. likes saying the word faggot. The pastor of Durham's Mount Zion Christian Church hollers the word's last syllable as if he were exorcising a demon, or as if he were a movie star who understands that notoriety rises when you do something incendiary.

"Faggots across the nation, heading churches. Homos on the pianos. Faggots in the choir. What kind of spirit is leading that church?" he asked his 150 worshippers. ...

"And now? Men with men, women with women? Let me remind you of Sodom and Gomorrah. That sin will bring fire from heaven. I tell the homosexual man: repent, turn and get a woman. I tell the woman who wants to get married: get yourself a man."

(If Fozard stresses the last syllable of "faggot," he sounds out each vowel and consonant of "homosexual".) "The Reverend Al Sharpton says it doesn't matter who you sleep with?" he said. "I'll tell you one thing: the Reverend ain't no Reverend. All of them are running around saying it doesn't matter who you sleep with! They want that little 1 percent of faggots that go to vote."
At the General Assembly last week, Fozard's less-civil side made an appearance in the hallway outside the press conference during an exchange with Rep. Marcus Brandon (D-Guilford). The former finance director for the Kucinich presidential campaign, Brandon is the only openly gay member of the current state house and only the second openly gay legislator in North Carolina history. He had attended an earlier press conference at which Democratic and business leaders criticized the proposed constitutional amendment as distracting from critical issues like jobs and damaging corporate recruitment efforts.

Brandon was speaking with Fozard and another man about a recent nonpartisan poll from Elon University that found 56 percent of North Carolinians oppose the amendment -- including 61 percent of African Americans -- when Fozard interrupted.

"You are a liar," Fozard said with hostility, moving toward Brandon and putting his face within a foot of the lawmaker's own. "You are a liar."

WTVD caught the exchange on camera here. WRAL has footage of the dueling press conferences here.

Meanwhile, opponents of same-sex marriage are playing up the black ministers' support for the constitutional amendment. On its blog, the National Organization for Marriage -- which has been designated as a hate group by the Southern Poverty Law Center for propagating known falsehood about lesbian and gay people -- published a post titled "NC Black Ministers to Dems: 'You are Disrespecting the Foot Soldiers of the Civil Rights Movement'" -- a quote from Hunter, who also said it was "offensive to equate an obsession with immoral, unnatural sexual behaviors with being black."

Civil rights leaders have fired back against such statements.

"The real insult to the civil rights movement is that folks trying to overturn the Voting Rights Act, re-segregate and rob our schools, and even block workers' rights to organize somehow think the sons and daughters of the Civil Rights Movement can't see through this Trojan Horse," said Rev. Dr. William Barber, president of the N.C. NAACP.

"No matter our color or faith traditions, those who stand for love and justice are not about to fall for this amendment trick," he continued. "Regardless of how you feel personally about same-sex marriage, no one, especially those of us whose foreparents were denied constitutional protection, and considered fractions and property in the constitution, should ever want anyone excluded or denied constitutional protection."

(Image of Rev. Fozard speaking at the N.C. General Assembly is a screen grab from the WRAL video of the Sept. 6 press conference. For more details about the amendment, including information about a rally against it planned for Sept. 13 in Raleigh, visit the website of Equality NC.)
Tags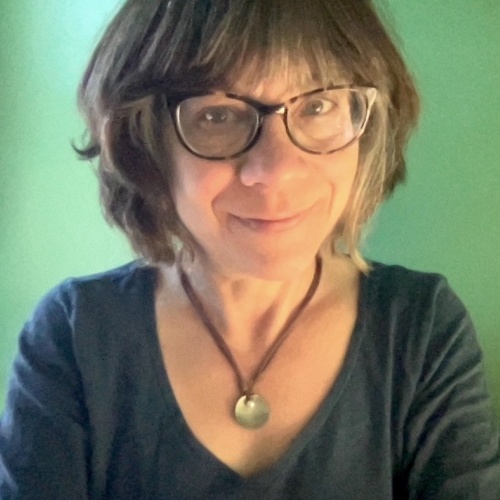 Sue is the editorial director of Facing South and the Institute for Southern Studies.