HB 56 reigniting civil rights movement in Alabama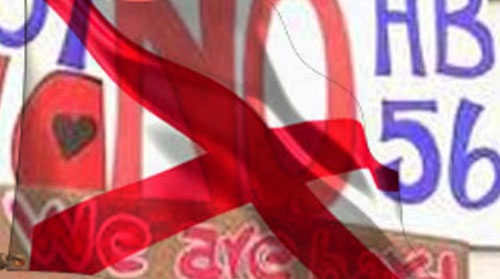 By Valeria Fernandez, New America Media

BIRMINGHAM, Alabama -- Helen Rivas sits down to grab dinner at a local Mexican restaurant in the heart of Birmingham and soon finds herself fielding questions from the Latino waiter about HB 56, Alabama's new immigration law.

As Rivas -- a member of the Alabama Coalition for Immigrant Justice -- speaks, other immigrant workers from the restaurant quietly form a circle around her, listening. They are puzzled, scared and confused. They need answers.

As fear and doubt about the future swells within Alabama's immigrant community, an increasingly diverse group of activists from across the state -- people like Rivas -- have had their hands full trying to quench their thirst for information and sometimes even protection.

"We're in crisis mode. We're responding to an immediate crisis," confirmed Victor Palafox, a 19-year-old leader of Alabama Dreamers for the Future. "We're trying to build a movement from the ground up."

Alabama's immigrant communities are geographically spread out and often isolated in rural areas, making the task of reaching them difficult.

"It's a man-made disaster, it's totally avoidable and preventable," said Rivas about the hysteria, comparing the impact of HB 56 to the April 27 tornado that wreaked havoc on some of the poorest communities in Alabama, including Latino immigrants.

Rivas, however, said there has been an outpouring of regional and national support for the anti-HB 56 movement and local organizers have been stepping up to the plate, informing people about their rights and strategizing with other activists.

Scott Douglas, director of Greater Birmingham Ministries, a group that advocates for equal justice issues, said the outcry coming from blacks, whites, and Latinos against the new law is reactivating a civil rights movement that was born in Alabama half a century ago in response to black segregation.

"What's happening is a continuing growth of the civil rights movement," said Douglas, who believes civil disobedience should not be out of the question.

"Back then [during the heyday of the civil rights movement] it was people in the black church [who were] involved, and the white church was silent. This time, there are black churches, brown churches and white churches saying 'not in our names.' They're saying we're going to break the law intentionally," he added.

Churches recently took a lead role in Alabama when the Episcopal Church, United Methodist Church and Roman Catholic Church filed a lawsuit challenging the constitutionality of HB 56, saying it violated immigrants' rights to free speech, assembly and religious practice.

Angie Wright, pastor of Beloved Community United Church of Christ and local human rights organizer, said that in several respects HB 56 took many outside the Latino community by surprise.

"Our immigrant population is so small. We don't have an 'immigration problem.' It's a completely manufactured political ploy," said Wright. "We are not Arizona, we are not a border state."

Alabama has an estimated undocumented immigrant population of 150,000 -- roughly 3 percent of the total state population of 4,779,736.

Some of the grassroots pro-immigrant organizers and church leaders that spoke with NAM said they feel it's still too early to talk about a long-term strategy against HB 56 and are hesitant to say that an economic boycott is the way to go.

"The question is: Who do you boycott?" said Douglas. "Right now, we have pumpkins rotting in the fields," he said in reference to the number of agricultural workers that left their jobs. "No one is talking about a boycott yet."

In Arizona, where a similarly harsh immigration law (SB 1070) was passed, economic boycotts cost the tourism industry an estimated $100 million in losses.

HB 56, also referred to as the "Alabama Taxpayer and Citizen Protection Act" was promoted through the first state legislature with a Republican majority in over 130 years, and was promoted as a way to create more jobs, assuming immigrants would leave.

"This should be called the taxpayer kick in the butt act," said Douglas, because of the expected loss in school funding that will accompany the drop in students who are leaving with their undocumented families. Part of the law that did go into effect requires schools to compile information about the immigration status of students and their parents when they enroll for the first time.

Douglas believes that Alabama's HB 56 is a continuation of an effort that gathered momentum with Arizona's SB 1070 and has more to do with anti-immigrant groups operating outside of Alabama than it does with the state's future. Others like Wright feel it is creating a market for the private prison industry that is growing across the country via the influx of undocumented immigrants being arrested under the new state laws.

While some hope HB 56 will be struck down by an appeal currently pending in the 11th District Court of Appeals, the legal process is lengthy and in the meantime organizers fear that people's rights will be violated.

Rivas said that members from the DOJ met informally with people in the community to hear about how the law has already affected them.

The Southern Law Poverty Center also established a hotline where people can call and report abuses caused by enforcement of the new law as well as instances of racial profiling.

"Part of the movement is to educate people about the laws and what their rights are," said Zayne Smith, an immigration policy director with the Alabama Appleseed Center for Law & Justice.

Smith said HB 56's provision that bans undocumented immigrants from entering into contracts with the state has been affecting renters and landlords who have canceled their contracts to prevent being sanctioned by authorities.

Latinos have no political representation in Alabama's state legislature, which makes it even more difficult for anti-HB 56 camp to garner support.

Ali Noorani, executive director of the National Immigration Forum said that with the small number of Latinos in the state comes an even greater need not only for humanitarian but political support.

"The focus has really turned to the [Obama] administration [because] it's been clear that Congress is only [interested in] enforcement," said Noorani. He hopes Obama will rescind harsh immigration enforcement programs like 287(g) and Secure Communities that could assist the state in the enforcement of HB 56.

"I think, frankly, the president needs to be very clear where he is on this," said Noorani.

The backslash to HB 56 has already brought together atypical alliances, such as those between educational leaders, churches and the Alabama Farmers Federation, which has argued that laws like HB 56 could dry up the state's immigrant labor supply.

The unprecedented coalitions have left some organizers feeling hopeful.

"I believe we can turn around enough votes by the time the session comes around to get it repealed or get it to the point that it's not horrendous," said Wright.

But the fear is that the state might have lost most of its immigrant population by then.

"A lot of people feel abandoned, frustrated, betrayed," said Palafox. "We need something people can get behind, something they'll be willing to stay for and give them a sense of direction. If you don't give people a sense of direction they're going to go on their own way."