From the oil disaster frontlines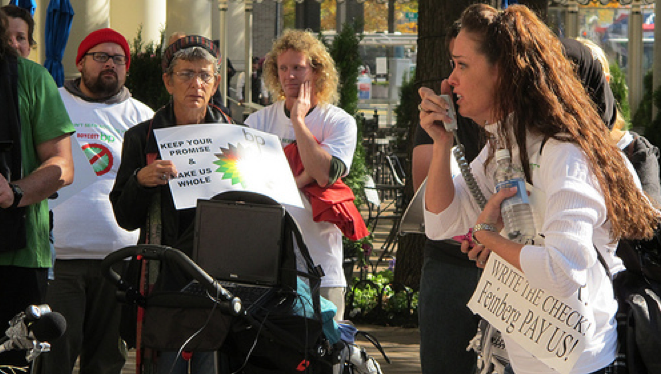 By Rocky Kistner, Bridge the Gulf

As Keystone XL protesters savor their victory to postpone the pipeline project, another oil policy decision last week did not turn out so well: a plan to expand drilling operations in the oil-damaged Gulf and pristine Arctic.

This is not good news for those who oppose the fossil fuel industry's relentless march into more vulnerable ecosystems. NRDC President Frances Beinecke, a member of the Presidential oil spill commission, explained the environmental concerns in a blog last week:
Less than two years after the BP oil disaster and before Congress has passed one single law to make drilling safer, the Obama Administration has given a green light to expand offshore oil drilling in the Gulf of Mexico and the Arctic Ocean.

Opening new areas to drilling before proper safeguards have been put in place is a reckless gamble. Oil companies are still using the same kind of blowout preventer that failed on the Deepwater Horizon rig. They are still relying on the same cleanup techniques used in the Exxon Valdez spill 22 years ago.
Last week, the Mobile Press-Register reported that federal officials excluded the BP oil blowout from their economic risk calculations for future oil drilling operations in the Gulf. According to an economic analysis, BOEMRE, the federal agency responsible for drilling safety and oversight, focused on an earlier period of drilling in the Gulf, striking "a rough balance between the remote chance of another (Deepwater Horizon) event and the otherwise much safer performance" before the BP spill, the newspaper reported.

The environmental community responded quickly, according to the Press Register:
"By omitting the nation's largest environmental disaster from its calculation of the environmental costs of drilling, BOEMRE continues to bury its head in the sand and pretend that the Deepwater Horizon accident never happened," Catherine Wannamaker, with the Southern Environmental Law Center, said in an emailed statement.
As I have blogged repeatedly, parts of the Gulf appear to be in the throes of an environmental collapse. Dolphins are dying in historic numbers, shrimp and crab catches are at all time lows, and people continue to complain of on-going health problems they blame on the BP oil disaster.

The week before last, residents of the Gulf traveled to Washington to join the massive Keystone XL tar sands pipeline protest (see video here) and to raise awareness about the BP oil disaster that continues to roil their communities. After ringing the White House on Nov. 6, they joined another demonstration organized by Gulf Change and Operation People for Peace in the sun-laced streets of the Capitol. Protesters wore "Boycott BP" T-shirts as they marched in front of BP claims administrator Ken Feinberg's towering offices on Pennsylvania Ave., a stone's throw from an Occupy DC encampment.

Kindra Arnesen (in photo), a fisherman's wife and mother of two from the Louisiana bayou, gave an impassioned speech about health problems in her fishing community that she says has received little financial support: "When Ken Feinberg took over the Gulf Coast Claims Facility he said he'd work for us, not BP ... We believed him like a bunch of idiots," the Times Picayune reported. Arnesen and others spoke repeatedly of loved ones sickened by oil and chemical dispersants, criticizing a government they say has abandoned them. "We have people that are still sick, we still are getting tar balls on our beaches, and many of our people haven't been made whole," said Rev. Anthony Thompson of Gulfport, MS.

That's a common complaint voiced by protesters over the past weeks. Across the country, there's a rising anger with federal policies that turn a blind eye to protecting human health and the environment, from the fragile coastlines of the Arctic to the mile-deep waters of the Gulf.

Many came away from these protests feeling empowered by a new human-powered energy, a movement building across the country. Activist Cherri Foytlin, a member of the United Houma Nation and a Louisiana oil worker's wife and mother of six, summed it up in her blog on Bridge the Gulf:
Now is the time.

Now is the time for a true communion of all areas affected by corporate manipulation of truth.

Now is the time for a honest and sincere reconciliation with our past personal follies, with regards to the true purpose of our beings.

Now is the time for a national and global revolution against the invented notion that we are powerless to our own demise.

Now is the time to call for and demand true accounting of the scientific and political facts regarding our future and that of our children.

And it is time to combine the voices of those affected by mountain top removal, fracking, toxic waste dumps, chemical exposure, global climate change, oil spills, etc, into one unified voice for effective and morally observant change.

It is, after all, the clearest and most basic form of truth that clean air, water and soil are human rights, and ANY denial of such is a human rights violation against us all.
These are words that should bring hope to us all, words of a movement created by the country's worst oil disaster. It's proof that out of adversity and despair new voices and opportunities can emerge. NRDC's John Adams nailed it in his blog after the tar sands protest on Sunday:
I believe Sunday's Keystone XL pipeline protest will mark a turning point in environmental history. Our movement has wrapped its arms around dirty fuels, and we won't let go until we break their hold on our nation. Energy companies are chasing oil to the ends of the Earth. They've already taken the easy stuff. Now they are going after the places we live in, the places we love. And they are doing it with the most destructive practices imaginable: deepwater drilling, mountaintop removal mining, fracking, tar sands strip mining.

I believe change happen in waves, and I think the tide is turning against dirty fuels; a rejuvenated environmental movement will join with all those Americans who know our future will be built on clean innovation, not dirty destruction.
Those are prescient words, if the Keystone XL pipeline decision is any indication. Politicians are beginning to pay attention to that message. From ranchers on the farmlands of Nebraska to fishermen in the bayous of the Gulf, people are joining together to defeat dangerous policies of the past and push for a healthy energy future. Politicians and the fossil fuel polluters would be wise to listen to their demands. They are just some of the ninety-nine percenters demanding change, and they are getting stronger every day.

(Photo of Kindra Arnesen and BP protesters by Rocky Kistner via Bridge the Gulf.)