Wage war: Employers stealing millions from US workers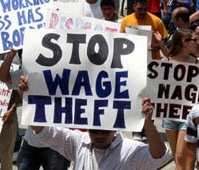 By Kathy Mulady, Equal Voice News

Workers nationwide are losing millions of dollars each week to wage theft as their employers, some unscrupulous, others scrambling to keep their businesses afloat, fail to pay the mandated minimum wage or overtime wages, or, in some cases, don't pay their employees at all.

Wage theft is far more common than was known just a few years ago, according to a new report from the Research Institute on Social and Economic Policy at Florida International University.

"Employers are under a tight squeeze and looking for different ways to save money. Some are using wage theft as a business model to cut costs," said Cynthia Hernandez, co-author of the report.

The research institute's study comes just as Florida is debating how to handle wage theft allegations. The state hasn't had a labor department since former Gov. Jeb Bush dismantled the department a decade ago.

Miami-Dade County has an ordinance against wage theft but has been sued by the Florida Retail Federation, which hopes to overturn the ordinance. The Florida Legislature is currently considering a statewide bill on wage theft.

Workers have become more aware of wage theft and their rights, and more are coming forward with their grievances. However, with the stagnant economy and high unemployment, just as many workers keep quiet, afraid that if they lose their job, they won't find another.

At the same time, researchers say, wage theft became more prevalent during the recession as employers tried to shave costs, and sometimes took advantage of worker insecurity.

Wage theft is especially common in low-paying industries such as tourism, retail, hotels and restaurants. Construction workers, often contract laborers or day laborers, are also at high risk, according to the study. Wage and labor laws apply to everyone who works in the United States.

Underpaying or not paying workers hurts families that can least afford to miss even one day of pay. It also creates an unfair playing field for business owners who follow the rules, and shortchanges services funded through payroll taxes, slowing economic recovery.

In Florida alone, more than $28 million in lost wages have been recovered over a two-and-a-half-year period by the U.S. Department of Labor for workers governed by federal laws, according to the report.

However, because Florida has no state enforcement for wage theft, many other cases are never investigated or compensated.

In a study by the National Employment Law Project, researchers estimated that employees in Chicago, Los Angeles and New York City lose a stunning $56 million per week from wage theft.

Wage theft takes many forms and occurs nationwide.

In August 2010, 69 employees at Walt Disney Parks and Resorts in Florida received a total of $433,819 in back wages after a U. S. Department of Labor investigation showed that employees were required to work through their meal times and after they had clocked out for the day.

In another case, a man reported working 12-hour days, six days a week on a supermarket construction project in Miami. The project manager made repeated excuses for not paying the workers and eventually disappeared.

And some are like Jose Lopez, a restaurant cook in Mission, Texas for 10 years. He often worked 70-hour weeks to support his wife and three children. He sacrificed time with his family, and was never paid for his overtime hours. He never knew he was entitled to overtime pay.

It wasn't until the U. S. Department of Labor did a random inspection of the restaurant that Lopez learned for the first time that he was entitled to overtime pay when he worked more than 40 hours a week. Although afraid of retaliation, Lopez decided to stand up for his rights. When he told his boss that the law required that he be paid more for the extra hours he worked, he was fired.

Lopez went to Texas RioGrande Legal Aid and filed a lawsuit in federal court. A jury found in favor of Lopez and agreed that the restaurant owner owed him overtime and had retaliated against him. Lopez was awarded almost $85,000.  Tragically, Lopez never lived to see the money. He, his wife and a daughter were killed in a vehicle accident just a short time later.

Even after the judgment, the restaurant owner refused to pay. So attorneys, along with the marshal's office and a locksmith, closed the restaurant, unlocked the safe, took all the cash, changed the locks and seized the property until the money that Lopez had sacrificed so much for, was paid to his orphaned children.

During the trial, Lopez told his attorney that he wasn't fighting just for the money -- he was also fighting for justice -- for himself, and for other workers. He wanted to spread the word that there are wage laws and they apply to everyone.

Part of the problem is that workers may not even know they are losing money they are rightfully owed, or be able to prove they have been shortchanged, because they don't get a pay stub with their check. Ten states don't require pay stubs issued with paychecks.

The U.S. Department of Labor is proposing regulations that will require pay stubs that are uniform, clear and detailed so that workers understand exactly what hours they are paid for and what is being deducted from their checks.

The federal labor act applies to companies involved in interstate commerce; do more than $500,000 business a year; contract with the federal government or institutions such as schools and hospitals.

However, the federal labor department doesn't have enough investigators to review thousands of wage theft cases. And, despite the crisis, wage theft legislation is still in a period of experimentation and wait-and-see in many states and cities.

Some states, like New York, have enacted statewide legislation; cities such as Seattle and Los Angeles have passed their own ordinances without waiting for the state.

In Texas, wage theft legislation allows police departments to arrest employers who don't pay workers and to file theft-of-services charges. In the past, the employers could avoid the criminal charges by making a minimal payment to the wronged worker.

But most states are like Florida -- stuck somewhere in-between and looking for a solution.

"All the employers I know take the employer-employee relationship very seriously, and no one would intentionally deprive employees of the appropriate wages they earn," said John Fleming, a spokesman for the Florida Retail Federation. "In any situation, you can find bad apples who want to take advantage or game the system. It can happen on the employer side or the employee side.

"We don't want to see a bunch of different local ordinances," he said. "It's not that we disagree on the issue of wage theft; we thought the ordinance set up a process outside of the court system and didn't have the necessary protections. The judicial system can ensure that justice is served."

Others say the judicial system isn't working, which caused communities like Miami-Dade County to create their own ordinances in the first place.

"Workers in Florida are particularly vulnerable to this type of exploitation because, unlike many states, there is no state level department of labor to which they can turn for assistance," said Jeanette Smith with Interfaith Worker Justice in Florida, a national organization with local chapters.

For now, the fastest way for many workers to recover back wages is at the most local level -- often by standing on the sidewalk with fliers and protest signs in front of the offending employer's business, said Kim Bobo, executive director of Interfaith Worker Justice in Chicago and author of "Wage Theft in America."

"It is easy to disrupt business and cause a stir at these small places that depend on community support," said Bobo. "Direct action is incredibly effective and empowering for workers. The employers respond."vBobo said one Chicago pizza place owner fired several employees recently and refused to give them their final paycheck. None of the employees had been paid overtime; some weren't being paid minimum wage.

The fired employees organized a gathering in front of the business, handing out fliers to passersby warning: "Don't buy pizza topped with exploitation." By the end of the week, the former employees had received the pay they were owed.

In Arkansas, restaurant employees fed up with not being paid their full wages posted messages on their company's Facebook page describing the unfair pay practice. They, too, were paid.

But longer-term solutions are needed, including stronger enforcement at the state and national levels, said Bobo.

"We need the ethical business community to step up and demand a level playing field," she said. "If you are paying employees fairly, and the guy down the street, your competitor, is practicing wage theft, it is hurting you. It steals from the workers, and it steals from the public coffers."
Tags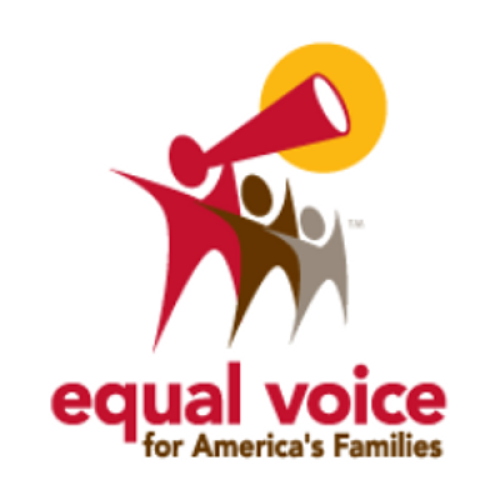 Equal Voice News covers news about America's working families, poverty and policy.