BP 2-Year Anniversary: Searching for Hope, Struggling for Survival in the Gulf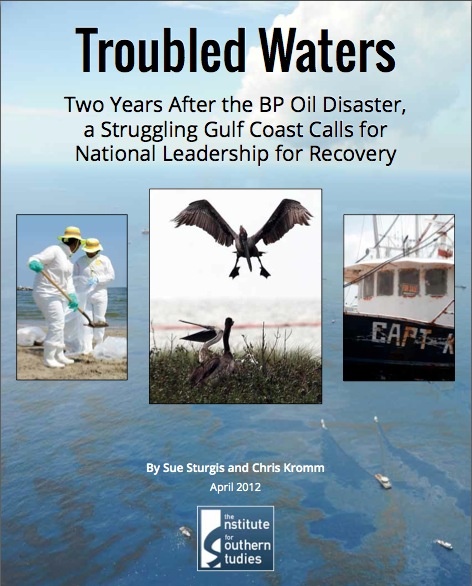 The following is an excerpt from the Facing South/Institute for Southern Studies report, "Troubled Waters: Two Years after the BP Oil Disaster, A Struggling Gulf Coast Calls for National Leadership for Recovery." Read the full report here [pdf].
TROUBLED WATERS: Searching for Hope, Struggling for Survival in the Gulf
By Sue Sturgis and Chris Kromm
On April 20, 2010, an explosion on the Deepwater Horizon rig operated by BP in the Gulf of Mexico killed 11 men working on the platform and injured 17 others. For three months the well gushed unchecked, sending 200 million gallons of crude oil into surrounding Gulf waters, wiping out sea life, idling fishing boats and bringing uncertainty to communities across the Gulf Coast.

Two years into the disaster, BP insists the Gulf is well on the road to recovery. In late 2011, a year when the company posted almost $26 billion in earnings, the oil giant ran a national television ad campaign titled "Best Season" to promote Gulf tourism—without even mentioning the 2010 Deepwater Horizon disaster. "The sun's out," the narrator in the BP ad says, "and the water's beautiful."

Washington lawmakers have also acted as if the Gulf's problems have vanished. As of mid-April 2012, Congress had yet to pass into law a single piece of legislation that directly addressed the regulatory and environmental issues raised by the spill.

BP and the Gulf disaster have also been largely absent from the 2012 political debate. An Institute for Southern Studies analysis finds that in the 19 Republican presidential debates held from May 2011 through January 2012, the BP disaster was only mentioned twice. In President Obama's January 2012 State of the Union Address, he mentioned the BP disaster only in passing in a section of the speech calling for "smart regulations."

But today, Gulf Coast residents say the impacts of the BP disaster still reverberate across the region—indeed, oil is still washing up on Gulf shores. And a region already battered by hurricanes, a struggling economy and chronic poverty won't be able to fully recover without the nation's help.

As Derrick Evans, a community leader from Gulfport, Miss., told BP before its April 2012 shareholders meeting: "The oil is not gone. The general perception is that BP made a mess and BP did a big cleanup and everything is all fine. Nothing could be further from the truth."

For this report, the Institute for Southern Studies and its partner organizations spoke with more than two-dozen community leaders across the Gulf Coast about the ongoing impact of the BP disaster in their lives. Institute researchers also analyzed hundreds of pages of government documents, legal briefs, scientific reports, community surveys and other sources documenting the aftermath of the largest oil spill in U.S. history and its lingering consequences in the Gulf.

The reality that emerges is sobering: Despite hopeful signs, two years after BP's oil drilling disaster many people in the Gulf Coast continue to battle economic hardship and lingering health problems. In some cases, Gulf communities are threatened with the loss of an entire way of life, as ocean fisheries face an uncertain future and the Louisiana coast disappears at an ever-faster rate, in part due to oil industry activity.

These challenges affect every aspect of life on the Gulf Coast. Thao Nguyen, who worked with Vietnamese-American fishermen in Mississippi following the BP spill with the group Asian Americans for Change, describes the fallout for the region's residents.

"Some of them are very depressed," she says. "And they're very sick from the oil spill, but the health care industry doesn't want to recognize that there's a health crisis out there right now."

The BP catastrophe was especially devastating in a region already facing a precarious future in the wake of Hurricanes Katrina and Rita in 2005 and Gustav and Ike in 2008. Those disasters had revealed sharp fault lines of class and race that left low-income coastal communities especially vulnerable.

The BP disaster sent shockwaves through the Gulf's still-struggling communities, testing their resiliency. Rebecca Templeton of Bayou Grace Community Services, a nonprofit in rural Terrebonne Parish, La., recalls the reaction of a neighbor after learning of the BP spill.

"Her whole body kind of slumped down, and she said, 'Just one more thing to deal with,'" says Templeton. "I think that's really been the response of people—that this is one more negative impact that people in our communities have to deal with. Although we celebrate our resiliency, I think there comes a point where people truly hit a wall and don't know what to do next. I fear that people have begun to hit that wall."
Read to an interview with Rebecca Templeton of Bayou Grace Community Services here.
Community leaders like Evans, Nguyen and Templeton have been part of a growing movement to ensure justice for Gulf residents and build a more sustainable future. Facing tremendous odds, their efforts have been nothing short of inspiring, helping thousands to rebuild their lives and livelihoods: advocating for fishing families, protecting neighbors from health dangers, and devising innovative projects to create jobs and protect the vanishing coast.

But while the people of the Gulf Coast have shown they are ready and willing to defend their communities, they also know they can't do it alone. To ensure a healthy and vital future for the Gulf Coast, they'll need the nation's help.

The nation has a direct interest in ensuring a full recovery in the Gulf Coast. The region accounts for over 40 percent of total U.S. oil-refining capacity, 20 percent of total U.S. commercial seafood production, and five of the top 10 U.S. ports. The Gulf of Mexico and the region's coastline are natural treasures.

The April 2010 BP disaster was a direct result of the nation's need for Gulf oil—making Gulf recovery a national responsibility.

"These people [in the Gulf] are carrying the infrastructure for the rest of our country," says Mary Thomas of the Louisiana Bucket Brigade, a grassroots environmental advocacy group based in New Orleans. "They're out there risking their lives so we can have oil and gas every day to do everything we do in our country. They should be at the top of everyone's priority list. They are making a lot of our livelihoods possible."

On June 15, 2010, nearly two months after the explosion of BP's Deepwater Horizon rig, President Barack Obama pledged the nation's long-term support to ensure the problems triggered by the disaster were addressed:

"Already, this oil spill is the worst environmental disaster America has ever faced. And unlike an earthquake or hurricane, it's not a single event that does its damage in a matter of minutes or days. The millions of gallons of oil that have spilled into the Gulf of Mexico are more like an epidemic, one that we will be fighting for months and even
years."

As this report documents, Gulf Coast communities continue to battle the aftermath of BP's oil disaster—and they will need the country to honor its promise of full recovery to prevail.
Tags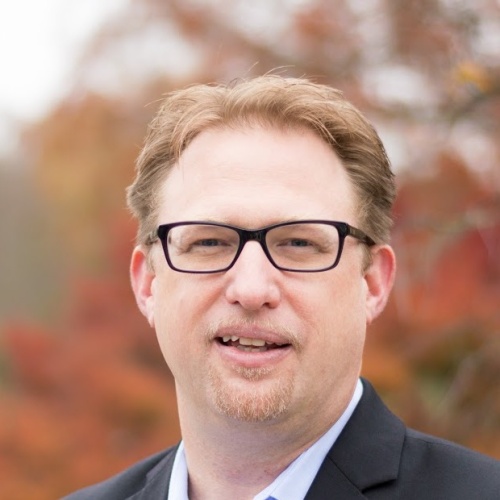 Chris Kromm is executive director of the Institute for Southern Studies and publisher of the Institute's online magazine, Facing South.