Honoring more boots on the ground: All of Us NC organizes against Amendment One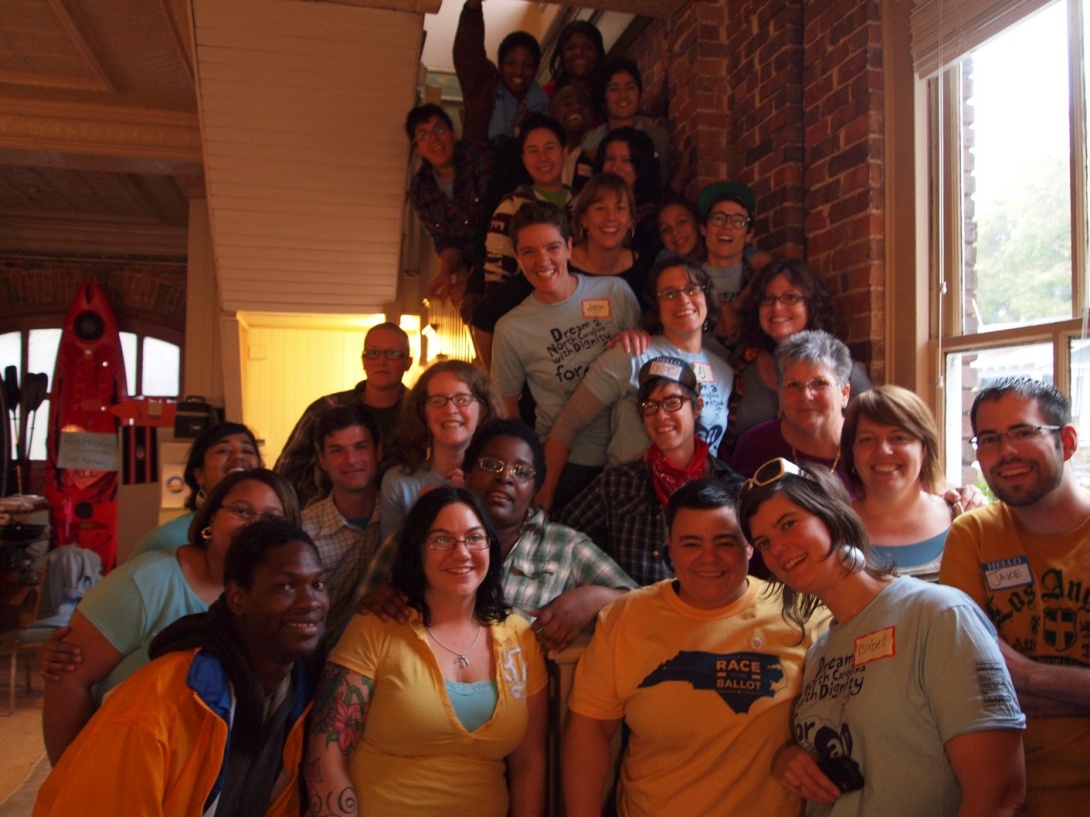 By Pam Spaulding, Pam's House Blend

I think it's important to remember that there are many, many grassroots organizations and group efforts working hard here on the ground to defeat Amendment One, many on their own time and dime, because they feel strongly that we're all in this together as North Carolinians, each with a role to play in educating voters, bringing people together to discuss the amendment's harms and getting out the vote. One such group is All of Us NC, a grassroots offshoot of the social justice organization Southerners On New Ground (SONG):

Since 1993, SONG has been known, both regionally and nationally, for its organizing and training work across issues of race, class, gender, culture and sexuality with both LGBTQ people and allies. We work to build and maintain a Southern LGBTQ infrastructure for organizers strong enough to combat the Southern-specific strategy of the Right to divide and conquer Southern oppressed communities using the tools of rural isolation, Right-wing Christian infrastructure, racism, environmental degradation, and economic oppression.

All of Us NC (in photo) focuses not just on organizing around Amendment One, but social justice issues that (should) unite the diverse progressive family -- anti-immigrant policies, anti-worker legislation, the voter ID act, etc. Diversity is at its core, and I believe that this represents the positive North Carolina of the future. I asked Manju Rajendran and Jade Brooks of All of Us NC to give us a peek into the organizing and outreach work it is doing.
--------------------------------------------------------------------------------------------

Q: Manju and Jade, Southerners On New Ground (SONG) has been a social justice force for some time -- how was All Of Us pulled together and what is its mission?

A: All Of Us NC pulled together from a place of deep emotion during the candlelight vigil on September 12th, 2011. Out of our love for one another as friends and as part of a community of LGBTQ (lesbian, gay, bisexual, trans, and queer) and allied families, Beth Bruch, Afiya Carter, and Manju Rajendran decided we couldn't be silent, that the proposed family discrimination amendment was an attack on our dignity. If we wanted to honor the freedom fighters who had made sacrifices before us, and if we wanted to leave a better North Carolina for the generations to come, we could not allow a discriminatory amendment to pass on our watch.

Many of us in All Of Us NC leadership are long-time members of Southerners On New Ground. We were interested in making this fight into an opportunity to encourage connect-the-dots thinking between issues of sexuality, race, class, gender, immigration, and ability. We decided to educate ordinary people across the state about the amendment and practice mobilizing our friends and neighbors to vote against it through respectful, honest conversations. During the first workshop we did after Durham Pride, we were overwhelmed by the enormous number of folks who showed up: church folk, veterans of the labor movement, parents, queers. We had planned that workshop in just a couple of weeks, but it gave us the momentum to create something beautiful, intergenerational, multiracial, queer, and people of color-led in the span of a campaign season.

All Of Us NC is an alliance of North Carolinians who stick up for each other when any of us has our humanity questioned. Our alliance builds on a long history of life-affirming courageous acts of our ancestors. We respond to direct attacks on families and communities such as the family discrimination constitutional amendment, anti-immigrant policies, anti-worker legislation, the voter ID act, and other attempts to disenfranchise any of us. We are anchored by Southerners On New Ground (SONG).

Q:  Your group has been extremely proactive and people-powered -- printing and distributing your own educational materials, traveling to reach people outside of the Triangle area to other parts of the state. Describe the kind of outreach projects the group is doing to educate voters about the harms of the amendment.

Our plan and our strength has been to train folks in our relational organizing model (having conversations with the people they are close to about the amendment) and in voter registration. Then, in multiracial teams of four, those people have planned workshops in counties throughout North Carolina, with a focus on building relationships with people who aren't being reached by the larger organizations based in the cities. We've had workshops in Greenville, Fayetteville, Pembroke, Thomasville, Asheboro, Wilson, Greensboro, Wilmington, Iredell County, to name just a few!

At our workshops we connect this amendment to attacks that harm all of us -- as immigrants, as people of color, as workers and students and those out-of-work, as parents and single people, as women and transgender individuals -- we've used this fight to strengthen our bonds with one another. All of our workshops incorporate singing, a lot of laughter and dirty jokes, big paper and markers, meaningful childcare, food, money for transportation, Spanish-English interpretation, and other welcoming practices. In practicing what we preach, we are teaching each other and learning how to build an inclusive movement. We have pulled off a miracle with hundreds of hours of unpaid grassroots labor from many infinitely generous people, and small donations to cover basic expenses like food, gas, and materials.

Q: One of the strengths of All Of Us NC has been the fact that its diversity reflects the changing face of North Carolina in every way -- seeing people of different backgrounds unifying against Amendment One sends a powerful message. Do you feel that makes a difference in your outreach and its success?

A: Absolutely, All Of Us NC would not exist unless we felt we had to build something to fight this amendment based on who we are: people of color, queer and trans people, working class people, proud Southerners, movement veterans and rural people, people of faith and club kids, queens and divas and fighters! Some of us in leadership have seen this fight go down in other states in disappointing ways -- organizations that aren't led by the people who will be most impacted if this harmful legislation passes; campaigns done in a cutthroat, unsustainable way, leaving burnt bridges and depleted resources; single-issue assimilationist messaging that doesn't reflect the world we want to build. Here in North Carolina, it is important for us to center LGBTQ people of color, poor and working class people, and rural people. We want human rights for everybody. Though many electoral battles exclude undocumented immigrants, we see undocumented people leading the fight for LGBTQ liberation, and we have looked to immigrant organizations like NC Dream Team, Immigrants and Allies United For Justice, and AQUA-NC (Asian QUeers and Allies) for their creativity and vision. We also feel thankful for the brilliant leadership of the NAACP throughout this fight.

Q: What are you seeing in your field work -- do you see the momentum in the people you are encountering in the outreach, particularly with early voting underway (through May 5; the primary is May 8)? Are you changing minds, or more focused on energizing people you know are against the amendment to get out and vote?

A: We are doing BOTH. We are continuing to have conversations with the people we are intimately connected to, building on the relational organizing model we've used throughout this campaign. We are continuing to have workshops (one this past Sunday in Wilson, NC brought out almost 50 people of faith). And we are amping up our get out the early vote efforts through calling, door-knocking, bar outreach, marches, and parties! As we encourage people to vote against, we ask them to also dream ahead beyond May 9th. What would it take to build a North Carolina with dignity for all? This is the work of decades, preparing the soil for something beyond our imaginations. When we organize from a place of love, we are planting seeds.

Q: I've found during this battle, when speaking to grassroots activists, that this is the first time many of them have jumped in to "activism" -- stepping outside of their comfort zones for the first time to do things like speak at public forums, attend city and county official meetings, do protest actions -- all because of Amendment One. Is that true with members joining All Of Us NC?

A: That is certainly true with many of our members. So many people involved in this work have showed immense courage. We think of Angela and Barb Cloninger in Asheboro, who talk to everyone they know about voting against the proposed family discrimination amendment, including the parents of their kid's friends and their waitress at the pizza place where they eat dinner, and who've created a Facebook group of LGBTQ folks in Randolph County that already has over 150 members! This bravery can be seen even in small, personal conversations: as Thaddeus Edwards recently shared during the "Coming Out in the South" panel at the Durham Public Library, about a transformative conversation he had with his mother about the harms of Amendment One. For us, one of the most joyous moments of this campaign was watching Bishop Donagrant McCluney sing our All Of Us NC freedom song "'Till We All Get Free" from the stage during HK on J (Historic Thousands On Jones Street, a broad-based 120-organization statewide coalition led by the NAACP).

Q: What is your group's game plan in these last days (get out the vote efforts, door to door work, etc.)?

A: In collaboration with SONG and Democracy NC, we have amped up our get out the early vote efforts: particularly in communities that aren't getting support from other organizations, like Wilmington, Wilson, Greensboro, Asheboro, Statesville, and Goldsboro. Before we began this fight, some of us had never voted before -- with tremendous coaching from Democracy NC, we've gained the skills to mobilize thousands of unlikely voters. We're also encouraging our people to "Find Our Folks," which means talking to 10 people they know (neighbors, friends, coworkers, family members, etc.) about voting against the Amendment. We want to make early voting a joyful, public, community affair showing how proud we are to stand up for our rights -- and we've been making this happen through parties, marches, and picnics at the polls. But we also acknowledge that some folks in rural communities might not feel safe enough (YET!) to organize such a public event, so we're providing support to those people to have the conversations they feel comfortable having. We're also working with SONG to plan a major celebration on May 8th in Durham -- think dance party, appreciations, speeches, tears, music, and rainbow cake! -- and we're creating kits for people who can't make it to Durham to have celebration house parties.

We believe we are already winning. Regardless of the outcome of the vote on May 8th, we have been thankful for the opportunity to be part of a much bigger victory of dignity.