If voter ID law upheld, S.C. ill-prepared for fall election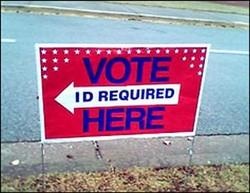 By Corey Hutchins, Free Times

South Carolinians are among those in a handful of states where thousands of potential voters might not be able to access the proper identification materials to cast a ballot if a controversial Voter ID law goes into effect.

More than 7,000 eligible voters here have no access to a car and live at least 10 miles from the closest ID office that is open more than two days a week, according to a July 18 report by the Brennan Center for Justice at New York University School of Law.

Researchers there found that 275,000 South Carolinians live at least 10 miles from such an office. That figure accounts for roughly 8 percent of South Carolinians old enough to vote.

But even if those voters could get to a county election office, that office wouldn't be properly equipped to make a photo voter registration card.

That's because the State Election Commission can't begin the process of setting up such equipment in any of its county offices until a federal court rules on whether South Carolina's law can go into effect. Hearings in the case won't take place until late September.

"We can't buy cards prior to that because that's part of the piece [of Voter ID legislation] that's not pre-cleared," agency spokesman Chris Whitmire told Free Times.

The U.S. Department of Justice must pre-clear any change to election laws in South Carolina because of the state's haunted history of disenfranchising minority voters.

South Carolina is one of 10 states with what the Brennan Center called "unprecedented restrictive Voter ID laws," which force a voter to flash a state-issued photo ID at the polls. Such laws were part of a national Republican-led effort in state legislatures after the election of America's first black president, Democrat Barack Obama, in 2008.

The Palmetto State had the second-highest increase in voter turnout in the country for the 2008 presidential election, and black voters led that surge, according to research by the Durham, N.C.-based Institute for Southern Studies.

Haley signed the state's Voter ID law last May. Estimates of the cost to enforce the bill range from $600,000 to $1.7 million.

There have been no documented cases of a person trying to impersonate another at the polls in South Carolina, according to the State Election Commission.

Last December, the DOJ blocked South Carolina's law, saying that it could keep tens of thousands of minorities from casting ballots and that the law did not meet requirements of the 1965 Voting Rights Act. South Carolina Republican Attorney General Alan Wilson sued the federal government for rejecting the law and has hired a high-priced Washington, D.C., attorney to litigate the case. Legal fees could run more than $1 million, reported the Charleston Post & Courier.

Attorneys for the Brennan Center are representing the League of Women Voters, which is involved in the case.

While the courts decide the fate of the law, the state's election agency is in limbo when it comes to implementing any ID equipment for its offices or a statewide outreach effort for affected voters.

"If it was pre-cleared in mid-September we would definitely be under a very tight time frame," Whitmire says.

And even that time frame is a stretch, says Mimi Marziani, a Brennan Center attorney working the case on behalf of the League of Women Voters.

An oral argument in the case will take place on Sept. 24 with a decision to follow, she says.

Even if the court decided shortly after, the prospect of any practical statewide educational outreach for voters who would need a state-issued photo ID to vote in the November presidential election is inconceivable.

"One of the most important things that we all have is on the line here," Marziani says. "People's right to vote."