Mexican drug cartels and the U.S. banking industry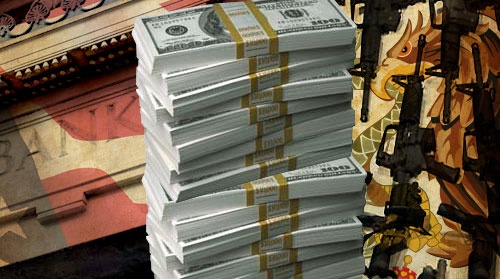 By Louis Nevaer, New America Media

The six-year War on Drugs that Mexican president Felipe Calderon has waged since 2007 has resulted in one consequence no one anticipated: Mexican drug cartels have sent upwards of $1 trillion to the U.S.

This staggering sum of money has been funneled through U.S. financial institutions, almost always in violation of U.S. laws, and at times even with the cooperation of American federal agencies.

In fact, if the Mexican drug cartels were a sovereign nation, they would qualify to be part of the G-20, ahead of Indonesia (GNP: $845 billion) and behind South Korea (GNP: $1.1 trillion). Yet, this is the cumulative sum of money that Mexican drug cartels have funneled through the U.S. economy.

A New York Times story published last month reporting that federal authorities busted a cartel boss accused of laundering $1 million a month pales in comparison to the hundreds of billions of dollars that drug organizations have moved through U.S. banks.

Who cares about a $12,000,000 a year operation when one American bank was found to have laundered $378,400,000,000 before it was caught? After federal prosecutors started criminal proceedings against the bank, it agreed to hand $110 million over to federal authorities, for allowing banking transactions with proven connections to drug smuggling operations. And the same bank subsequently paid the government a $50 million fine for failing to monitor cash used to ship 22 tons of cocaine.

In other words, the bank paid $160 million to make the case go away. No bank official was ever charged with a crime, and the monies ended up dispersed throughout the United States.

The bank? Wachovia. The year? 2010.

"The [American] authorities uncovered billions of dollars in wire transfers, traveler's checks and cash shipments through Mexican exchanges into Wachovia accounts," Ed Vulliamy reported in the Guardian of London on April 2, 2011. "Wachovia was put under immediate investigation for failing to maintain an effective anti-money laundering program… Criminal proceedings were brought against Wachovia, though not against any individual, but the case never came to court."

In March 2010, Wachovia settled in what became the biggest action brought under the U.S. bank secrecy act, through the U.S. district court in Miami.

Wells Fargo acquired Wachovia in October 2008 as part of the banking consolidation after the real estate market bubble burst.

Wachovia is not alone in laundering hundreds of millions of dollars for Mexican drug lords. American Express Bank International is believed to have laundered more than $100 million, paying a fine of $14 million in 1994 and another fine of $65 million in 2007. American Express Co. subsequently sold that bank to the London-based Standard Charter PLC in 2008.

Western Union is also in on the action. In February 2010 Western Union agreed to pay $94 million in fines in order to avoid prosecution for money laundering. The sum believed to have been laundered? More than $250 billion.

Of course, the U.S. government is part of this money laundering enterprise.

"Undercover American narcotics agents have laundered or smuggled millions of dollars in drug proceeds as part of Washington's expanding role in Mexico's fight against drug cartels, according to current and former federal law enforcement officials," Ginger Thompson reported in the New York Times in December 2011. "The agents, primarily with the Drug Enforcement Administration, have handled shipments of hundreds of thousands of dollars in illegal cash across borders, those officials said, to identify how criminal organizations move their money, where they keep their assets and, most important, who their leaders are. They said agents had deposited the drug proceeds in accounts designated by traffickers, or in shell accounts set up by agents."

And so it goes.

The result is that, if these funds were seen as foreign direct investments, Mexican drug cartels would surpass Switzerland, the United Kingdom and Japan as having a stake in the U.S. economy.

The driving force behind the push to launder drug proceeds through the U.S. banking system is driven by tough new laws in Mexico that seek to limit the ability to carry out cash transactions. "The new laws [put in place in 2010] would also limit the purchase of vehicles, boats, airplanes and luxury goods to 100,000 pesos in cash, or about $7,700.

"Violators could be sentenced to five to 15 years in prison," William Booth reported in the Washington Post. "Criminals here are increasingly using cash transactions to launder their vast profits, according to a senior Mexican official who investigates financial crimes but spoke on the condition of anonymity because of security protocols."

Since then, additional laws have made it difficult to deal in cash. Mexican banks will not accept dollars, unless a person has a bank account at that institution. And then customers are required to deposit the dollars, which are then converted to pesos and credited to their peso-accounts. Similarly, it's no longer possible to walk in with Mexican pesos and buy U.S. dollars, unless the customer has an account at the bank.

Foreign tourists are limited to exchanging no more than $1,500 USD a week, and then they have to provide a copy of their passports. If they wish to engage in larger transactions, they have to open a bank account, or execute wire transfers from their own institution in the U.S. Most tourists simply use ATM machines to withdraw cash, or use their credit cards.

This process of frustrating cash transactions is the impetus for drug organizations to shift their financial operations to the U.S. where, once the monies have entered the U.S. banking system, they can purchase homes, airplanes, businesses, and weapons. Indeed, in one astonishing incident, several operatives attempted to purchase military weapons for the cartels.

According to CNN, the shopping list included, "a Stinger surface-to-air-missile at a negotiated price of $200,000; a Dragon fire anti-tank weapon for a cost of $100,000; a Law Rocket anti-tank weapon for $20,000; and two AT-4 recoilless anti-tank guns for $20,000. The indictment says the defendants were to pay with some cash and also with illegal drugs."

None of that would have been possible in Mexico, which now requires that transactions valued at more than $10,000 USD be done by check, not cash.

The U.S., of course, is completely different.

If one's idea of "bling" is a Stinger surface-to-air missile for $200,000, then who wouldn't want a dozen or so for their backyard?

What's a trillion dollars for?