Standing up to the bully of Bentonville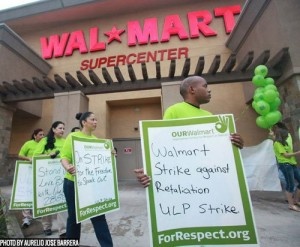 By Phil Mattera, Dirt Diggers Digest

The spreading job actions by Wal-Mart workers around the country, while still involving modest numbers, come across as a kind of catharsis. They inspire the same uplifting emotion as those movie scenes in which a long-suffering victim of bullying finally fights back against the tormentor.

Wal-Mart, probably more than any other large corporation, deserves the title of bully. For decades it has demonstrated utter contempt for the rights of its employees to act in concert to improve their conditions of work, which are in serious need of amelioration. It rules over a vast army of underpaid "associates" who in many cases are involuntarily limited to part-time status and thus denied even the meager benefits provided to full-timers, forcing them, with the cynical encouragement of management, to apply for taxpayer funded health coverage such as Medicaid that is not meant for employees of a $460 billion corporation.

Such impacts are not limited to those actually on Wal-Mart's payroll. Since it is by far the largest U.S. private-sector employer, Wal-Mart's abominable labor practices have set an example that makes it easier for many other employers to commit similar sins.

In the hope that we are indeed seeing a major turning point in the relationship between the giant retailer and its workforce, it is worth looking back at the company's record to recall just how bad its behavior has been.

While some have sought to romanticize founder Sam Walton and pin the blame for the company's retrograde policies on his successors, the exploitative approach was there from the start. As Bob Ortega points out in his 1998 book In Sam We Trust, Wal-Mart Sam Walton deliberately used superficial forms of paternalism to gain the loyalty of his workers while keeping labor costs at rock bottom. "We really didn't do much for the clerks except pay them an hourly wage," Walton wrote in his autobiography, "and I guess that wage was as little as we could get by with at the time."

When Walton learned in the 1970s that some of his workers were talking about unionization, he did not try to address their concerns. Instead, he brought in a union-busting consultant named John E. Tate, who devised the policy of uncompromising resistance that would characterize Wal-Mart's labor relations posture for decades to follow. That applied not only at the company's stores, but also at its large network of distribution centers. For example, after nearly 50 percent of workers at a warehouse in Searcy, Arkansas signed cards in support of Teamsters representation in the early 1980s, Tate and his staff used the run-up to the election to scare the workforce into ultimately voting more than three-to-one against the union.

This scenario would play out again and again, both in the United States and Canada. For example, in 1997 the Ontario Labor Relations Board ruled that Wal-Mart had violated Canadian law by intimidating workers in the period preceding a representation election involving the United Steelworkers union. As a result, the board certified the Steelworkers, even though a majority of workers had voted against the union. The company, however, simply refused to bargain with the union.

When Wal-Mart used the same intimidation tactics during a 1997 election at one of its stores in Wisconsin, the National Labor Relations Board criticized the company but did not take the same sort of action as its Ontario counterpart. Later in 1997, exasperated United Mine Workers officials decided to call off an organizing drive at a Wal-Mart in Fairfield, Alabama less than 24 hours before the representation was scheduled to take place.

In 2000 a small group of courageous meatcutters at a Wal-Mart Supercenter in Jacksonville, Texas voted for representation by the United Food and Commercial Workers (UFCW). Within two weeks, the company announced that it was shutting down the meatcutting operations at that store and at more than 175 more in six states. The NLRB later ruled that the company had violated federal labor law by refusing to discuss the closing with the workers who had chosen union representation.

In 2001 the UFCW said it was launching a national organizing drive at Wal-Mart, but it focused on a few areas such as Las Vegas, where it engaged in a fierce battle with a slew of anti-union specialists flown in from corporate headquarters in Bentonville, Arkansas. Years later, the NLRB found that the company had engaged in various unfair labor practices, but by then the organizing effort had fizzled out. Looking back on the situation, the Las Vegas Sun published an article headlined WAL-MART BREAKS THE LAW, GETS PUNISHED, WINS ANYWAY.

While the UFCW largely turned away from individual store organizing in the United States, it continued the effort in Canada, on the assumption that the legal environment would be more conducive there. Yet Wal-Mart continued to run roughshod over Canadian law as well.

When workers at a store voted for representation, Wal-Mart simply refused to bargain with the union. If it was forced to do so, it turned to the same tactic it employed in Texas: shutting down the store or department where workers had asserted their desire for collective bargaining, pretending that the step was being taken for economic reasons.

After such a move in 2005 involving a store in Jonquiere, Quebec, Wal-Mart CEO Lee Scott defended the action in an interview with the Washington Post, saying that he "saw no upside to the higher labor costs" that union representation would have brought and that he "refused to cede ground to the union for the sake of being 'altruistic.'"

That, in a nutshell, is Wal-Mart's view of the world -- that its desire to keep costs, especially those relating to labor, at the absolute minimum is all that matters. Any measures in furtherance of that goal are justified.

Along with fighting unions tooth and nail, the religion of cost minimization led to other practices that made life hellish for the company's workforce. This included the systematic use of wage theft to cheat workers out of overtime pay as well as gender and racial discrimination. Over the past decade, the company has paid hundreds of millions of dollars to settle lawsuits over wage and hour violations. In 2005 it paid $11 million to settle federal charges related to the illegal use of undocumented immigrants -- who were found to be working some 56 hours a week -- to clean its stores. And Wal-Mart would have paid much more in damages for sex discrimination if the U.S. Supreme Court had not come to its rescue and derailed a massive class action suit (though other more limited suits took its place).

Wal-Mart's employment practices have been so egregious that they go beyond regulatory infractions and enter the realm of human rights abuses. It's thus no surprise that Human Rights Watch, which typically analyzes atrocities in dictatorial governments, once published a report concluding Wal-Mart violated the right of its workers to freedom of association.

So here's hoping that the freedom fighters of the Wal-Mart workforce succeed in fully taming the bully of Bentonville.