Big Money in NC: Outside groups unleashed $14.5 million in state races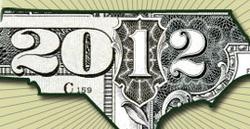 When the 2012 elections ended with big wins for Republicans in North Carolina, it was already clear that Big Money -- especially money from outside spending groups -- played a important role in fueling the GOP's victories.
Now, with the final campaign spending reports for 2012 submitted, we have a clearer picture of just how much money was spent and the role it played in North Carolina state races.
According to a new analysis by FollowNCMoney.org, a project of the Institute for Southern Studies, more than $14.5 million was spent by outside groups on state-level races in North Carolina in 2012.
Spending by independent groups -- those not officially tied to a party or candidate -- has skyrocketed in recent years, boosted by the Supreme Court's 2010 Citizens United decision. The Center for Responsive Politics estimates that more than $1.4 billion was spent in 2012 by such outside groups on federal races.

The Institute has been tracking independent election spending in North Carolina at FollowNCMoney.org, a website database that draws on state and federal election filings. The site now has records of more than 800 expenditures for 2012.
Among the findings:
* TOP SPENDING GROUPS: 90% of the outside spending on North Carolina state races came from just 10 groups. Seven of the top 10 are conservative/Republican-leaning committees and three are liberal/Democratic-leaning (see charts below).

* 2-1 REPUBLICAN EDGE: Out of the top 10 outside spending groups, Republican-leaning groups spent more than double that of their Democratic-leaning counterparts. 70% of the spending came from those favoring Republicans and 30% from those favoring Democrats.

* TOP COMMITTEE: The single biggest outside money group in 2012 was the D.C.-based Republican Governors Association, which spent more than $4.9 million on ads and other communications to benefit GOP Gov. Pat McCrory. The RGA's donor list is dominated by national corporations, including N.C. businesses Pike Electric, RAI Services/Reynolds Tobacco, Duke Energy and Art Pope's Variety Stores.

* BIGGEST RACE: The N.C. governor's race attracted the most money, drawing more than $8.1 million in outside spending. Other groups spending on behalf of McCrory included Real Jobs N.C., Americans for Prosperity and the Constitution Trust.

N.C. Citizens for Progress was the leading group backing Democrat Walter Dalton, spending $2.6 million to benefit his gubernatorial campaign. N.C. Citizens for Progress' biggest backer has been the D.C.-based Democratic Governors Association, whose biggest national contributors included various unions.

* N.C. SUPREME COURT RACE: The contest between justices Paul Newby and Sam Ervin for the N.C. Supreme Court attracted more than $2.8 million in spending from outside groups -- 89% of which benefited the Republican-favored Newby.
The biggest outside spender in the N.C. Supreme Court race was the N.C. Judicial Coalition, a new group which reportedly spent more than $1.9 million to help Newby. The N.C. Judicial Coalition's biggest donor was another new outside group, Justice for All N.C., whose biggest backer was the D.C.-based Republican State Leadership Committee.
The following charts show the top groups, races and donors in the outside spending race in North Carolina (click on chart for larger version):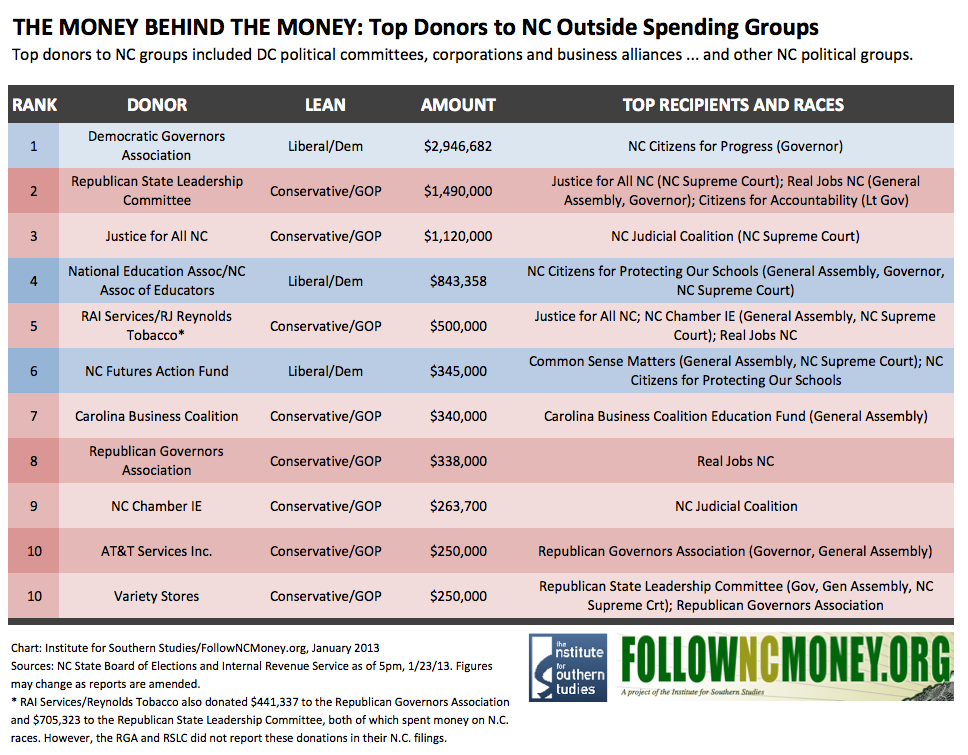 Research for this report was conducted by Chris Kromm and Vidya Sankar of the Institute for Southern Studies. For more information visit FollowNCMoney.org.
Tags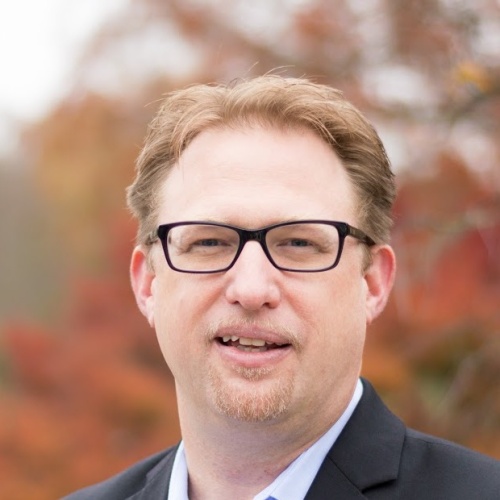 Chris Kromm is executive director of the Institute for Southern Studies and publisher of the Institute's online magazine, Facing South.